U.S. Domestic
Last week we saw the yield for the 30-year bond auction (NYSEARCA:TLT) drop from 2.615% to 2.475%. This corresponds to the dip in the 30-year Treasury rate, which declined from 2.52% to 2.44%, reflecting the sustained pessimism in the market as the flight to safety continues. Riskier assets such as retail (NYSEARCA:XRT) and consumer discretionary (NYSEARCA:XLY) stocks continued to suffer as a result. Safer stocks such as utilities (NYSEARCA:XLU) and consumer staples (NYSEARCA:XLP) outperformed the market (SPY, QQQ, DIA).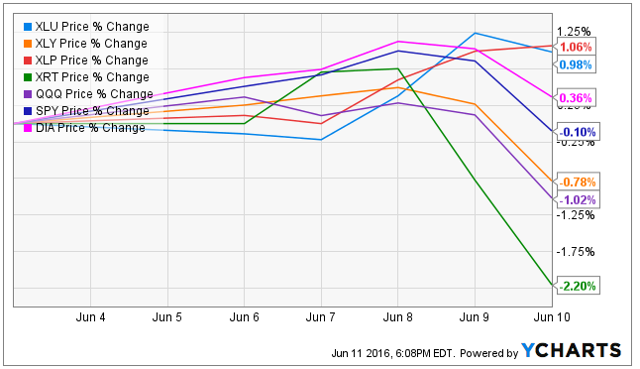 Out of the sectors discussed, I believe that only utilities will see fundamental improvements in the short-term. As utility stocks are typically leveraged, falling long-term rates will allow them to lock in lower interest rates as they refinance existing debt. There won't be any shortage of demand for their debt either due to their perceived safety.
Commodities
Baker Hughes (NYSE:BHI) revealed that rig count went up by 6 this week. Crude (NYSEARCA:USO) immediately plunged below $50/bbl while longer dated contracts were relatively stable. The July 2017 contract only dipped by $0.65 whereas the July 2016 contract fell a whopping $1.68 to $48.88/bbl.
The increase in rig count suggests that producers are accepting the notion of "lower-for-longer" and are willing to accept lower returns for production instead of waiting for a rebound. Can demand pull ahead? Perhaps, but one thing we do know is that imports have been offsetting the decline in domestic production. As domestic producers face increasing competition from low cost international producers, I believe that longer-dated futures will continue to fall as producers rush to secure future cash flows. In other words, I believe that the recent increase in steepness of the futures curve will be short-lived.
International
One thing I find particularly amusing is that while the consensus for Brexit is that there will be "severe consequences," there is no agreement as to what exactly will go wrong. My opinion is that an exit from EU will benefit the UK. In EU's present state, I believe that a few "power players" (i.e. Germany, France, UK, Italy) are subsidizing weaker countries such as Greece and Portugal. While banding together may benefit everyone in the long-run, it is uncertain how long the process will take. We shall see what will happen as the referendum is set to take place in less than two weeks.
The V20 Portfolio
Note: Current allocation and planned transactions are only available to premium subscribers.
Over the past week, the V20 Portfolio declined by 0.4% while the SPDR S&P 500 ETF (NYSEARCA:SPY) dropped by 0.1%.
Spirit Airlines (NASDAQ:SAVE) reported May traffic. Performance was stellar, with RPM up 24.8% year over year. Competitors reported much lower growth rates. Southwest (NYSE:LUV) reported a growth of 6.4%, JetBlue (NASDAQ:JBLU) reported an increase of 10.7%, and Allegiant (NASDAQ:ALGT) saw a rise of 16.5%. With a healthy balance sheet, including $903 million of cash, the growth trajectory remains on track.
Conn's (NASDAQ:CONN) reported May sales data. Overall revenue grew slightly by 0.8% as the result of new store openings offsetting the drop in comps. Comps declined by 7.6% including exited products. Tighter lending policies contributed significantly to the contraction (~700 bps). Note that the impact will unlikely be reflected in near-term delinquency rates. New originations will not be a significant part of the overall portfolio in the next quarter. Furthermore, delinquency rates will also be dependent on the improvement of the macro environment.
Baker Hughes recently reported an increase in rig count, possibly signaling higher demand for labor in energy heavy states. We don't want to read too much into it, but it's an encouraging sign nonetheless. It is also worth mentioning that one of the major owners of Conn's, Luxor Capital, reduced its position from 14% to 10%. The sell-off is partly fueled by heavy redemption requests that the fund is currently facing.
Overall, the portfolio remains in a good position to take advantage of any opportunities. 17% of the capital is in cash in preparation for further declines in Conn's. As growth in other positions have been rather tame (i.e. has not significantly exceeded long-term growth potential), there is no reason to trim for rebalancing purposes yet. Spirit Airlines is up 15% year to date and our insurance holding is up 15% since our initial purchase.
Performance Since Inception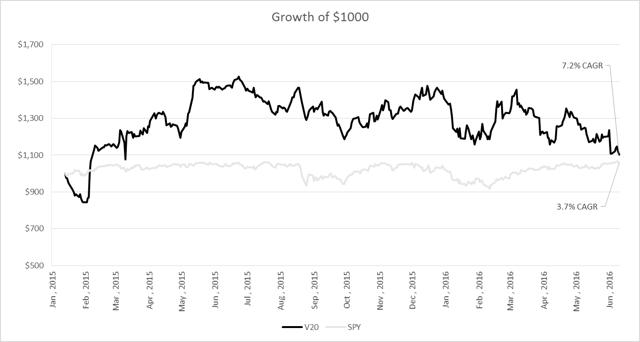 Click the "Follow" button beside my name on the top of the page to be updated with my latest insights. To learn more about the V20 Portfolio (+40% in 2015), whose goal is to compound capital at 20% over the long term, I encourage you to read the introduction to my investment process. Premium subscribers get full access to the V20 Portfolio.
Disclosure: I am/we are long CONN, SAVE.
I wrote this article myself, and it expresses my own opinions. I am not receiving compensation for it. I have no business relationship with any company whose stock is mentioned in this article.