The rapid upside that natural gas prices have seen over the past few trading sessions have confirmed that the market has a stronger NTM view of the commodity. This bodes extremely well for quality natural gas focused companies like Devon Energy (NYSE:DVN). Moving forward, expect a very short-term pullback in natural gas prices given the commodity's current overbought status, but a medium-term trend of strength. Devon, already in a healthy state of liquidity while retaining strong core assets, will benefit immensely from this new trend.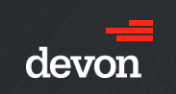 Source: Devon Energy
Natural Gas Prices Set To Improve
The current reading on the RSI for the Henry Hub is 77, which means natural gas is heavily overbought. This could mean that we'll see a short-term temporary pullback in natural gas, but the fundamental outlook is largely positive. This is just one indicator, however it is an extremely reliable one. Additionally, it will work in the favor of investors looking to initiate a position into Devon as they can buy on an upcoming dip.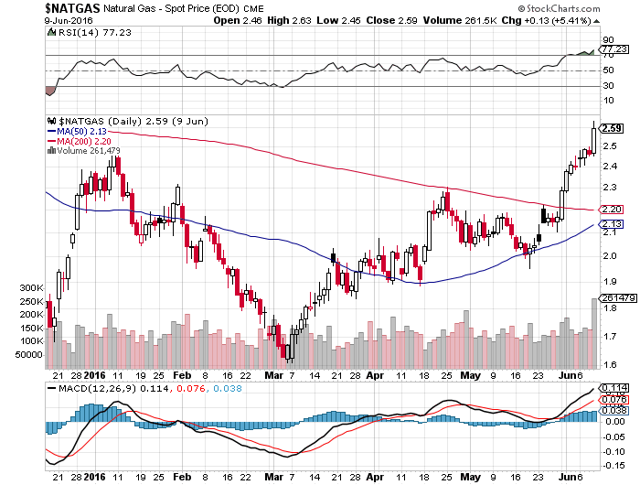 Source: StockCharts
While investors would like to see this company have a more sizeable dividend to get paid while they wait for natural gas to see efficacy above $3/MMBtu, the fact is there are very few places in the natural gas market where investors can find a stable yield. DVN's 0.67% current yield is minimal, but at the end of the day, it's better than nothing.
Regardless, the fundamental environment for natural gas is looking very positive. The primary catalyst that investors are watching are the weather predictions for late 2016 and early 2017. They are in the "extreme" category thanks to La Nina, the large change in weather that causes severe conditions, thus increasing the demand for power. This is such an immense catalyst because it is a once in a decade change and if history repeats itself, incredible upside for natural gas is on the horizon. The last time La Nina occurred, prices spiked above the $10/MMBtu level, seen below.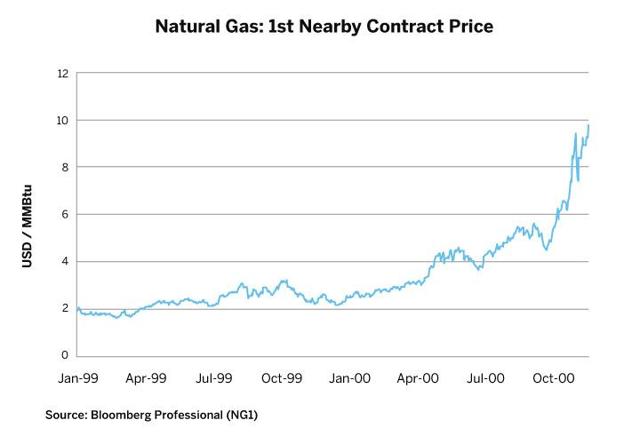 Source: CME Group
Additionally, if the gap can get closed on inventories whiel La Nina occurs, then natural gas prices will see an aggravated amount of strength. Inventories are up 32% YOY and 35% above the five-year average. The blue line below represents the current track of U.S. inventories, clearly indicating that an inventory glut is present based upon its positioning above the five-year average.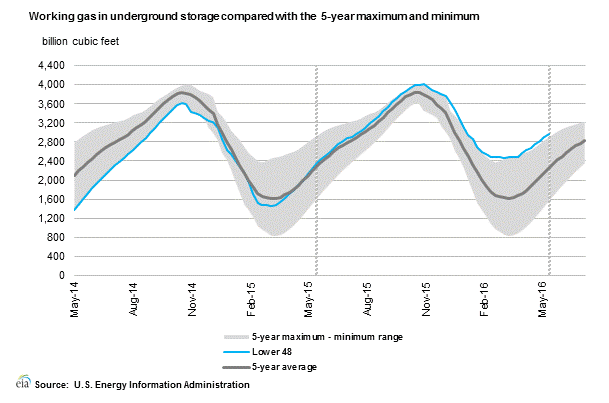 Source: EIA
Demand also gets to be in the spotlight as 2016 is off to a strong start in terms of power burn, relative to last year. This is true even in the face of less than desirable weather conditions in January and February. Power burn is projected to be up 4% YOY and is already trending above the 5-year maximum range. That's a quality sign that there are favorable conditions leading to a run-up in natural gas prices later this year.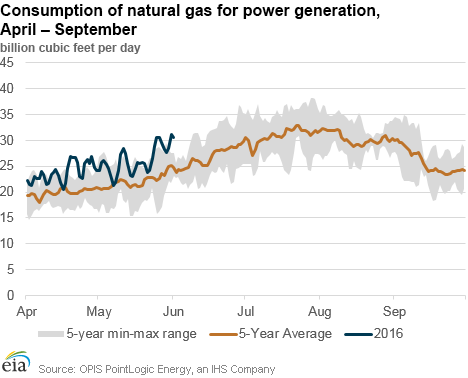 Source: EIA
If the futures market is at all supportive of pricing, then view below chart. Natural gas is expected to breach $3/MMBtu by December. That futures curve has increased its upward slope and I'd investors to take note of how positive that is relative to the commodity's positioning just a few months ago, trailing $2/MMBtu.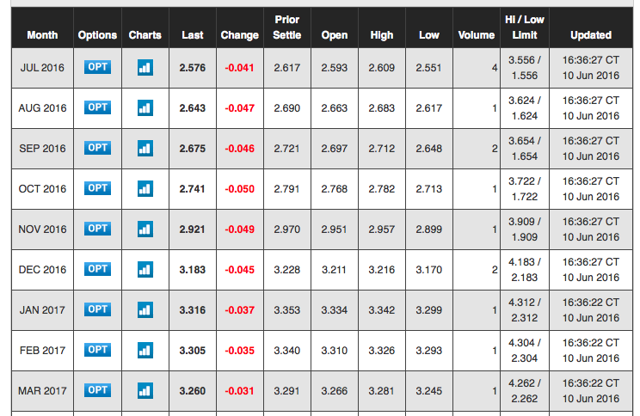 Source: CME Group
How Devon Benefits
Devon has an interesting production mix in that it isn't a pureplay natural gas E&P. Its breakdown is 37% gas, 19% NGLs, and 44% oil. Oil has seen impressive upside since its mid-February lows of roughly $26/barrel, now hanging around $50/barrel. This is icing on the cake for Devon considering the company, in its Canadian Heavy Oil segment is profitable at $35/barrel WTI. Additionally, the cash flow produced at $50 oil is equivalent to $500 million per year.
More asset sales will also help this company. Fortunately, unlike many natural gas E&Ps, this company isn't plagued with imminent maturities. Its maturity timeline is seen below and notice the lack of consolidation in the NTM, which is the recovery timeline for natural gas. The company has more than $5 billion in immediate liquidity, with a cash balance nearly equal to its credit facility capacity. The $350 million maturity in Q4 2016 will easily be paid off, especially if commodities continue on their projected path.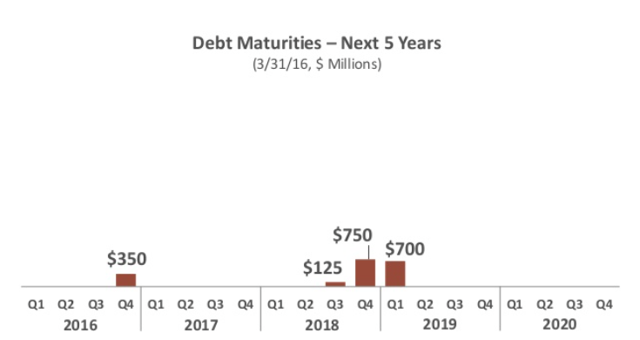 Source: Investor Relations
The company is planning on another $0.7-$1.7 billion in non-core asset sales this year, with the Access Pipeline being the next immediate divestiture. Again, this is just a solid way to boost liquidity without affecting major operations. I'd be far more concerned about this company's divestment strategy if core assets were being sold off, especially the lower-breakeven ones. These divestitures make the company leaner and better positioned for a turnaround.
On a different note, capex has been slashed for a while now, with more than a 50% decrease since 2014. As commodity prices look to recover, however, there are two core implications. First, Devon will see slowed growth if natural gas can sustain prices above $3/MMBtu compared to what they would if their capex budget was at 2014 levels. This directly leads into the second takeaway, which is that with the lower capex budget and potentially higher commodity prices, DVN has a better chance of breaking even on FCF on a LTM basis.

Source: MarketWatch
The chance at FCF neutrality is even more important when investors see that Q1 2016 was the worst quarter in the LTM for OCF at just $149 million. It makes complete sense given that commodity prices for Q1 averaged a multi-year low. Even with the reduced capex, the company is expecting to be flat YOY in terms of oil production, so the bottom for revenue and FCF should have been reached last quarter.
Considering that DVN was down 6.22% in Friday's session, buying on the dip is vital. Despite the company's strong focus on natural gas, the company maintains a strong correlation to oil prices. This shouldn't come as a shock, considering we've seen many diversified E&Ps on the market over the LTM take on a stronger correlation to oil. However, this means that when crude rallies back above $50, DVN will see strength. Shifts in natural gas prices will affect the company's financial health and stability more so, which will be clearly visible on upcoming earnings reports. The strong rally in natural gas prices over the medium to long-term will allow for earnings beats and subsequently, strong capital gains.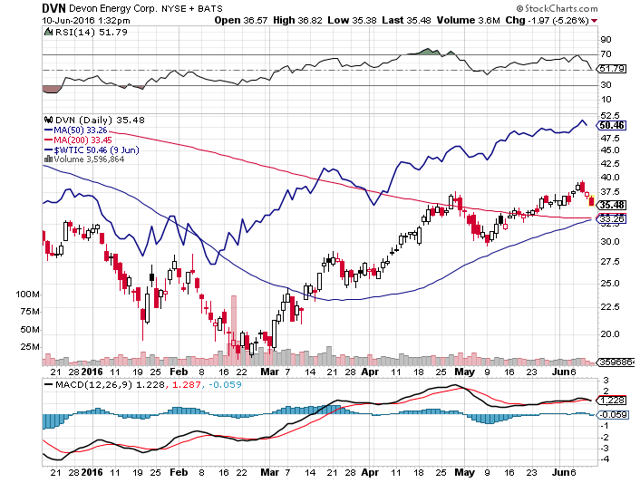 Source: StockCharts
Conclusion
Natural gas prices are going to likely see strength over the NTM. It's warranted based upon more extreme weather, increased power generation demand, and potential decline in inventories. Positioning is critical to capture this upside and Devon has been boosting its liquidity in the background to have a more stable company for when commodities turn around. Investors have to watch crude's trend in order to time an excellent entry, but should retain their focus on natural gas prices as they relate to the company's overall health. This is a clear buy after a short-term dip, in my opinion.
Disclosure: I/we have no positions in any stocks mentioned, but may initiate a long position in DVN over the next 72 hours.
I wrote this article myself, and it expresses my own opinions. I am not receiving compensation for it (other than from Seeking Alpha). I have no business relationship with any company whose stock is mentioned in this article.