Welcome to the tenth edition of "Buy on Weakness? Tech Sector". This is a weekly series of articles that sifts through the underperformers of the previous trading week to find potential investment opportunities in the large-cap tech world. Check out the ninth and the eighth editions of "Buy on Weakness?" for a look into prior weeks' "tech losers".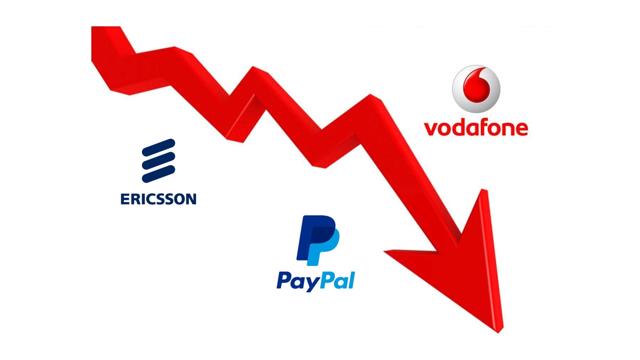 Credit: DM Martins Research montage using company logos
For this past week, the table below highlights the top 20 tech companies - worth $10 billion or more in total equity value - that have performed the poorest in the past five trading days.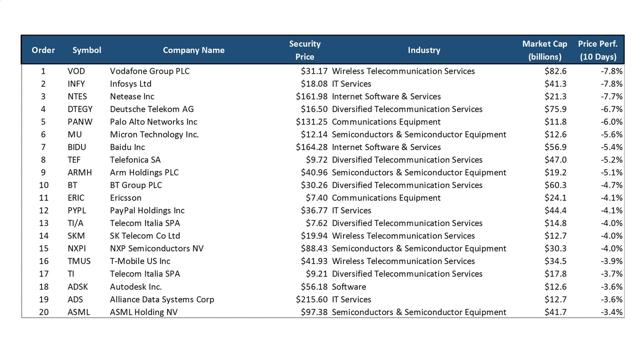 Source: DM Martins Research, using market data compiled from Fidelity
Internet, once again, drags tech down
Tech once again experienced an internet-led pull back. Over $37 billion in market value was lost over the past trading week.
The stock of wireless telecom company Vodafone (NASDAQ:VOD) was the biggest loser of them all, giving up 7.8% in value on the week that it went ex-dividend. Internet giants Netease (NASDAQ:NTES), Baidu (NASDAQ:BIDU) and Facebook (NASDAQ:FB) lost a total of $10 billion in market value.
Partially offsetting the softness, the hardware subsector was up 0.8%, or $5.6 billion in market cap terms. Hewlett Packard Enterprise (NYSE:HPE) was up 4.2%, the biggest gainer in percentage terms, while Apple (NASDAQ:AAPL), up $5 billion in market cap and now worth $98.83/share, continued to recover from its YTD low of $90.32 reached less than a month ago.
Let's take a closer look at some important metrics.
Diving deeper into the data
The top 20 tech losers of the week have a median forward P/E of 18.3x, slightly below the previous period's median of 19.1x, and lower than the S&P 500's current trailing P/E of 24.2x. This week's top 20 group is expected to grow EPS in 2017 aggressively, by 18.9% (vs. 17.3% last week), and the companies generate a negligible dividend yield (less than half of the 20 companies on the list are dividend-payers).
Just like last week, these numbers suggest that the market seems to have taken a conservative approach to investing in tech, selling off names with high P/Es, high EPS growth and low dividend yields.
The table below highlights, in green font, the three best-positioned tech companies in each of the following categories: projected EPS growth, dividend yield, forward P/E and forward PEG (P/E divided by percentage-point EPS growth).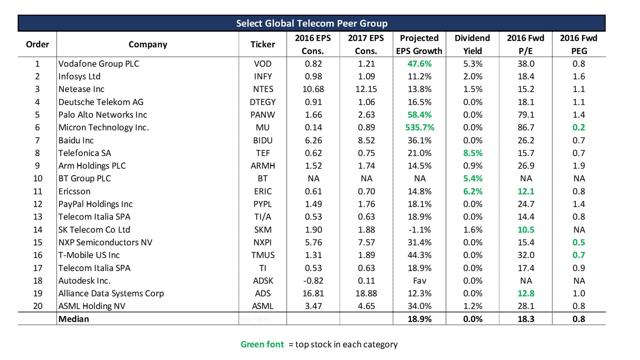 Source: DM Martins Research, using data from Yahoo Finance, Nasdaq and Market Watch
Notice that Ericsson (NASDAQ:ERIC) looks very attractive on paper: expected EPS growth of 14.8%, unusually high in the network equipment space, pairs up well with one of the highest dividend yields in the group (6.2%) and a very low 2016 forward P/E of only 12.1x. Micron Technology (NASDAQ:MU) is also an interesting name to look at, despite the sky-high 2016 forward P/E of 86.7x: on a 2017 forward P/E basis, MU trades at only 13.6x, as EPS is expected to increase six-fold next year.
But my favorite name on the list is VOD
VOD showed up on the "top 20 loser" list for the second consecutive week. Not surprising, since this 5.3% dividend payer went ex-dividend on Friday, June 10th.
Still, the stock dipped nearly 10% over the past two weeks - a drop that I believe to be unwarranted, considering the lack of material news and the fact that the S&P 500 (NYSEARCA:SPY) gave back only 0.3% during the same period. YTD, VOD is once again in the negative, but the stock continues to look very attractive, in my opinion.
In line with what I wrote last week, "growth of 47.6% is not only ultra-high in the carrier world, but [one of] the highest amongst last week's 'top 20 loser' list." A 2016 forward P/E of 38.0x may seem high in telecom, but a very hefty dividend yield of 5.3%, one of the highest on this week's list, incentivizes income-seeking investors to hold this high-quality name for the long term.
Despite strong competition and the regulatory challenges that every European carrier is exposed to, VOD seems to have some of the best fundamentals in the industry. First, the company is the most geographically diverse of all major carriers in the world, having generated 85% of its 2015 revenues outside its home country vs. a peer median of 63% (see table below). Although carriers with heavy international footprint tend to have lower EBITDA margins (in part due to the higher costs associated with the early stages of their geographic expansion), I see long-term benefits in being diversified - from better growth opportunities to lower revenue concentration risks.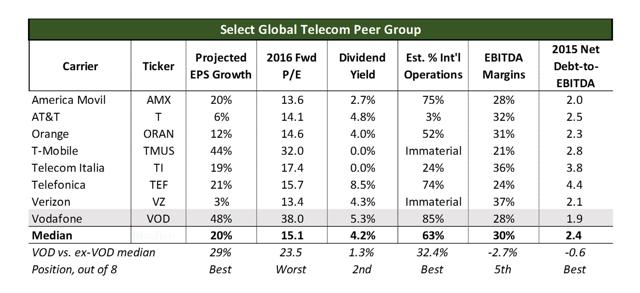 Source: DM Martins Research, using data from Company Filings
Second, VOD is a company that carries relatively low debt. In 2015, its net debt-to-EBITDA ratio was the lowest of all major carriers in the western hemisphere: 1.9x vs. a peer group median of 2.4x and a high of 4.4x from European rival Telefonica (NYSE:TEF). Investors with a more conservative profile may be more comfortable investing in telecom through a less heavily levered name like VOD.
And lastly, VOD's attractive dividend yield is coupled with the company's strong ability to generate FCF (free cash flow). In calendar-year 2015, VOD paid $1.71/share in dividends, but that amount represented no more than 83% of FCF (vs. 93% the previous year). As EBITDA returns to growth in 2016, VOD's ability to maintain and potentially increase its dividend payments in the future looks solid to me.
Disclosure: I am/we are long ERIC, AAPL, SPY.
I wrote this article myself, and it expresses my own opinions. I am not receiving compensation for it (other than from Seeking Alpha). I have no business relationship with any company whose stock is mentioned in this article.