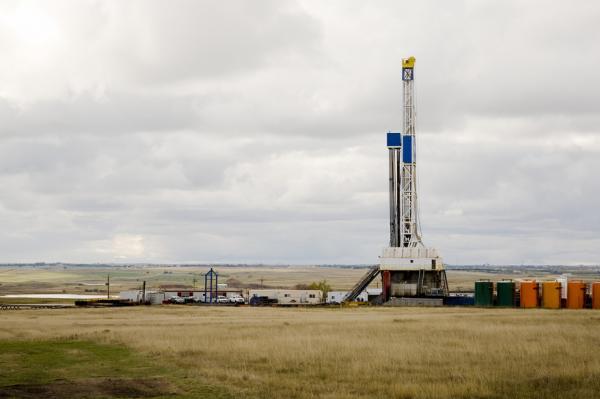 source: Stock Photo
Last week Continental Resources (NYSE:CLR) Chairman and CEO Harold Hamm said in an interview with Squawk Box that oil would jump to about $69 to $72 per barrel by the end of 2016, citing a faster-than-expected decline in horizontal field production, and the loss of influence of OPEC as a factor in influencing oil prices.
One of the problems of his thesis is production in the U.S. was up 10,000 barrels per day as of the latest numbers, and unless that's an anomaly, it once again points to the ability of U.S. shale producers to surprise to the upside of expectations. We'll have to see whether or not that was a one-off event or completing premium wells is already reversing the output slide the industry has been experiencing recently.
It will probably take at least two to three more weeks to see if there is a trend going on which has the potential to dramatically influence the price of oil on the downside. Most of that will depend upon whether or not OPEC's recent increase in supply will outpace growing demand for the remainder of 2016, which is estimated to be in a range of 1.2 million to 1.4 million per day.
Now that the price of oil appears to have hit a ceiling, getting the most of what it could out of the outages that temporarily resulted in inventory drawdown in the U.S., the market has lost its key catalyst to drive the price of oil up. Now that Canada is rapidly returning oil to the market, the height of the outage impact is over.
Also important is the so-called "verbal intervention," which had primarily been expected from OPEC concerning a production freeze, has lost its influence, which is why I think Hamm made the assertions he did, with little to back up his conclusions.
Hamm's company Continental Resources , having more than doubled since the latter part of February, has topped out with the price of oil, and he's looking for something else to trigger another upward price movement. When verbal intervention is the tool of choice, usually that points to there being no other significant catalysts to drive the market.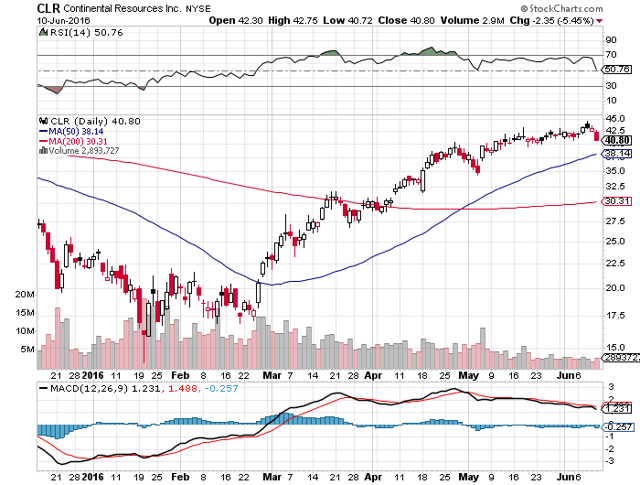 source: StockCharts.com
Continental Resources and the Bakken
The major problem for Continental Resources is its exposure to the Bakken. The Permian is easily the most profitable play in U.S. shale because of the differential coming from the need to ship oil to Cushing for storage. Consequently the oil has to be discounted.
In the first quarter the average realized sales price was $25.72 per barrel, when not including derivatives. Measured by barrel of oil equivalent (includes natural gas production), the realized price on average was $19.27 for the quarter.
Minus the impact of derivatives, the oil differential for Continental was almost $7.78 per barrel below the daily average of NYMEX during the first quarter. Again, the reason for the discount was transporting the oil to Cushing.
One bit of positive news is the decline in output at Bakken has shrunk the differential price, which will allow pipeline capacity to rebalance. As that happens it should result in lower differentials because costs to deliver the oil to Cushing will drop.
Also important is Enbridge Energy Partners, L.P. (NYSE:EEP) is building an additional pipeline which should add approximately 225,000 barrels per day to delivery capacity. The other two pipelines that are already operational are going to have capacity increased as well.
This too should lower differentials for Continental over the next 24 months or so even if output increases. When including the pipeline from Enbridge, that will extend further out once it's completed. I think Hamm, by his comments, is only trying to buy some time as the pipeline capacity is being built and expanded.
Oil as a percentage of overall production was upwardly revised from 60 percent to 61 percent in Continental's latest earnings report.
The good news for Continental is its balance sheet. It has just under $1.9 billion in its revolving credit line with terms including no borrowing base redetermination. That means the financial institutions can't decrease the size of the revolver. The interest rate is a decent 4.3 percent, and probably most important, there are no debt maturities until 2018. This isn't true with many shale producers which will come under pressure as debt matures at significant levels in 2017, which will be a make or break year for many shale companies.
This suggests Continental will be able to wait longer if the price of oil remains lower for longer. Many of its competitors won't have that luxury over the next 18 months or so.
Hamm on Supply and Demand
Hamm has of course been a perma-bull concerning the price of oil, but his reasoning behind looking oil at as high as $72 per barrel by the end of 2016 doesn't make a lot of sense. His two major reasons were the declining influence of OPEC and a quicker decline in shale production than expected.
I have no problem with his conclusion concerning OPEC, although I'm not sure what that has to do with the price of oil going up. OPEC's new role has nothing to do with oil at the mid and upper price ranges. Now the best it can do is keep production high, which has driven down the price of oil. If it lowers production it would give away market share because oil would climb to levels more shale producers would be profitable. That means higher cost companies would be able to make money under that scenario.
If demand does continue to rise that could push up oil prices if it outpaces supply, but it wouldn't force OPEC to change how much supply it brings to market in order to rebalance it, meaning it wouldn't have to give up market share.
As for his comments on shale production declining fast than expected, that appears to no longer be the case, if it ever was a reality. As a matter of fact, the resiliency of shale supply has been the surprising story over the last couple of years, not a decline. Even the latest numbers show shale production climbing by a modest 10,000 barrels per day in the U.S. If anything, we may be seeing a bottom on the output side, which would work against Hamm's thesis and push down the price of oil.
What is new to the market and an unknown at this time is whether or not the combination of completed wells in the U.S. and the increase in OPEC production will grow faster than demand. My thought at this time is once again we may see the oil glut increasing rather than shrinking. That would put downward pressure on oil.
Conclusion
Only an unknown catalyst could drive oil up to $70 or higher by the end of 2016. Hamm is correct in citing supply and demand as being the key factor in all of this, but he's incorrect in using a faster-than-expected decline in U.S. shale production and a decline in OPEC influence as reason there will be a more robust upward move in oil this year than most are expecting.
OPEC's declining influence is on the mid and upper side of the price spectrum for oil. That is the opposite of what Hamm is drawing his conclusions from. As for shale production, I see no evidence on an overall basis that it's falling faster than expected. Last week it was higher than the week before, and there is a strong possibility that may be a trend; although that has yet to be proven.
As for Hamm's Continental Resources, it has some quality properties in the Bakken, and increased pipeline in the short and long term should help it to improve on the differentials side of the business. That is likely to be the case even when production starts to increase in the area again.
It also has a significant credit line with favorable terms that guarantee no surprise reductions in it, while having no debt maturities until 2018. By then there is a strong probability the market would be close to rebalancing, if it's not already there by that time. The only caveat there is if we enter into a global recession, which isn't out of the question, and even highly likely.
Even though Hamm's reasoning and conclusions are wrong, Continental Resources should still do well under most circumstances, and if the price of oil turns south once again, it has the ability to ride it out until market fundamentals produce sustainable, higher, long-term prices.
Disclosure: I/we have no positions in any stocks mentioned, and no plans to initiate any positions within the next 72 hours.
I wrote this article myself, and it expresses my own opinions. I am not receiving compensation for it (other than from Seeking Alpha). I have no business relationship with any company whose stock is mentioned in this article.