This past week has seen the RBA and RBNZ remain on hold with less dovish than expected statements. This helped the two high yielders gain against the USD throughout the week, before pulling back into the Friday close on 'Brexit' fears after the latest ORB poll release showed the 'Brexit' camp having a wide lead over the 'Bremain' camp. This also helped to fuel gold's rally which has been unstoppable this past week, with very shallow pullbacks before further gains.
This coming week brings the all important FOMC rate decision where no hike is expected. However, market participants will be focused on the accompanying statement to see if suggestions are present for a rate hike in July. Whilst the most recent Non-Farm payroll data has been disappointing, wage increases, a low unemployment rate and strong data points such as housing suggest the U.S. economy is doing well at this time, and a rate increase is warranted in the not too distant future.
Trading and Technical Strategy for the week ahead:
Instrument
Fundamentals
Intraday bias Hourly oscillators
Short term bias (1-3 days) 4 hourly timeframe
Medium term trend (1wk-3mths) Daily timeframe
Long term trend (>3mths) Weekly Timeframe
EUR/USD
Bearish
Bearish
Bearish
Bearish
Bullish
AUD/USD
Bearish
Bearish
Bullish Bias being challenged
Bullish Bias being challenged
Bearish Bias being challenged
NZD/USD
Bearish
Bullish
Bearish Bias being challenged
Bullish Bias being challenged
Bullish
GOLD
Bullish
Bullish Bias being challenged
Bearish
Bullish Bias being challenged
Bullish Bias being challenged
WTI OIL
Bearish but improving
Bearish
Bearish
Bearish
Bullish Bias being challenged
EUR/USD (FXE)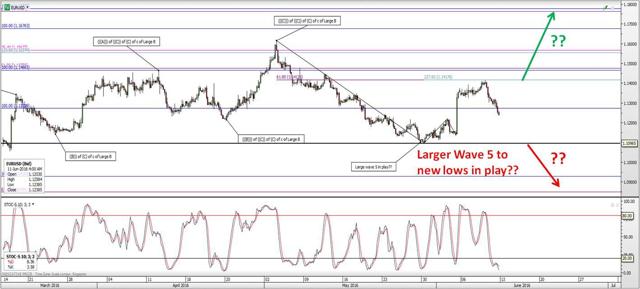 The EUR/USD came off the 1.1417 resistance and has two paths set before it. A break of 1.1095 to the downside will see the pair quickly accelerate to the downside, where a break of 1.1000 could signal the start of the next larger move down. Whilst a break of 1.1417 to the upside could signal the current uptrend move to 1.1775 and higher has resumed.
The one thing though that is clear to us about the EUR at present is that very little of the current 'Brexit' risk is priced into the currency relative to the Sterling Pound (NYSEARCA:FXB) at this time. With the latest ORB polls indicating that the leave camp now has 55% vs. the stay camp at 45%, this could certainly turn into something most are not expecting with an actual unexpected 'Brexit' occurring, which would undoubtedly affect the Eurozone and the EUR in turn.
Trading strategy:
We will be looking for a pullback in the EUR back above 1.1300 to consider a short position for the pair with a stop loss at the 1.1420 level to hedge against an unexpected 'Brexit' win on June 23.Our target to the downside would be 1.1110 first followed by lower levels thereafter if the 1.1110 thereafter if support breaks.
NZD/USD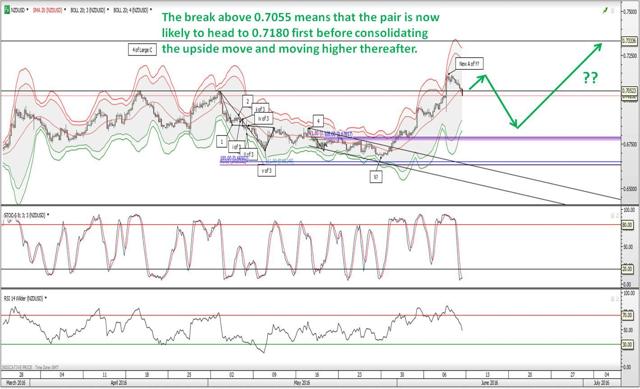 | | |
| --- | --- |
| Key Levels | |
| Support: | 0.6975/ 0.6875/ 0.6840/ 0.6810/ 0.6780/ 0.6745 |
| Resistance: | 0.7050/ 0.7100/ 0.7180/ 0.7230/ 0.7280 |
| | *Level to consider buying at for support & selling at for resistance for intra-day trades |
The NZD/USD rallied sharply following the RBNZ rate decision to leave rates unchanged and with a surprisingly 'undovish' statement vs. initial expectations. After delving into the details of the statement issued by the RBNZ, it is likely that the central bank held back on a rate cut on fears of a housing bubble developing in Auckland, and will likely continue its easing cycle once various macro prudential measures have been put in place to curb house prices.
Trading strategy:
We would short the NZD on a likely retracement to the upside from current levels early next week to play for the 0.6960 level. Thereafter, we would look for short term long positions in the pair, given that there is no RBNZ meeting till August. All eyes will be on the NZ GDP release on Thursday, 16 June for the market to decide the next big move in the pair thereafter.
AUD/USD (FXA)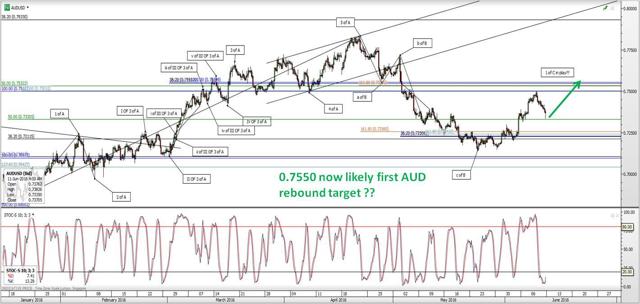 | | |
| --- | --- |
| Key Levels | |
| Support: | 0.7330/ 0.7260/ 0.7210/ 0.7100 /0.7042 |
| Resistance: | 0.7440/ 0.7500/ 0.7530/ 0.7640/ 0.7700/ 0.7760 |
| | *Level to consider buying at for support & selling at for resistance for intra-day trades |
The AUD/USD continues to be in a bottoming pattern with a less dovish RBA now likely to keep rates on hold for some time, the pieces are in place for a continued rally in the AUD until at least August where another potential rate cut might loom. From a technical standpoint, a move over 0.8150 likely signals the medium to longer term bearish scenario is over and more upside in the AUD can follow from this point, until the Fed aggressively hikes rates. A break of 0.6820 on the other hand, signals more downside ahead for the pair.
Trading strategy:
At the current juncture, risk reward tilts to the upside for the pair and shorter term traders can use the current pull back to go long the pair at current levels with a stop loss at the 0.7140 level. The target to the upside will be the 0.7550 level followed by the 0.7700 level.
GOLD (NYSEARCA:GLD)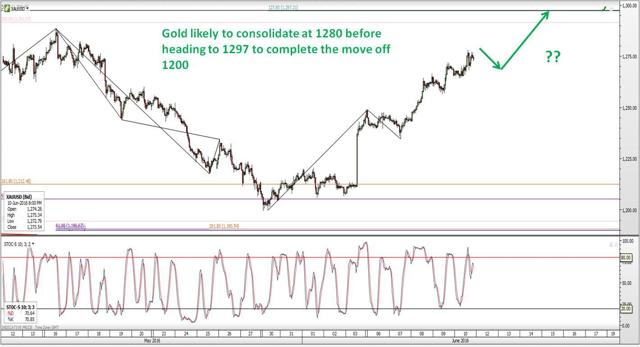 | | |
| --- | --- |
| Key Levels | |
| Support: | 1260/ 1246/ 1241.50/ 1212/ 1200/ 1150/1110 |
| Resistance: | 1280/ 1305/ 1330/ 1400 |
| | *Level to consider buying at for support & selling at for resistance for intra-day trades |
GOLD failed to pullback as expected and roared through the key 1260 level which invalidated the downside scenario for gold. At this juncture, the Brexit fears and a potential pause on rate hikes by the Fed is fueling the rally in gold with no break in sight till 1297.
Trading strategy:
Short term traders can look for a pullback once the metal hits the 1280 resistance to around 1260/65 with a stop loss at the 1248 level and a minimum target of the 1297 level to the upside. Thereafter, we would be looking for an opportunity to go long again for medium term upside in the metal.
WTI OIL (USO)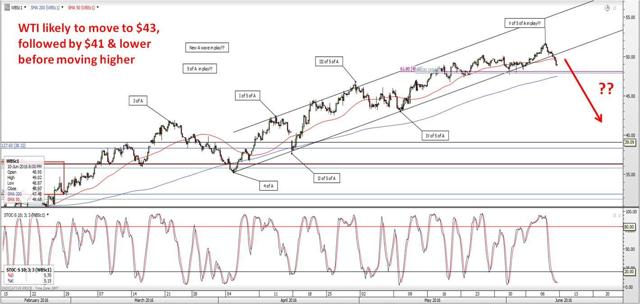 | | |
| --- | --- |
| Key Levels | |
| Support: | 48.30/ 47.15/ 46 /45.60/44.60/43.10/ 42.80/ 41.90/ 40.00 |
| Resistance: | 49/ 49.80/ 50.20/ 51/ 52/ 52.50 |
| | *Level to consider buying at for support & selling at for resistance for intra-day trades |
*Note on our price chart: Before we dive into the WTI technical analysis, we have decided to use the WTI continuous futures price as a chart instead of the original spot price posted in our article. This price will match the nearest dated WTI Crude futures contract which will switch automatically once the contract settles, moving on to track the next nearest dated futures contract. We will also be only analyzing the technical aspect of the WTI price, given the fundamental aspect of WTI oil is well covered by many subject matter experts in the energy commodities section. At this time, the nearest dated futures contract being tracked by the above price chart is the July 2016 contract.
WTI oil prices fell into the end of the week despite stronger than expected inventory draw downs on Brexit fears and an increase in the Baker Hughes rig count suggesting levels above $50 are leading some drillers to restart idle rigs. It is important to note that WTI oil has now traded out of the technical channel to the downside, and is at risk of stronger decline taking hold to work off overbought conditions.
Trading strategy:
Given the short term oversold conditions in WTI oil, we expect a pullback for WTI oil in the early session next week to around $50.30 where short positions can be established to play a downside break of $48 which should then eventually lead to a downside test of $43 and $41 to work off overbought conditions, before resuming its current medium to longer term upside move.
Risk Disclosure
High Risk Warning: Foreign exchange, futures and ETF trading carries a high level of risk that may not be suitable for all investors. Leverage creates additional risk and loss exposure. Before you decide to trade any instrument, carefully consider your investment objectives, experience level, and risk tolerance. You could lose some or all of your initial investment; do not invest money that you cannot afford to lose. Educate yourself on the risks associated with trading, and seek advice from an independent financial or tax advisor if you have any questions.
Advisory Warning: THEMARKETJOURNAL provides references and links to selected blogs and other sources of economic and market information as an educational or informational service to its clients and prospects and does not endorse the opinions or recommendations of the blogs or other sources of information. Clients and prospects are advised to carefully consider the opinions and analysis offered in the blogs or other information sources in the context of the client or prospect's individual analysis and decision making. None of the blogs or other sources of information is to be considered as constituting a track record. Past performance is no guarantee of future results and THEMARKETJOURNAL specifically advises clients and prospects to carefully review all claims and representations made by advisors, bloggers, money managers and system vendors before investing any funds or opening an account with any brokerages or dealers. Any news, opinions, research, data, or other information contained within this article and our website is provided as general market commentary and does not constitute investment or trading advice.
THEMARKETJOURNAL expressly disclaims any liability for any lost principal or profits without limitation which may arise directly or indirectly from the use of or reliance on such information. As with all such advisory services, past results are never a guarantee of future results.
Disclosure: I/we have no positions in any stocks mentioned, and no plans to initiate any positions within the next 72 hours.
I wrote this article myself, and it expresses my own opinions. I am not receiving compensation for it (other than from Seeking Alpha). I have no business relationship with any company whose stock is mentioned in this article.