I made a few recent updates to my Project $1M portfolio.
New position in Under Armour (NYSE:UA)
I recently initiated a new position in Under Armour, the up and coming performance apparel retailer. While the business is still a secondary player in the global athletic apparel market, with approximately 2% market share, Under Armour has seen strong growth in the North American market, where it holds a roughly 5% market share in the performance apparel market.
It's easy to forecast into the future and see longer term parallels with Nike's (NYSE:NKE) success and extrapolate where the Under Armour business may go. However Under Armour is more than just a Nike clone. Under Armour is really pioneering the connected fitness category. As athletes show an increasing desire to benchmark themselves against friends and peers, I expect Under Armour to create a fairly sticky moat through this connected fitness ecosystem. Under Armour is also driving significant traction in women's wear, and this looks like a market which it will continue to grow over the medium term
I think most exciting for Under Armor's longer term future is what its overseas potential could be. Under Armour currently only has 15% of its revenues from overseas.
As disposable incomes increase in emerging market countries, sporting and fitness activities will also continue to increase as time passes. While Under Armor doesn't have Nike's global brand recognition in this category, specific and selective international sponsorships should see Under Armor gain share overseas.
I'm excited as to what Under Armor's potential could be. With a market capitalization of just $14B, and revenues of $4B, Under Armour has a long way to go before it exhausts its growth opportunities. I think Under Armour's margins and returns on equity will only further improve over time. I made a $5,500 investment in Under Armour at $37 just recently.
New Position in Atlassian
I also initiated a new position in Atlassian (NASDAQ:TEAM). Atlassian is a maker of collaboration software and team productivity solutions. The company has products targeted at internal developer teams to help them collaborate more effectively. Workplace collaboration solutions are increasing in terms of breadth, with tools from companies such as Asana and Slack now entering into the marketplace.
I really like Atlassian's positioning and business model. The business is also generating some impressive free cash flow. Best of all, collaboration software leads to a very sticky service. Once a company is embedded into a company's processes and workflows, then it becomes very difficult for them to be dislodged.
I invested close to $5,000 in a new position in TEAM recently.
Reduced Position in Celgene
I slightly cut back my position in Celgene (NASDAQ:CELG) recently. I don't have any long term fears or reservations about the company. One of the issues that I was facing was that it was an outsize position as part of my portfolio. The recent volatility in Celgene combined with the fundamental questions around Revlimid and potential drug pricing regulation has tempered my willingness to maintain such a large position in the company. I'm still happier to have Celgene be a larger than normal position in my portfolio, however I've cut this back slightly to reflect a more tempered view in the near term.
Celgene still has enviable fundamentals as far as revenue growth, cash flow generation and return on equity are concerned. I still expect the company to increase at least 3x over the next 7 years.
If Celgene's price happens to decline below $90, I will consider increasing the position again.
Current Portfolio
The current portfolio is as follows: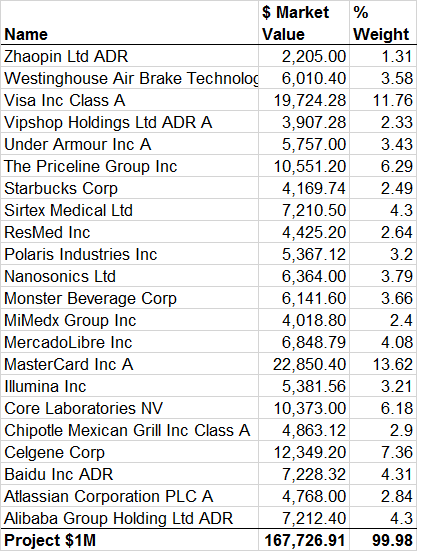 Future Outlook
I've largely invested into most of the positions that I'm interested in. I'm still keeping a little buffer for a further downturn. That said, there are no new positions that I really want to invest in at this stage. Should a substantial correction present itself, then I'll look to top up existing holdings.
Disclosure: I am/we are long CELG, NKE, TEAM, UA.
I wrote this article myself, and it expresses my own opinions. I am not receiving compensation for it (other than from Seeking Alpha). I have no business relationship with any company whose stock is mentioned in this article.