It was another thrilling week in the natural gas market. The July futures contract for the week ending June 10th rose by 6.3%, closing at $2.556. Utilizing the Commodity Futures Trading Commission's (CFTC) Commitments of Traders (COT) reports for natural gas, I was able to identify which group pushed natural gas prices higher.
The four groups I follow - Hedgers (Producer/Merchant/Processor/User) Longs and Shorts, and Speculators (Money Managers) Longs and Shorts - are defined below:
Hedgers: A "producer/merchant/processor/user" is an entity that predominantly engages in the production, processing, packing or handling of a physical commodity and uses the futures markets to manage or hedge risks associated with those activities.
Speculators: A "money manager," for the purpose of this report, is a registered commodity trading advisor (CTA), a registered commodity pool operator (CPO) or an unregistered fund identified by CFTC. These traders are engaged in managing and conducting organized futures trading on behalf of clients.
The latest data are for the week ending June 7th and include data for both options and futures combined for the New York Mercantile Exchange (NYMEX). All comments below pertain to each group as a whole, on balance, noting there are exceptions among individuals.
I have previously shown that short covering (buying) by Spec - Shorts provided the purchasing power to drive oil prices higher since mid-February. And so it comes as no surprise that the break-out in natural gas prices was also fueled primary by the short-covering of Spec - Shorts. This group bought 57,734 contracts in the week ending June 7th, the latest data reported.
There had been speculation that subdued demand this summer combined with the need to sell without the possibility to store would produce unimaginably low prices. Instead, cooling degree days have been higher-than-normal causing smaller builds than expected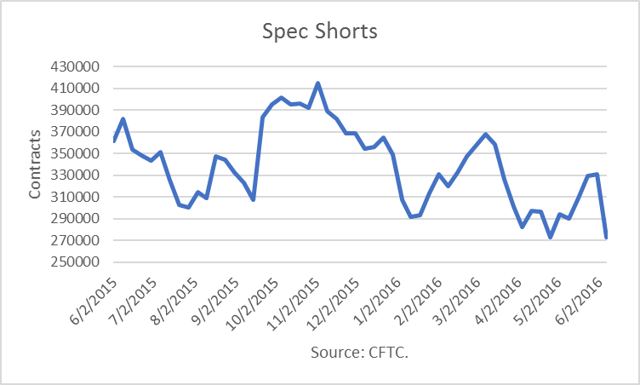 The Spec - Long group did just the opposite. They net sold contracts into price strength, reducing their length by 14,861 lots.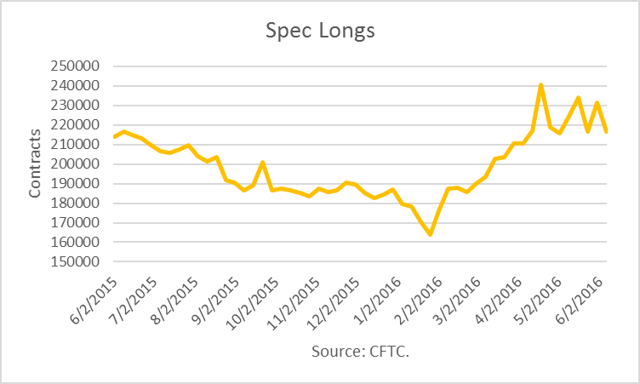 Short - Hedge operators reduced their hedges (buying) by 12,445 contracts. They had 131,716 contracts in place.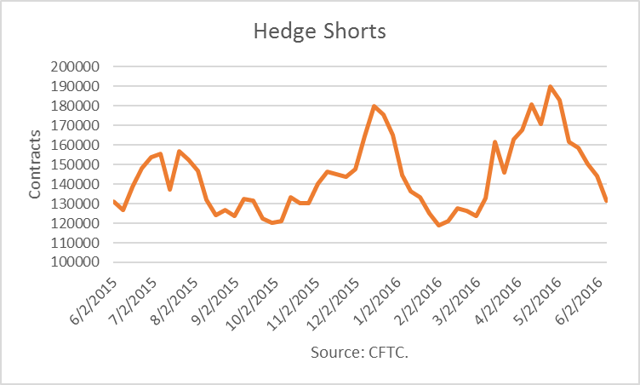 And Long - Hedge buyers, on balance sold 3,327 contracts. The ended the week 147,663 contracts.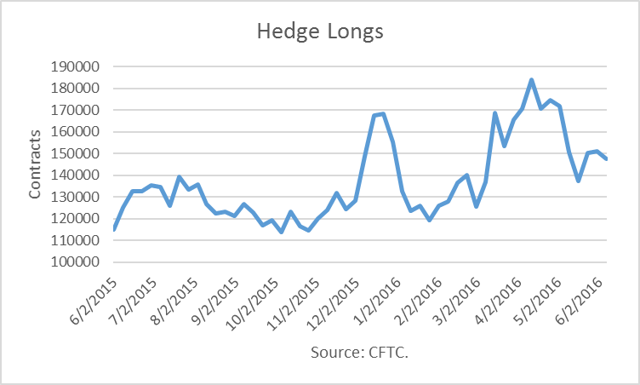 Conclusions
Breaking out the positioning of these traders makes it easier to see what is going on. It shows that the Spec - Sellers were closing out their positions to limit future losses. This buying moved the price up, and as the price moves up, it prompts more buying to cut future losses. This is why the price does not behave as predicted in econometric models.
Disclosure: I/we have no positions in any stocks mentioned, and no plans to initiate any positions within the next 72 hours.
I wrote this article myself, and it expresses my own opinions. I am not receiving compensation for it (other than from Seeking Alpha). I have no business relationship with any company whose stock is mentioned in this article.