The Teucrium Corn ETF (NYSEARCA:CORN) has experienced bullish favor unlike any seen since the summer of 2015.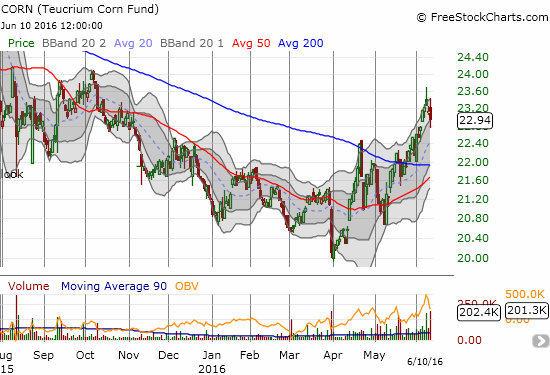 Teucrium Corn ETF has rallied since the all-time low. The last month has been particularly strong.
Source: FreeStockCharts.com
Since hitting a fresh all-time low around $20, CORN has increased 15% and was up as much as 18.5% at last week's inrtaday high. CORN is actually sitting on a year-to-date gain of 8.1%. The resurgence in CORN parallels a large spike in commodities across the agricultural complex. The PowerShares DB Agriculture ETF (NYSEARCA:DBA) has rallied nearly straight up for over two weeks.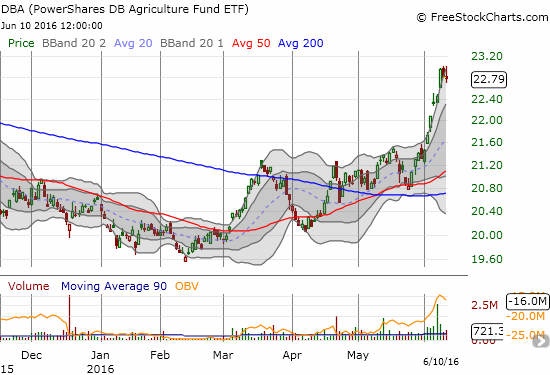 The recent strength in the PowerShares DB Agriculture ETF shows the entire agriculture complex is on fire right now.
Source: FreeStockCharts.com
Some recent catalysts for corn are well-explained in Seeking Alpha article, "The Price Of Corn Could Keep Rising" on May 31, 2016. Essentially, production problems in Brazil due to dry weather conditions have put a floor under corn prices for now. On Thursday, the Brazilian government lowered its forecast for corn production to 76.2 metric tons. Brazil auctioned 500,000 metric tons of corn that will lead to a significant decline in reserves of just 900,000 metric tons.
On June 10th, the US Department of Agriculture (USDA) produced its monthly World Agricultural Supply and Demand Estimates. The report forecasts an increase in global corn production forecast across all national producers except Mexico and China from 2015/2016 to 2016/2017. Note the USDA forecasts 82 metric tons for Brazil. In aggregate, the USDA expects global production to increase 4.7% with total stocks dropping 0.6% year over year. The USDA also increased its forecasted average price of US corn by 4.5% from last month primarily due to the production issues in Brazil. However, the price forecast still represents a 5.4% drop from the previous year.
The technicals from the chart of CORN suggest that the positive price catalyst may be running its course. In the wake of the USDA's report, CORN dropped 0.7%. This loss follows the previous day's loss which in turn confirmed topping action from Wednesday where CORN extended above its upper-Bollinger Band (BB) only to sell-off from there. In other words, the market may have finally caught up to the current positive catalysts; traders may have now priced in these catalysts. Indeed, the USDA report on corn apparently met analyst expectations.
I have written mostly bullishly on CORN in the past. After experiencing last summer's rapid run-up and subsequent collapse to fresh all-time lows, I started a slow rethink on my positioning in CORN. A VERY timely August 24, 2015 Econtalk podcast titled, "Jesse Ausubel on Agriculture, Technology, and the Return of Nature", REALLY got me thinking. Ausubel is the Director of the Program for the Human Environment at The Rockefeller University. His Spring 2015 piece titled, "How Technology Liberates the Environment", includes this provocative chart…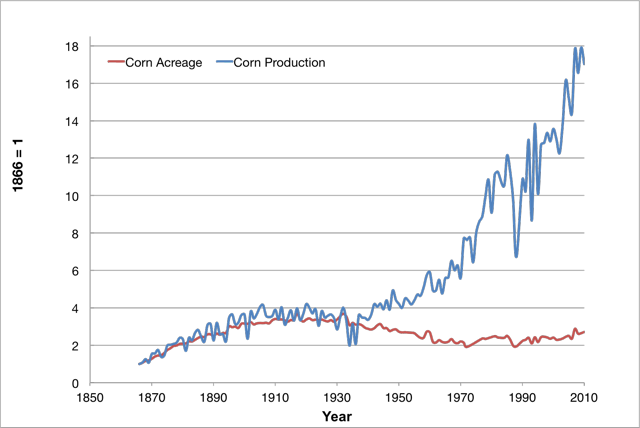 Decoupling of US corn production from area farmed. Data source: US Census Bureau (1975, 2012).
Source: The Return of Nature: How Technology Liberates the Environment
This chart shows the astounding increase in productivity of US corn farmers. Under these conditions, it is hard to imagine a long-term, sustained increase in the price of corn. Indeed, Ausubel has the following to say about corn (emphasis mine):
"The average yield of American farmers is nowhere near a ceiling. In 2013, David Hula, a farmer in Virginia, grew a US and probably world record: 454 bushels of corn per acre - three times the average yield in Iowa. His tractor cab is instrumented like the office of a high-speed Wall Street trader. In 2014, Hula's harvest rose 5 percent higher to 476 bushels, while Randy Dowdy, who farms near Valdosta, Georgia, busted the 500-bushel wall with a yield of 503 bushels per acre and won the National Corn Growers Contest."
It is also amazing to see that people consume only a small portion of US corn production. Again, a chart produced by Ausubel: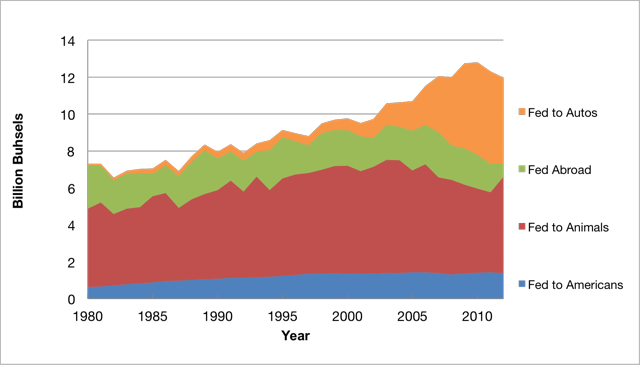 Uses of corn in the United States. Note: Includes production of high-fructose corn syrup, glucose and dextrose, starch, alcohol for beverages and manufacturing, seed, cereals, and other products. Data source: USDA Economic Research Service.
It is easy to see that just a small change in ethanol policy could have a dramatic (negative) impact on the price of corn. Moreover, my bullish expectations for Chinese consumption must be tempered by the potential for US consumption patterns exporting there way even to China. In "Pigs In China - A Longer-Term Reason To Like Corn," I argued that China's increasing consumption of pigs augured well for future corn prices. Ausubel has an answer for this thesis: chicken is winning the race for protein in the US and its more efficient conversion of feed to protein suggests less need for corn sometime in the future. Ausubel uses a car analogy to compare protein production across animals: "A steer gets about 12 miles per gallon, a pig 40, and a chicken 60." China will need to consume a LOT more pigs to carry a large bullish price thesis for corn.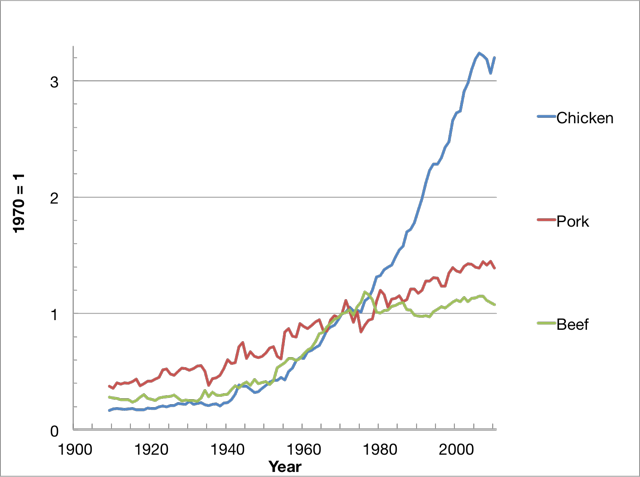 Chicken wins market share in US meat consumption. Data source: USDA.
Given the persistent longer-term downtrend in the price of Teucrium Corn ETF , I think I am better served to apply a trading strategy similar to the one I use for the iPath Dow Jones-UBS Cocoa Total Return Sub-Index ETN (NYSEARCA:NIB). NIB has a cyclical (as well as seasonal) behavior that I target for buying opportunities. Overall, NIB has performed a lot better than CORN given very strong demand compared to supply dynamics. CORN is down about 8% since its inception in 2010. It enjoyed a major run-up from there for about a year and had one more 2-month rally in 2012. CORN is down over 50% since that all-time high.
So, trading CORN will need to respect both cyclical (and/or seasonal) factors but also the tendency to decline over the course of time (for now anyway). Last August, I was already changing my strategy to include more trading, but I maintained a core position. I will now drop that core position as the latest rally in CORN appears to top out for now.
Be careful out there!
Disclosure: I am/we are long CORN.
I wrote this article myself, and it expresses my own opinions. I am not receiving compensation for it (other than from Seeking Alpha). I have no business relationship with any company whose stock is mentioned in this article.