The increase in new oil rigs took a breather this week in quantity, although not in quality. Even though the number of oil rigs increased just by three, a total of four new horizontal rigs and one directional rig were added this week. It is unclear how many of those rigs are oil versus gas, but by elimination, at least two of them have to be oil rigs. The Williston basin, one of the epicenters of the shale revolution during the boom years, added two new oil rigs.
Crude oil prices (NYSEARCA: USO) remained mostly unchanged after the report.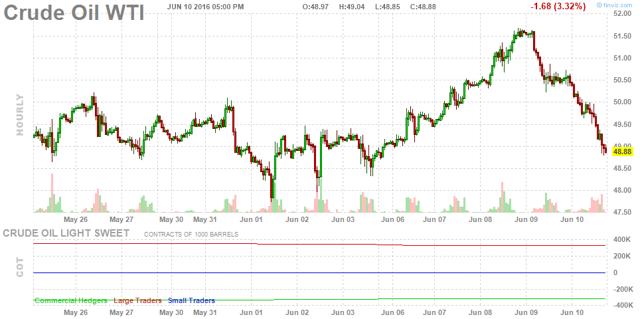 Source: Finviz.com
Data: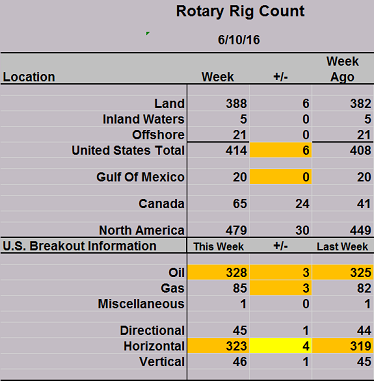 Source: Baker Hughes
* Total U.S. oil rig count increased by three. Although not as large as the nine rig increase during last week, at least two of these new rigs (and possibly three) have to be horizontal and/or directional. Therefore, while in terms on quantity the increase was not that large, in terms of quality, the addition of these three new rigs is still significant.
* Four new horizontal rigs and one directional rig (unclear about oil versus gas, but at least two of them have to be oil rigs).
* Natural gas rigs also increased by three, probably taking advantage of higher natural gas prices and the start of the cooling season.

Source: Baker Hughes, Orangutan Capital
* Two new oil rigs in the Williston basin, the epicenter of the shale revolution.
* Two new oil rigs in the Mississippian basin; none of them offshore.
* No new rigs in the Permian basin after a couple of weeks of additions. This is the most important basin (onshore, Lower 48) in terms of actual oil production.
* Three rigs out of Arkoma and Cana basins. These are smaller and less important basins.
Of these changes, the more relevant one is the addition of two new rigs into the Williston basin. Even if 24 rigs is a very small number compared to 224 at the peak, since this is essentially a shale play it is a basin that needs to be watched carefully.
Conclusion:
Not that many new oil rigs compared to last week, but some that require heavy capital expenditures, and thus a bright outlook about oil prices or equally likely, having hedged future production at current levels. Two new rigs in the Williston basin, one of the most important shale basins in the U.S. and a region where production could ramp up very quickly. Overall, we think that the bull market in oil rigs is still on.
Disclosure: I/we have no positions in any stocks mentioned, and no plans to initiate any positions within the next 72 hours.
I wrote this article myself, and it expresses my own opinions. I am not receiving compensation for it (other than from Seeking Alpha). I have no business relationship with any company whose stock is mentioned in this article.