Fannie Mae (OTCQB:FNMA) and Freddie Mac (OTCQB:FMCC) are two publicly traded private companies that are in conservatorship managed by the Federal Housing Finance Agency (FHFA) governed by the Housing and Economic Recovery Act (HERA). The government has been forced to produce discovery in Judge Sweeney's Court of Claims and the fight is now over whether or not plaintiffs will get access to some portion of the around 11,292 documents that have been produced but marked privilege by the government. The main reason I bought common shares recently, shifting my allocation from 100% preferred and 0% common to 90% preferred and 10% common, is because of recent documents being made public.
Investment Opportunity In Brief: The government is currently taking all of the money that Fannie and Freddie make and treating it like normal tax revenue, leaving nothing for equity GSE investors or the companies themselves. There are lawsuits filed in court rooms around the country benefiting from discovery produced in the Court of Claims. Based on the analysis below, it seems that Judge Sweeney has no problem ruling in favor of plaintiffs. In Judge Sweeney's Court of Claims, pending is a motion to compel. If the future is anything like the past, it makes sense to bet on a plaintiff victory. As such, the long-term value of the preferreds is par and the long-term value of the commons by some fully diluted estimates based on current projections of earnings power is in the neighborhood of $20 because combined Fannie Mae and Freddie Mac can be expected to make $15B/annum.
The Government Has Officially Asserted Presidential Communications Privilege
The best part about this latest filing is that four documents were delivered to the court for in-camera review two weeks ago: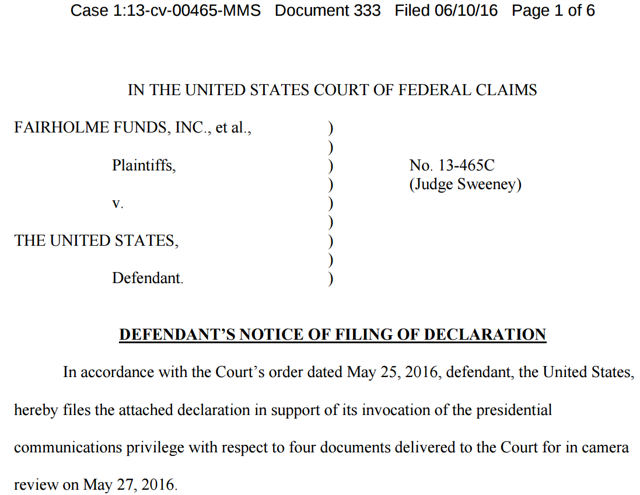 Further, we have the generalized meta data behind the documents that Judge Sweeney is reviewing hard copies of: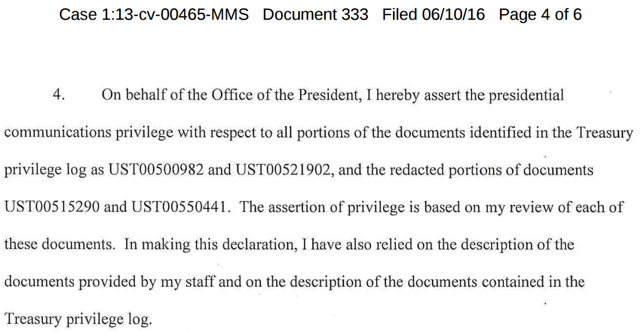 Matching Up The Four Documents Is Possible
Here is what we know about the documents that Presidential Communications Privilege is being asserted over that Judge Sweeney is reviewing:




If these documents contain information related to the lawsuits, that bodes extremely well for plaintiffs.
Uncovering The Cover-Up - Judge Sweeney Is A Pro
Most importantly, here is what Judge Sweeney said when documents were made available for oral arguments at the DC District Court of Appeals:

My favorite part is the government assertion that the court lacks jurisdiction over this case because the United States had no control over the enterprises. Judge Sweeney is looking at hard copies of the four documents outlined above as a ruling is prepared in response to the motion to compel. This is where the rubber meets the road. It appears that Judge Sweeney doesn't mind disclosing documents that result in the potential criticism of an agency. Remember that FHFA is supposed to be independent, by law.
Summary And Conclusion
Judge Sweeney now has a sampling of documents from which we will learn the extent to which they contain evidence of government malfeasance regarding the handling of Fannie Mae and Freddie Mac since conservatorship commenced. The cash flow paints a pretty clear picture as it is with the net cash flow since the beginning of conservatorship favoring the government by over $100B and counting with government budget estimates siphoning off more than $100B more across the next decade. The cash doesn't lie.
That's precisely why I own 4,050 shares of FMCCH, 9,340 shares of FMCCP, 4,442 shares of FMCCT, 5,000 shares of FMCKP, 27,086 shares of FNMFN, 5 shares of FNMFO and 25,092 shares of FNMA. The common shares are a lottery ticket on discovery producing some serious evidence that undermines the entire conservatorship resulting in more than just the reversal of the third amendment net worth sweep. It will be interesting to see if more documents are produced by discovery and are subsequently noticed in the DC District Court of Appeals before that court rules.
Disclosure: I am/we are long FMCCP, FMCCH, FNMA, FMCKO, FNMFN, FNMA.
I wrote this article myself, and it expresses my own opinions. I am not receiving compensation for it (other than from Seeking Alpha). I have no business relationship with any company whose stock is mentioned in this article.
Editor's Note: This article discusses one or more securities that do not trade on a major U.S. exchange. Please be aware of the risks associated with these stocks.