Summary
The market has overreacted by indiscriminately selling any oil and gas related companies, which allow for select opportunities for undervalued but fundamentally sound companies. I believe that Bristow Group Inc. (NYSE:BRS) is one of these attractive investment opportunities.
Market Selloff
Market overreaction as a result of the recent depression in oil prices has led to an unfair discount to Bristow's share price. In addition, a series of missed earnings due to the drop in the price of oil and a dividend reduction have diminished investor confidence. To further this negative sentiment, a recent fatal accident was reported several months ago. At the current price, I believe that the market has overly punished Bristow.
Thesis Overview
The market has overreacted and has placed Bristow's value below the fair market value of its assets. In addition, the concerns about the debt/interest coverage are unwarranted. In the long term, as oil fields continue to be retired, offshore oil production will become more important and Bristow is well positioned to capture the lion's share of the market. In addition to a strong move to increase Search and Rescue operation revenues, production-based O&G operations isolate Bristow as 60% of contracts stem from production. Under O&G cost structures, the costs associated with shutting down production are significantly higher than the exit costs of exploration or development.
If you would like to read the start of my thesis on oil, you can find it here. In that article, I give my analysis on oil and give common ways investors can play oil such as ETFs, including: BNO, DBO, OIL, UCO, USL, USO, and UWTI.
Business Overview
Bristow Group is the leading provider of industrial aviation services, offering transportation, search and rescue (or SAR) and aircraft support services to government and civil organizations worldwide. According to CEO Jonathan Baliff, the company's "focus on deep-water offshore production and diversification into civilian search and rescue and fixed-wing services continues to differentiate [them] from pure play offshore oil and gas companies". In response to the recent volatility in the energy market and to insulate against future volatility, Bristow has initiated several changes to its operations. These changes have both a short-term and long-term component. According to management, the cost reduction plan of $150 million will be completed by 2018 and is currently 20% way to this goal.
For the short term, Bristow has announced and begun a cost reduction plan aimed at improving efficiency and increasing profitability. Part of this plan was a dividend reduction that was viewed negatively by the market. This reduction, however, is justified and shows that management has a clear plan for Bristow's survival of a difficult time for the industry. Furthermore, if the company had continued to pay high dividends amid harshly declining revenues, then investors should have questioned the competences of management. In addition to these changes, Bristow restructured its management of each segment in order to increase intercompany communication as well as cut SG&A costs.
The long-term component involved the specialization of the fleet. In order to better serve its clients and address changes in the industry, Bristow has begun selling all of its smaller helicopters and investing in large helicopters. This shift is a result of declining demand for small helicopter services and Bristow's gradual shift to take a significant market share of deep-water projects which are more profitable and more stable source of revenue. In addition, Bristow has started a newly announced short-term helicopter rental program which will allow Bristow to utilize its unused helicopters. Since 2007, Bristow has moved from 58 large helicopters to 115 and has sold or declined to renew leases for 80% of its small helicopter fleet. This fleet standardization also will reduce costs as repairs and maintenance can be further specialized, allowing for fewer parts in inventory and less mechanics.
Business Segments and Operations
Bristow has three main operating business segments. The first is the Personal Transportation business segment which is related to two types of operations: exploration and production within the oil and gas sector. This segment accounts for 75% of operating revenues, with contracts typically signed for 3-5 years of service. This segment is the most affected from oil prices. However, it is structured in a way that add to Bristow's strong fundamentals. Instead of being completely based on number of flight hours flown, Bristow's contracts have three fee elements: a fixed charge, a variable charge, and cost reimbursement. Roughly 65% of the company's revenues come from fixed monthly service charges that are fixed and paid regardless of the number of flight hours flown. This leaves 35% of the revenue as variable and dependent on the number of flight hours flown. The cost reimbursement portion of the contract covers variable costs such as fuels and allows Bristow to pass on the majority of variable costs, which lowers the risk of unforeseen costs.
The Fixed Wing Service is a new business segment for Bristow and is facilitated by controlling interests in regional airways. The primary regions of operations are in Australia and West Europe and accounts for 10% of total revenue. This segment is a major selling point as it is now bundled as a transportation package with other helicopter transportation services. This segment allows some additional insulation from O&G sector as it focuses on transportation of clients and O&G executives rather than operational services.
The Search and Rescue operating segment experiences little to no impact from oil prices and currently accounts for 15% of total revenues. This segment is the newest and fastest growing division. Currently, all contracts for SAR are on an ad-hoc basis. The growth of this business segment has strong timing and the ability to offset some of the decreased revenue from O&G personal transportation services. Most recently, Bristow secured a major 10-year SAR contract from the UK government and currently is in contact with several other governments for similar contracts.

Investment Thesis
Strong Downside Protection
Bristow has some of the strongest business fundamentals in the helicopter services industry which grant the company strong downside protection. The first element is its global presence. Many of its competitors are specialized in one region or another which greatly increase their geographic risk. Another strong element is Bristow's safety standards and incredible accident track record. Bristow experiences one-tenth the number of accidents of any other firm or government operation and holds an accident rating of .37 Total Recordable Injury Rate per 200,000 man hours. This excellent professional reputation grants Bristow a large competitive advantage over its competitors and is one of the main reasons for the quick growth of its new SAR division as governments wishing to reduce the costs of operating SAR operations turn to Bristow for increased safety and lower costs.
In addition, the contract structure of the SAR segment is much more favorable for Bristow as 85% of revenue would be generated by fixed monthly service fees, leaving only 15% variable cost based on the number of flight hours flown. The 10-year UK SAR contract is estimated to produce an annual revenue of $250 million which will offset 18.2% of the reduction in revenue as a result of reduced O&G operations. Bristow is also pursuing additional SAR contracts in the Falkland Islands, Australia, and Brazil. Revenue diversification with non-oil and gas revenues is up 12% over 2015 and 20% over 2014. In addition of the UK SAR bases contracted, nine have been completed with the final one to be completed by the beginning of 2018.
Furthermore, as the industry leader, Bristow experiences some pricing power with operators. Even with the depressed price of oil, and as the oil and gas industry looks to cut costs, helicopter services are relatively safe as they only constitute less than 1% of total rig operating cost. In addition, the alternatives for transportation are not cost effective, time-consuming, and have higher accident ratings. Helicopter transportation is five times faster than transport boats and significantly safer. In an industry with unionized workers, switching away from helicopters to naval transportation is not feasible.
Financial Flexibility
In order to increase financial flexibility, Bristow has undertaken many new programs. One notable one has been the successful deferment or cancellation of capital expenditures in order to increase short-term financial flexibility. This plan will experience the majority of its effect on the company's financial statements in the start of 2017 and seems to have been ignored or overlooked by the market. According to the latest annual report, "over $100 million of capex has been deferred, with much of the FY16-17 dollars being used to complete U.K. SAR".
Covenants on Senior Secured Debt
A large concern held by the market has been Bristow's ability to avoid breaching the covenants on its senior secured debt. This fear seems to be one of the driving factors in the large negative sentiment of the most recent quarterly report. As of March 31, 2016, Bristow was able to have the covenants amended by the bank in order to provide greater financial flexibility. The leverage ratio covenant and interest coverage ratio covenant were replaced by a senior secured leverage ratio covenant and a current ratio covenant, respectively. This shows that the bank continues to have faith in Bristow's ability to perform but recognizes that the firm needs flexibility through the oil and gas downturn. In addition, Bristow has been able improve liquidity sequentially by 20% over last year. At a closer analysis using consensus estimates for 2017 to Q3 of 2018, estimates would have to be wrong by over 10% for Bristow to be in jeopardy of violating either of the covenants.
According to consensus estimates, Bristow has very low risk of violating the senior secured leverage ratio covenant. The concern in regards to covenants is more focused on the current ratio covenant, which shows the ratio of the firm's current assets to its current liabilities. But even so, it seems that the current ratio covenant is not at risk until the fourth quarter of 2017. The reason for this is the bullet payment of a $200 million term loan. Despite this payment, management has faith that SAR contracts will continue to grow and will further offset the decline in revenue as a result of less oil and gas operations. In addition, in the fourth quarter of 2017, once the term loan expires, upon payment, Bristow should be able to secure another term loan for a smaller amount to bridge until 2018 or begin a modest cash burn. Therefore, I believe that the debt covenant risk is overstated.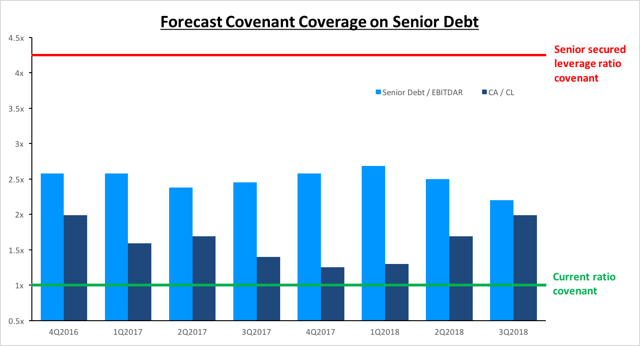 Future Liquidity Holds Some Concern
The second financial concern is regarding Bristow's liquidity. Currently, due to the reduction of some variable revenues as a result of low oil prices, Bristow is utilizing its cash and new debt to provide additional liquidity in this downturn. Bristow recently announced a $200 million term loan with a bullet payment due in November 2017. Though this adds some flexibility in the short term, liquidity will decrease significantly in late 2017 with the payment of this term loan of $200 million. In addition, the company is expected to begin a modest cash burn in 2017. This cash burn will last roughly one year until 2018, when the full cost reduction plan is reached and the cash burn is reversed. The graph below shows Bristow's current liquidity and the forecasted use and maturity of current revolving credit and term loan credit. It is important to note that the graph does not show any future additional revolving credit or term loans, which, according to the annual report, will be used to maintain high liquidity until this downturn is over.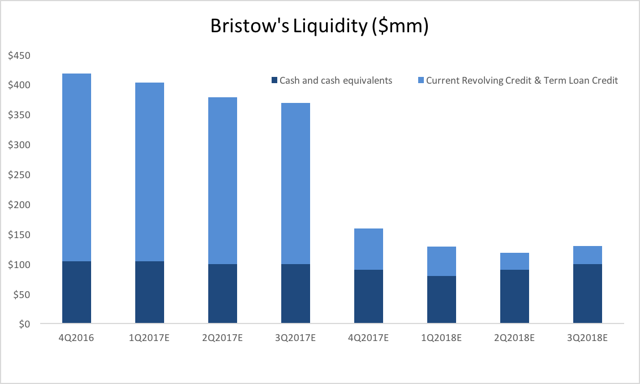 Valuation
Currently, Bristow's share price values the firm under net asset value (or NAV) which is very strange considering the company is not in immediate financial distress nor does it have significant bankruptcy risk. For the valuation, I utilized a fair market valuation method (FMV). I created two separate models: one using numbers from its most recent investor presentation as well as one using audited values from its balance sheet.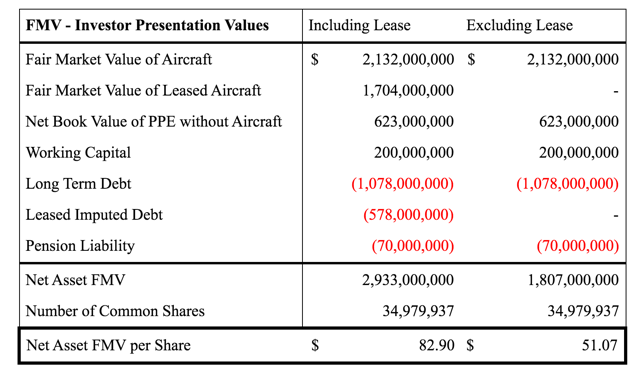 As the chart above shows, Bristow's fair market value draws significant value from its leased aircraft. This FMV, including Leased Aircraft, enables the total capture of all revenue streams, which include the new UK SAR contract. The second model for calculating the net asset fair market value utilizes the values pulled from Bristow's most recent annual report.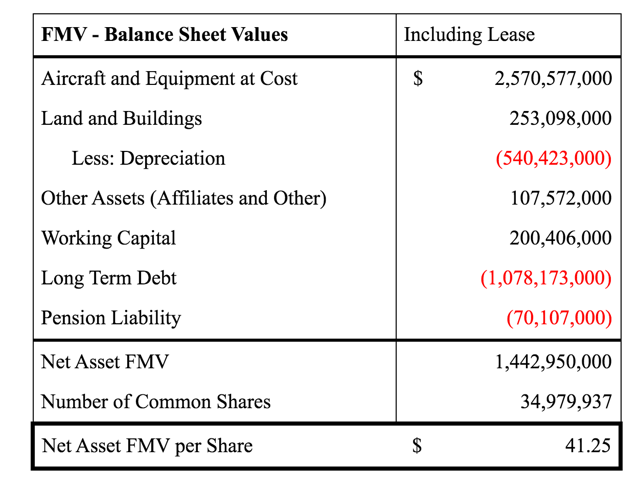 Comparable Analysis
Bristow Group has several real competitors of which the main global competitor is CHC Group (HELIF). The CHC Group was recently delisted from the NYSE and is in deep financial distress with a normalized Z-score giving the firm a 67% of filing bankruptcy within the next two years. As a result, Bristow Group is posed to take over the helicopter service industry as a clear leader. The second largest competitor for Bristow is Era Group (NYSE:ERA) which specifically only operates in North America. I feel this gives us a more accurate valuation. Using this valuation, I have updated my price target from $48 a share to $41.25 a share. This is not alarming as the previous valuation used values from last year's annual report. This value is similar to the lease excluded FMV per share which was calculated using values from the investor presentation.
Bristow's business model is a hybrid between the models of CHC and ERA. ERA decidedly owns the vast majority of its fleet while CHC instead leased the majority of its fleet. Though this added to the company's short-term liquidity, it hurt the company in times of economic and financial distress as the stress placed on the company due to the drop in oil prices left the firm with a large lease expense that it was not able to cover whereas firms such as ERA and Bristow are less affected by this risk. Bristow leases 39% of its fleet currently and has a target percentage of 35%. This grants Bristow several key advantages. It allows it the ability to update nearly half its fleet to next generation aircraft while maintaining some level of liquidity.
For helicopter service companies such as Bristow, EBITDA is not the best metric to use because it does not account for leased helicopters which can be a significant expense. Therefore, EBITDAR (Earnings before interest, tax, depreciation and amortization, and operational lease payments) is used instead which accounts for each firm's rent expenditure. For this reason, the EV/EBITDA metric is not as accurate and is instead replaced with EV/EBITDAR. Using this metric, we can use a simple comparable average to calculate the implied share price of Bristow using a multiples valuation. The EV/EBITDAR value of Era Group was ignored as it appears the firm might be entering financial distress. Using this average EV/EBITDAR, the implied share price of Bristow is $23.06.

Investment Risks
For Bristow, at present, there are several key risk factors. At this point, a significant percentage of total revenue is generated from oil and gas services. This makes one of the primary risk factors the material change in commodity prices which impact the entire oil service sector. Shifts in upstream (E&P) budgets could also impact the price performance of Bristow. In addition, political issues regarding the production of oil may result in higher taxes for the industry or result in costly regulatory changes. Furthermore, any large change in Bristow's safety performance may jeopardize the procurement of new SAR contracts. On April 29, 2016, during a flight from an offshore platform in Norway, an accident occurred involving a H225 helicopter. Government safety directives require that operations of the H225 aircraft be suspended in Norway and the UK. Bristow took an additional precaution and suspended all H225 operations globally until a full investigation into the cause of this accident is resolved. At present, a total of 20 H225 are not flying globally but this has not affected operations as Bristow deployed 76 of its S-92 aircraft to minimize the impact to clients. A final risk is the inability to successfully secure future financing should it violate the covenants of its senior debt or enter financial distress.
Recommendation
Using the valuation methods above as well as an analysis of the risks involved with Bristow's future operations, I believe in the company's ability to perform and survive this oil and gas downturn while continuing to expand its operations into SAR and fixed wing services. This positions Bristow uniquely for investors by allowing them to take a long position in oil but through a oil service business rather than an ETF or pure play oil company. Bristow Group is positioned to emerge as a dominating industry leader in the helicopter services industry. After the re-valuation, I have updated the price target from $48 previously to $41.25. This updated price target more accurately reflects the changes to the company's balance sheet and net asset value. The reason for this decrease in assets involves the company's long-term plan to move away from small helicopters. The majority of its small helicopter fleet has been successfully sold as well as a large majority of matured/aging helicopters have been retired and replaced with new next generation helicopters with better fuel efficiency, higher safety ratings, and better service performance.
Disclosure: I am/we are long BRS.
I wrote this article myself, and it expresses my own opinions. I am not receiving compensation for it (other than from Seeking Alpha). I have no business relationship with any company whose stock is mentioned in this article.
Additional disclosure: I am not a registered investment advisor or broker/dealer. Readers should conduct their own research and due diligence and obtain professional advice before making investment decisions. I will not be liable for any loss or damage caused by information obtained herein. Readers are solely responsible for their own investment decisions.