Immediately after Seadrill (NYSE:SDRL) announced the debt for equity swap, a huge swarm of Seeking Alpha commentators came out of the woodwork to talk up the stock. Let's first clear up a few things.
First of all, while the face value of the debt is $50 million, it's not even $50 million. Look at the language from the press release: "issue a total of 7,500,000 new shares of its common stock, par value $2.00 per share, in exchange for $50.0 million principal amount of the 2017 Notes." The $50 million was the face value of the debt, not the actual amount of debt swapped. The actual amount was somewhere closer to $25-$30 million, based on debt closing prices. There was also a small premium involved in the deal, 4-5%, which also probably sweetened the deal.
Second , this was tiny. Absolutely tiny. $50 million is an absolute drop in the bucket of Seadrill's gaping $8 billion maw of debt. This is essentially a non-issue in the grander scheme of things. There is absolutely no way that this would make any difference in how the dynamics of Seadrill's restructuring will eventually go. Remember, Seadrill still has $3.7 billion to repay by the end of 2017, and $50 million is about 1% of that.
Third, this is not replicable on a grander scale. This was a "privately negotiated exchange agreement with certain holders of its outstanding 5-5/8% Senior Notes due 2017 (the "2017 Notes")." Select bondholders decided to go ahead with this transaction, after I'm assuming a lot of careful negotiation with Seadrill officials. Seadrill did one before like this, sure, but it was of the same size, $50 million.
Fourth, let's analyze the motives of the party who decided to swap the debt for equity. Debt, especially distressed debt, is generally less liquid than equity. Matt Levine, a Bloomberg columnist, has a section on this. Every day in Seadrill's equity, however, about $25M of volume is traded. The debt holders were clearly trying to get out of a position that they thought was losing and where they didn't have a lot of liquidity, and so they got out with a small premium.
This is not a big deal folks. Seadrill is still going to get crushed under the weight of its debt. Look at this rig chart!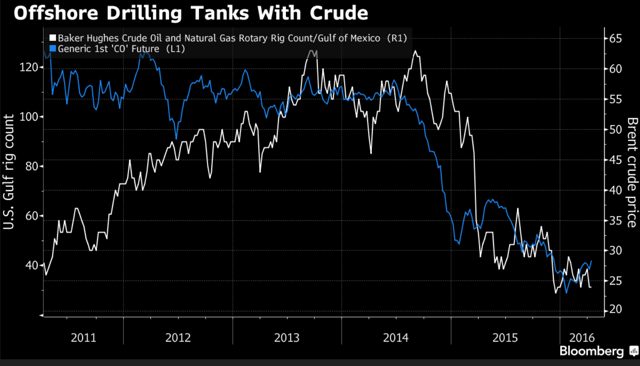 It's only a buy if you see a massive rally in oil. Stay safe investors.
Disclosure: I/we have no positions in any stocks mentioned, but may initiate a short position in SDRL over the next 72 hours.
I wrote this article myself, and it expresses my own opinions. I am not receiving compensation for it (other than from Seeking Alpha). I have no business relationship with any company whose stock is mentioned in this article.