Investors in Wal-Mart (NYSE:WMT) or Target (NYSE:TGT) have probably gotten over the market's general fear of retail stocks. While there are several fairly questionable retailers that still remain in business, Wal-Mart and Target shouldn't be going anywhere. To understand why these two dividend champions are such solid long term investments it helps to understand their sector.
Loving Oligopolies
The economics textbooks are a great resource for an investor hoping to learn more about the economy, but they also do a great disservice to investors by emphasizing perfect competition. While most economic theories will work great under perfect competition, it is not the natural state of the markets. The major markets primarily resemble oligopolies. The economics textbooks are correct about how oligopolies function, but there is very little emphasis on this market structure.
Retail is heavily controlled by oligopoly. Wal-Mart, Target, and Costco (NASDAQ:COST) are enormous powerhouses in the sector and they were hammering away at each other for years in a fight for market share. The result has been extremely thin profit margins. However, we have reached a critical tipping point. Wal-Mart and Target both recently shifted to spending an enormous portion of their cash flows on repurchasing shares. They are not explicitly cooperating, but each picked the option that maximizes value for shareholders of the industry. When Wal-Mart repurchases shares it drives up Wal-Mart's earnings per share, but it also means Target doesn't have to fight as aggressively to maintain their market share. The same thing can be said when Target repurchases shares. These two major players in the sector are still "competing", but they aren't hammering away at each other with reckless abandon like they were in the previous years.
For demonstration, take a look at the income statement from Target's last 10-K: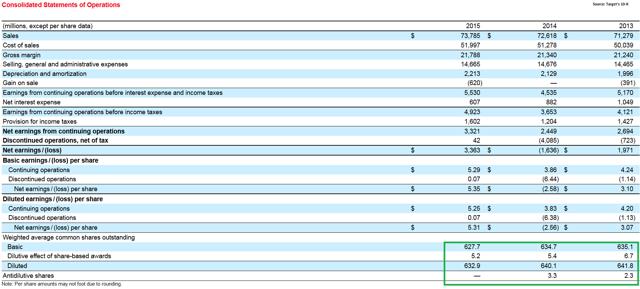 The green box demonstrates the weighted average shares outstanding for each year. That doesn't seem like the share count is down too much. However, if investors were to take a look at the Q1 results, they would see the weighted average shares for the first quarter were 598.3 million basic and 603.8 million diluted. That is a huge reduction relative to the volume outstanding in 2015.
Wal-Mart's average diluted shares for the last three fiscal years declined from 3,283 million to 3,217 million. For the last quarter the weighted average diluted shares were only 3,154 million. In both cases the retailers were repurchasing shares in prior periods, but they were doing it very slowly. Now repurchasing shares is the major use of cash for both retailers. They still have strong dividends, but instead of using the rest of the cash to attack each other they are simply returning it to shareholders.
The Buyback Frenzy
When dividend champions trade at significantly higher yields than in previous periods and opt to spend a substantial portion of their capital on repurchasing shares, it bodes well for everyone in the sector. The consumer is the only one that gets the short end of the stick. Consumers get stuck dealing with higher prices to support higher margins due to a reduction in competition.
Wages
One of the major concerns over the short term for all three retailers is the impact of raising wages for employees. Because wages are moving higher there would be a margin compression if these prices cannot be passed onto consumers. The incredibly irony in this situation is that many people are perfectly content to argue that an increase in minimum wage will cause all the companies to boost prices and therefore the higher wages won't actually buy more goods and services. While that theory gets plenty of lip service, Wall Street has spoken very clearly by punishing shares of each company and indicating strong expectations for weaker margins.
Target's Bathrooms
This really shouldn't be the topic of investment articles, but if I don't mention it then it will surely show up in the comments anyway. Investors are concerned that shoppers will avoid Target over a bathroom policy. I expect some marginal impact on same store sales but I don't expect a dividend champion with 48, no, make that 49 years of dividend increases to fall on a bathroom policy.
Clear Expectations
Because of rising wages I expect the short term operating margins to be weakened for each retailer.
Because wages are going up for people that shop there, I expect decent same store sales figures as much of the income is likely to be used at the store.
Because of share buybacks, I expect competition to weaken and stronger margins to quickly replace the weaker margins.
Since management of a huge company would never publicly state that their margins are improving because they are not aggressively competing with peers, I expect them to simply highlight the effectiveness of their workforce and the excellent performance of the share buyback plan.
Five years from now I think very few people will remember the Target bathroom policy unless they are looking at their account and thinking: "Man, I still can't believe people sold me this dividend champion at 13 times earnings over that story."
To reduce volatility in the account as the story plays out, I favor holding both Wal-Mart and Target. The P/E ratio on both is very compelling and Wal-Mart may be a top destination for shoppers trying to avoid Target. The P/E ratio on Costco still feels high but I'll have to look deeper into the potential for some margin growth.
Disclosure: I am/we are long TGT, WMT.
I wrote this article myself, and it expresses my own opinions. I am not receiving compensation for it (other than from Seeking Alpha). I have no business relationship with any company whose stock is mentioned in this article.
Additional disclosure: Information in this article represents the opinion of the analyst. All statements are represented as opinions, rather than facts, and should not be construed as advice to buy or sell a security. This article is prepared solely for publication on Seeking Alpha and any reproduction of it on other sites is unauthorized. Ratings of "outperform" and "underperform" reflect the analyst's estimation of a divergence between the market value for a security and the price that would be appropriate given the potential for risks and returns relative to other securities. The analyst does not know your particular objectives for returns or constraints upon investing. All investors are encouraged to do their own research before making any investment decision. Information is regularly obtained from Yahoo Finance, Google Finance, and SEC Database. If Yahoo, Google, or the SEC database contained faulty or old information it could be incorporated into my analysis.