I recently had the pleasure of reading a stout and well-articulated article by Michael Boyd titled, "Bed Bath & Beyond: Battered And Bruised, But Still A Buy". Within the article, Mr. Boyd outlines a plethora of concerns surrounding the Bed Bath & Beyond (NASDAQ:BBBY) business and why the stock is still a Buy despite these concerns. With BBBY's shares trading near 52-week lows, Mr. Boyd might be right and investors might see as much as 20% upside in shares of BBBY when the company reports 1st quarter results in July. Remember, the home goods retailer reports outside of the typical S&P 500 reporting cycle. With that in mind, the company has not accounted for what most of its peers have when they reported a poor sales quarter for Q1 2016.
Many of Bed Bath & Beyond's peers have reported a dismal Q1 sales and traffic trend, while managing to beat bottom line expectations. With all of the share buyback programs proliferating in the retail space, the bottom line results have been managed/engineered quite well and despite weakening sales. Mr. Boyd depicts Bed Bath & Beyond's share repurchase program below:
Before heading into some models where we took a look at what Bed Bath & Beyond's future might look like, it is important to highlight the company's share buyback program. The company has never beat around the bush when it comes to share buybacks, having retired nearly 38% of the float since 2011, with still $2.3B remaining on its buyback authorization at the end of fiscal 2015. That is enough to retire another 33% of the market cap, which makes the company's plan one of the larger open buyback plans on the market in terms of potential share retirement. You can see the activity over the past three quarters below, and how the company gets progressively more aggressive on buybacks as the share price falls:
With that said, it will be of great interest to see what Bed Bath & Beyond has in store for investors when they report Q1 2016 results. Is it possible that the beleaguered retailer can reverse its share price performance in 2016 or will the stock continue to slide further?
Since selling my share ownership of BBBY in 2015 and at $76 a share, I have stayed away from the retailer for the most part and shy of 1 profitable trade year-to-date. Simply put, the gross margin performance and rather meager sales growth offset any benefit for investors from the company's bottom line performance. Investors are not giving Bed Bath & Beyond any credit for its bottom line performance as they are well aware of what these results would look like absent the buyback program in place. This is only one of the reasons I authored an article earlier this year titled, "Bed Bath & Beyond: Stay Away". Since this publication, shares of BBBY have fallen roughly 12% to a low trading price of $41.90, but bounced from that level, albeit modestly, to where they closed last week at $43.53.
Bed Bath & Beyond is a highly unique retailer. There is no other retailer in the world with the store format and merchandising concept on the scale of Bed Bath & Beyond when it comes to home goods retailing. But even with this being understood, the concept is met with obstacles on all four sides of its operating walls as well as in the digital channel. These pressures on the business have been found to decrease the profitability of the business for several years now and find the retailer exhibiting gross profit margins that it hasn't seen since the financial crisis of 2008-09. What the company has offered to combat the growing concerns in profit margins is nothing more than its peers and has proven to bear very little fruit for the company. As such, it is difficult to place how, when and where the company will show improvements in its sales and profit margins without a meaningful improvement to overall consumer spending.
Taking the whole of the Bed Bath & Beyond business, which includes several department store characteristics, consumers are not spending as much at these retail establishments as they had in the past. Additionally, Bed Bath & Beyond's core customer demographic has become increasingly reliant on the retailer's couponing initiatives that have hurt overall sales and profitability. Despite issues surrounding the company's coupon/discount mainstays of the business that haven't facilitated customer demographic growth and sales, the retailer continues to enforce this retail methodology as depicted in the photograph below.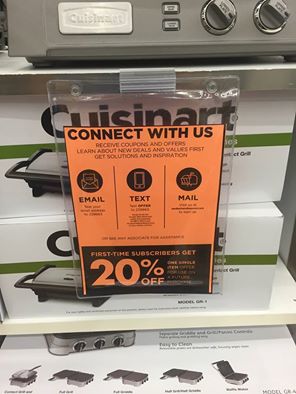 Last month, Bed Bath & Beyond, in attempts to increase sales through in-store traffic, marketed 20% off coupons to guests if they sign up for email, text or direct mail contact by the retailer. The highlighted promotional materials were plastered throughout the store and in every category of goods. When pared with the retailer's most recent and out of cycle couponing initiative, it seems as though Bed Bath & Beyond may have found Q1 2016 to be on par with its peers.
One of the variables I recognized in the Bed Bath & Beyond operation prior to the company's earnings release date was the continuation of "couponing" at a level of excess on a YOY basis. Please notice the photograph below indicating the retailer's increased couponing to consumers.

What makes the coupon promotion so impactful is that the "20% Off Entire Purchase" is not an anniversaried coupon. In other words, this did not occur during the same time a year ago.
It's clear that Bed Bath & Beyond is trying to allure new customers and even a new demographic of customer. Let's face it, when we look at Bed Bath & Beyond today, it hasn't changed all that much in the last 10 years. The company needs new product and not just new product that everyone carries and can be found at every department store. I recently had the opportunity to speak with a category buyer from Bed Bath & Beyond who offered that the company is working harder to differentiate its product from that of its peers. The category buyer who desired to remain nameless mentioned that in the era of e-commerce, it is increasingly difficult to achieve this feat of operational strength. Having said that, what I did find to be new to the retailer in a recent trip was the inclusion of the Poo Pourri product line.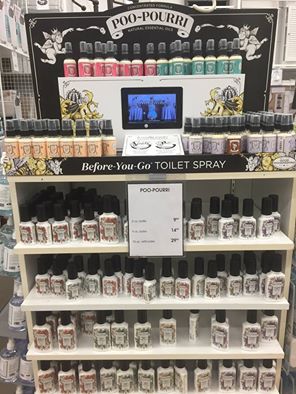 What started as a pilot test in a couple hundred stores wound up performing so well that Bed Bath & Beyond deployed the product line nationwide. Poo Pourri has prime retail space at the retailer on the end-cap in the bath department with a running commercial playing during store operating hours. Since 2007, the Poo Pourri company has taken retailers by storm. Other than Wal-Mart (NYSE:WMT), Bed Bath & Beyond is the only big-box chain that has launched the product nationally and now in Canada. Poo Pourri established its reputation online and in small shops originally, but now boasts some 20,000 retail points of sale. Bed Bath & Beyond is hoping to partake in some of Poo Pourri's success and serves to identify the retailer's willingness to explore new product initiatives. We'll have to see if the home goods retailer can duplicate the early success it's having with Poo Pourri.
Given Bed Bath & Beyond's trending gross profit margin performance and meager sales growth, an investment in the retailer requires a good deal of hopefulness on the part of the investor. There aren't a whole lot of identifiable and meaningful improvements to the business year-to-date. If the company reports another disappointing sales and gross profit margin performance in July, it's likely shares could take another leg lower and break $40 a share. In that case, what had looked like a value opportunity play in BBBY shares could turn into a value trap. In the mid-$40 range, I'm not willing to dedicate capital to hope for a Bed Bath & Beyond turnaround. I would rather be late to the turnaround story and benefit from a momentum play in shares of BBBY.
Disclosure: I/we have no positions in any stocks mentioned, and no plans to initiate any positions within the next 72 hours.
I wrote this article myself, and it expresses my own opinions. I am not receiving compensation for it (other than from Seeking Alpha). I have no business relationship with any company whose stock is mentioned in this article.