In the last weekend's preview ("Market Catalysts For Downside This Week"), we gave reasons why we expected the S&P 500 (NYSEARCA:SPY) to be down. The actual dates for those catalysts were coming this week and next. As we continue to approach these material catalyst events, we again expect the market to trade down for the week.
Last week's SPY performance was -.3% when measured from Monday to Friday. That's not so exciting versus our bearish weekly call, but the performance is starting to add up (see our SA Page for performance or here).
This Week's Critical Catalysts: (Fed and Inflation)
Transitory Flip In Effect
For the last few weeks, we focused you away from growth measures and onto inflation measures. We've seen inflation measures jump ever since CPI's .4%. That .4% is an annual rate of 4.8%, which is way ahead of the Fed's 2% mandate. We don't see many writing about it, but it's key. Ahead of the CPI jump, we saw it coming when we first expected the Transitory Flip.
The transitory flip, for new followers was the flip in the dollar and oil. The Fed had cited these factors as "transitory" reasons inflation was held back. As soon as they flipped (oil turned up and the dollar turned down), inflation numbers were out of the cage.
Growth measures don't interest us much right now. When growth is good, rates are going up. If growth is bad, as it has been, then rates need to go up because of inflation, and if they don't, it creates a bigger issue down the road. (bad is bad, good is bad).
That's why inflation, to us, is all that matters. If inflation keeps peeking higher, it's a problem for the Fed and the market.
Here's the outcomes as we see it:
Strong growth - strong inflation : Bad
Weak growth - strong inflation: Bad
Weak growth - weak inflation: Bad
Strong growth - weak inflation: Our official rating... not a chance.
(Thus, we're a tad bearish.)
Inflation in a slowing economy is terrible for the consumer budget and credit payments. Consumers are increasingly overextended on credit.
Total Consumer Credit
| | | | | | | | | | | | |
| --- | --- | --- | --- | --- | --- | --- | --- | --- | --- | --- | --- |
| Growth | '12 | '13 | '14 | '15 | Q1 | Q2 | Q3 | Q4 | Q1 | Feb | Mar |
| Total | 5.9 | 6 | 7.2 | 7 | 6.1 | 7.9 | 7.1 | 6.1 | 6.1 | 4.4 | 9.6 |
| Revolving | 0.5 | 1.4 | 3.9 | 5.2 | 2 | 6.9 | 5.6 | 5.9 | 5.1 | 2.9 | 13.3 |
The chart above is sourced from the Fed and shows total consumer credit growth rates. Revolving credit just jumped in March versus the last few years (chart goes back to 2012).
This pickup is versus a slowdown in GDP.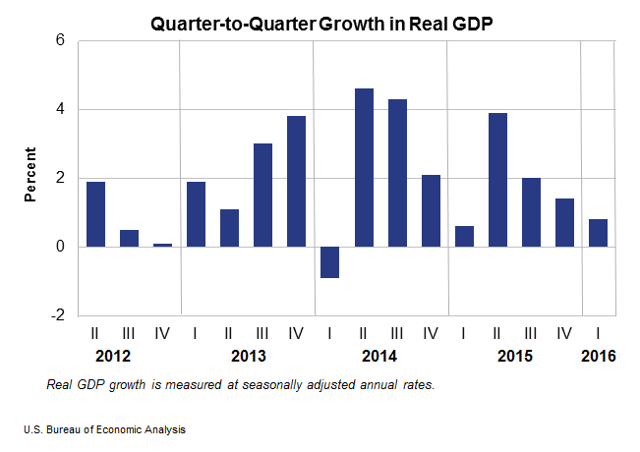 And jobs...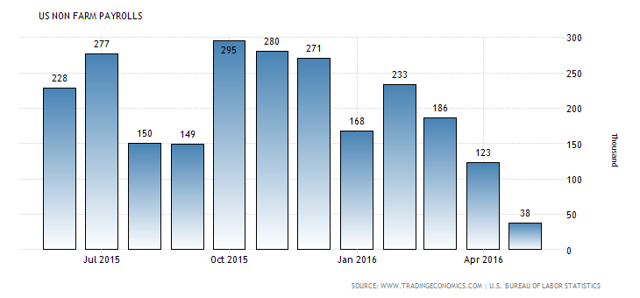 We have multiple reports showing that credit might start to tighten ("Credit Tighten") in the face of the above economic slowdown and higher credit balances.
Inflation would be a bad blow in the current scenario given the above combination because consumers are already stretched. If prices of their needed basket of goods goes up, it could continue to kick up that "revolving" number in the credit table above. That's not good for banks, the economy, the consumer or the market.
Inflation makes the needed goods more expensive which also pushes out the ability to buy other discretionary goods, slowing the economy.
That's why we're watching inflation.
Besides the above, inflation is not good for markets. The chart below shows, generally, when inflation is up, markets are down.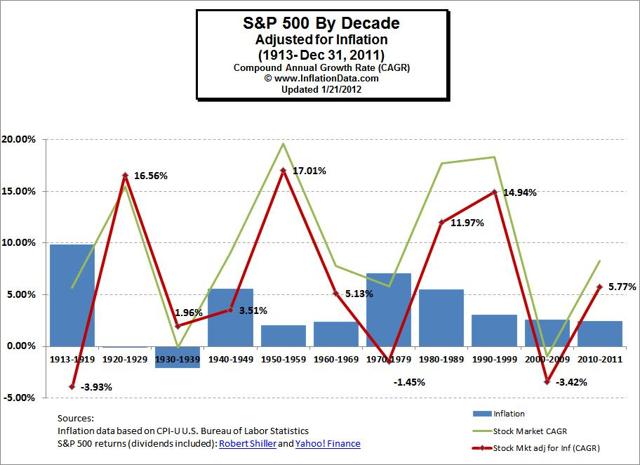 We know everybody wants to talk about deflation. Until we see it, we don't see the value in discussing it.
This Week's Calendar
Tuesday:
Import Prices: We don't think anybody cares about this number .... but we do.
Follow me here... Import prices (Tuesday) will give us a look into Thursday's CPI (that the Fed will know Wednesday) ahead of the Fed. (Tuesday, we may know Thursday for Wednesday. That would be nice, right?)
Remember, import prices were 1/2 of the transitory equation holding the Fed back from raising earlier in the year. When it flipped, the Fed became hawks only 3 days after we predicted and two days after the numbers confirmed (See "Did The Fed Just Tell Us To Go Short").
Wednesday: Fed Day
What's important today is PPI, The Fed Meeting, and Tomorrow's CPI.
Who cares about tomorrow's CPI when we have the Fed today?
We do! Why? Because the Fed will know that number.
The key for Wednesday, we think, is Thursday's CPI because the Fed will have it in hand to help them with their rate decision.
Understand this.
NOBODY IS EXPECTING A RATE HIKE WEDNESDAY!
IF CPI IS BAD THURSDAY, THE FED WILL KNOW THAT WEDNESDAY
IF CPI IS BAD, despite that nobody expects a rate hike...
THERE IS A CHANCE FOR A RATE HIKE ON WEDNESDAY.
(Sorry for the bold, but the point had to be made. You can beat me up in the comments about it, I'm used to it now.)
Here's CPI.
| | | | | | | | | | | | | | |
| --- | --- | --- | --- | --- | --- | --- | --- | --- | --- | --- | --- | --- | --- |
| CPI | | | | | | | | | | | | | |
| Apr | May | Jun | Jul | Aug | Sept | Oct | Nov | Dec | Jan | Feb | Mar | Apr | May |
| 0.1 | 0.3 | 0.2 | 0.1 | 0 | -0.1 | 0.2 | 0.1 | -0.1 | 0 | -0.2 | 0.1 | 0.4 | ? |
If you've read anything by Elazar Advisors, you know we helped you predict inflation and follow it increasing. It's a fair chance that the CPI remains elevated like last month.
If so, that is the wild card.(as we've reported)
Thursday's Key Catalyst: CPI
Wait a minute, you said CPI was a Wednesday factor.
Well, we're here to tell you it may be a Thursday factor.
If the Fed doesn't raise and that CPI is elevated on Thursday, the Fed is "behind the curve" and it shows how "stuck" the Fed really is. Slowing growth and rising prices is a bad combination for markets.
June 23rd: Brexit: We expect a pullout.
We didn't talk to the UK PM or anything, but we expect the UK to pull out. We'd guess that a country would rather not be tied to the rest of Europe and all the weak links. Europe has been slow, while the UK has been a relatively strong player.
As for markets, the Fed pointed out in their last minutes that Brexit was a risk. If the Fed thinks it's a risk, we think it's a risk. It's that simple.
And to be clear, what does risk mean? Risk means stocks down several percent.
That's next week though, so we don't have to worry about it this week, right? In the famous words of our commenter Salmo trutta, (who came to our defense countless times In Fed We Trust), "DEAD WRONG." Wrong. (Thanks Salmo!)
We expect to get that priced in this week too.
Fed Already Leaning To Tighten
We reported last week that we saw the Fed pulling back liquidity to the market recently. That is a huge risk.
| | | |
| --- | --- | --- |
| 2016-03-16 | 4232737908165.06 | 0.17% |
| 2016-03-23 | 4237588939610.38 | 0.29% |
| 2016-03-30 | 4227737869418.21 | 0.05% |
| 2016-04-06 | 4227742869241.47 | 0.05% |
| 2016-04-13 | 4240778708763.83 | 0.36% |
| 2016-04-20 | 4232138742347.26 | 0.16% |
| 2016-04-27 | 4217347772482.82 | -0.19% |
| 2016-05-04 | 4217348914171.30 | -0.19% |
| 2016-05-11 | 4217348914173.75 | -0.19% |
| 2016-05-18 | 4225254468670.98 | 0.00% |
| 2016-05-25 | 4213395717442.05 | -0.28% |
| 2016-06-01 | 4213397178595.39 | -0.28% |
| 2016-06-08 | 4213402180000.1 | -0.28% |
The -.28% is the amount of liquidity that the Fed has removed year to date. The last time the Fed had negative liquidity trends in a year, that year was down. Liquidity and the market obviously go hand in hand. We also think it shows a key hint which way they are leaning.
We think, even if growth is weak, if inflation is strong, rates will need to go higher. For the background on the above numbers please see the following reports:
&
In Fed We Trust, Fed-Led '08 Meltdown Exposed, It's Setting Up Again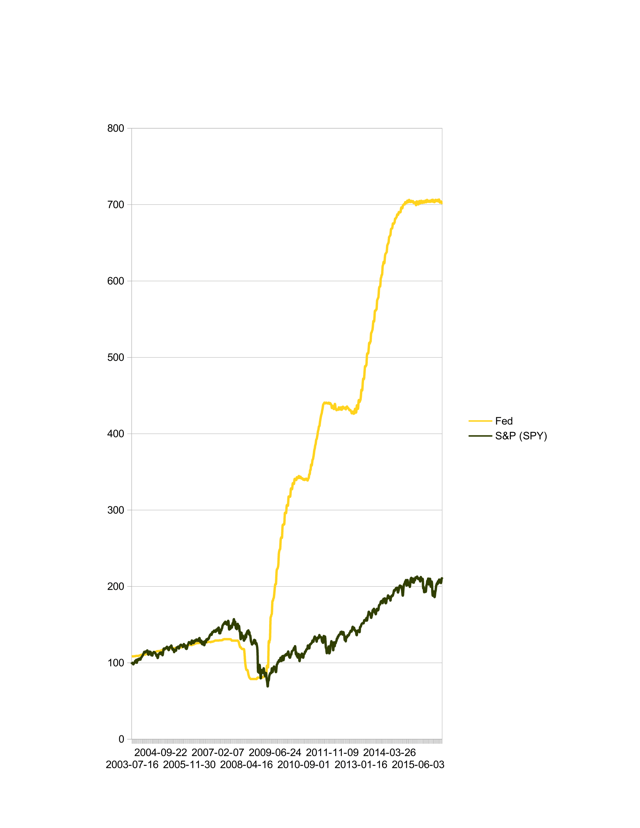 Our grid shows you the latest move of that yellow line which represents Fed liquidity to the market. The right side of the yellow line shows the recent slight down tick.
Our point Friday ("Why Isn't It Much Higher?") was that if the Fed's liquidity spree couldn't get the market up, then if liquidity rolls, the market may be in trouble.
VIX Needs a FIX. Still No Risk Priced Into Markets
Last weekend, we called the VIX a "mismatch" to current events. With the amount of slowing growth, inflation, Fed and Brexit, (our take), the market was pricing in no risk.
The VIX popped on Friday, but in reality, it's still pricing in no risk. We think there's a mismatch of fundamentals to trader positions that needs a fix. We think that fix comes through lower markets and a higher VIX. (FIX the VIX, Elazar 2016, no copyright.).
We called last week's VIX "a sign of complacency," and we continue to feel that.
Here's the chart as of Friday: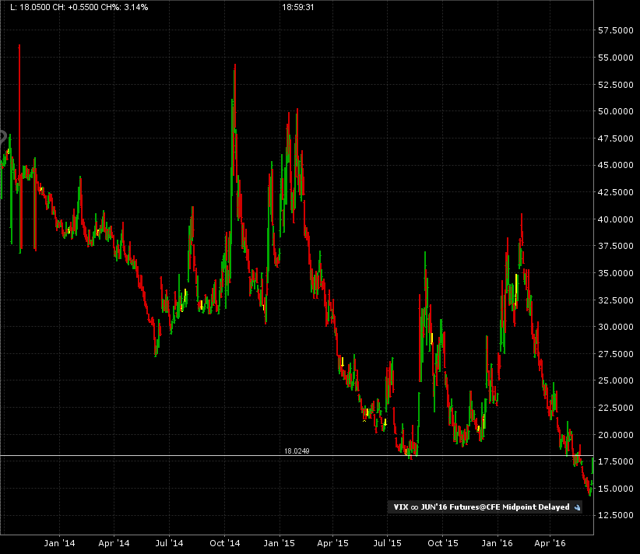 Conclusion
The Fed holds a huge key for markets. They've already shown hints, through our yellow line, of potentially tightening. Whether that shows up in rate hikes yet, most think not. That said, CPI has in it a daunting reality that another .4% could lead to a surprise hike Wednesday or a "behind the curve" market hit on Thursday.
Happy trading.
Good luck and please be in touch. All of your comments teach us a ton and give us the best ideas for what to write next!! You may even get a shout out.
Elazar Advisors, LLC specializes in earnings and predicts, analyzes and reacts to earnings and earnings events as well as developing current company and macro stories with a hedge fund perspective.
If you want Elazar's analysis on Seeking Alpha, scroll to the top of the article and hit "Follow." Elazar also writes real-time pieces as earnings and news are reported on Seeking Alpha. If you want to be among the first updated, be sure to check the box for "Real-time alerts on this author" under "Follow."
Disclaimer: All investments have many risks and can lose principal in the short and long term. This article is for information purposes only. By reading this you agree, understand and accept that you take upon yourself all responsibility for all of your investment decisions and to do your own work and hold Chaim Siegel, Elazar Advisors, LLC, bestideas, their related parties, and its authors harmless.
Disclosure: I am/we are short ES, WHICH CAN CHANGE AT ANY TIME.
I wrote this article myself, and it expresses my own opinions. I am not receiving compensation for it (other than from Seeking Alpha). I have no business relationship with any company whose stock is mentioned in this article.