Good morning, and welcome to the June 13 edition of Seeking Alpha's Eye on Tech newsletter.
Microsoft's smaller/thinner Xbox One S gets leaked - Ahead of a Monday event at the gaming industry's E3 conference, The Verge has leaked images and specs for the Xbox One S, a smaller version of the One that appears to have a 2TB hard drive, support HDR gaming content, and handle 4K video playback (but not 4K gaming, which is expected to be provided by a 2017 Xbox). The Verge adds it was previously told the One S will be 40% smaller than the regular One.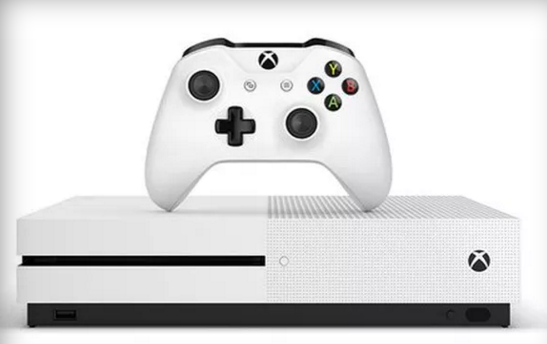 Microsoft's Xbox One S. Source: The Verge.
The leak arrives shortly after Sony (NYSE:SNE) confirmed it's launching a 4K-capable PS4 this year, while adding it'll cost more than the standard PS4 and won't be shown off at E3. The PS4 has outsold the Xbox One, and with Sony set to beat Microsoft (NASDAQ:MSFT) to the punch in supporting 4K gaming and (not counting console-to-PC streaming) a VR headset, that trend looks set to continue. AMD (NASDAQ:AMD) is the CPU/GPU supplier for both consoles.
Bloomberg: Intel modems will be used in AT&T and some overseas iPhones, Qualcomm still has Verizon and China - Qualcomm (NASDAQ:QCOM) fell 2.1% following the report amid a 1.3% Nasdaq drop, while Intel (NASDAQ:INTC) outperformed by rising 0.3%. While it was already widely expected that Apple (NASDAQ:AAPL) will partly rely on Intel to fulfill its iPhone 7 modem needs after years of solely relying on Qualcomm for iPhone and iPad modems, Bloomberg's report added some notable details. In particular, its assertion that Intel chips will go into iPhones meant for AT&T's network runs counter to speculation Intel would only be used in emerging markets and other locales where 4G wasn't widely deployed and/or where 4G networks hadn't been upgraded to support LTE Advanced.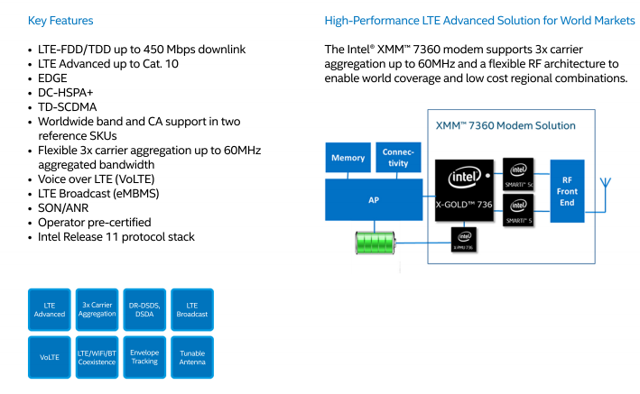 Intel's XMM 7360 modem. Likely going into some iPhone 7 models.
The fact Qualcomm's modems will still be used for Verizon's network and in China might have to do with the company's experience in supplying modems used on 3G EV-DO networks (used by Verizon, Sprint (NYSE:S), and China Telecom (NYSE:CHA), among others) and 3G TD-SCDMA networks (used by multiple Chinese carriers). The Intel modem used within the iPhone 7 is likely the XMM 7360 (450Mbps peak download speed), while the Qualcomm modem is likely the Snapdragon X12 (600Mbps peak).
Qualcomm might be able to win back share next year with its Snapdragon X16 modem, which can reach a 1Gbps peak download speed. Intel's next-gen XMM 7480 modem, though providing several improvements relative to the XMM 7360, still only tops out at 450Mbps. On the other hand, Intel is working to add EV-DO support for its modems via assets acquired from Taiwanese chipmaker VIA Technology.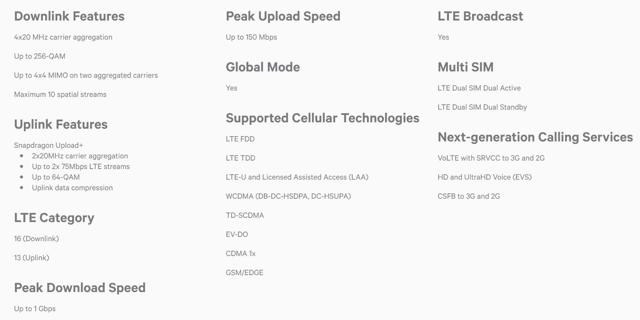 Qualcomm's next-gen Snapdragon X16 modem
Apple sold 231.5M iPhones in 2015. With Qualcomm likely getting (judging by teardown estimates) over $20 per unit for its modems and a few complementary chips, the company may have obtained ~$5B in iPhone-related revenue last year. There's a good chance Intel undercut Qualcomm to win Apple's business.
Symantec is buying web security hardware/software firm Blue Coat for $4.65B - Symantec (NASDAQ:SYMC) had suggested it would use some of the $5.3B in post-tax proceeds it received from the sale of its Veritas storage software unit to make enterprise security acquisitions. All the same, the size of this deal is likely to surprise many. Blue Coat, which had been set for an IPO, is being acquired for a relatively steep multiple of 6.2x trailing sales. Symantec, whose multiples have been hurt by top-line woes, sported an enterprise value equal to just 1.9x trailing sales as of Friday's close. As part of the deal, Blue Coat CEO Greg Clark will become Symantec's CEO, thus ending the latter's search for a new chief.
The purchase lowers Symantec's dependence on a consumer security business (calendar Q1 revenue -7% Y/Y to $406M) hurt by competition from the likes of Microsoft and AVG (NYSE:AVG), and adds a strong hardware footprint for an enterprise security business (Q1 revenue -5% to $467M) that has been declining while the likes of Palo Alto Networks (NYSE:PANW), FireEye (NASDAQ:FEYE), Proofpoint (NASDAQ:PFPT), and Qualys (NASDAQ:QLYS) post strong double-digit growth. Blue Coat's security products - they include web gateway, web app firewall, and content-analysis appliances, as well as virtual (software-based) appliances and cloud-based services for securing web and cloud content - complement Symantec's mainstay endpoint protection and data loss prevention software.
Nonetheless, the price of the acquisition could cause some sticker shock. Blue Coat owner Bain must be pretty happy with the price, given it paid only $2.4B for Blue Coat last year.
Top Japanese mobile messaging firm Line files for IPO - Better late than never? Back in 2014, Line (NASDAQ:LN) parent Naver (OTCPK:NHNCF) delayed an IPO it reportedly hoped would give Line a ~$10B valuation. Now, the WSJ suggests a $5B+ valuation could be on tap as Line files for listings in NYC and Tokyo.
A major slowdown in user growth - the result of WhatsApp, Facebook Messenger, and Tencent's (OTCPK:TCEHY) WeChat being dominant in so much of the world - has much to do with lower IPO expectations. Line's monthly active users ("MAUs") only rose by 13M Y/Y in Q1 to 218M. With MAUs having risen by 7M in Japan to 61M and 21M in Taiwan, Thailand, and Indonesia to 91M, the company lost users elsewhere.
On the other hand, thanks in large part to a leading position in the lucrative Japanese market, Line did post-2015 revenue of $1.07B (up 39% on a yen basis) and Q1 revenue of $298M (up 19% on a yen basis). Compared with Facebook (NASDAQ:FB), Line (like Tencent) is pretty far along in monetizing its messaging apps; the company does so via ads, internally-developed and third-party games, stickers, and e-commerce services.
Hypothetically, if Facebook produced half as much as revenue per Messenger MAU and a quarter as much per WhatsApp MAU as Line does from its MAUs - one has to assume lower ARPUs given Messenger and WhatsApp's bases skew more towards emerging markets, and WhatsApp prides itself on its no-frills approach - it would still get over $3.5B/year in revenue from Messenger and WhatsApp. The first Messenger ads will be arriving soon.
Reports: AT&T bids ~$5B for Yahoo, Verizon's lower bid excludes patents/real estate - Bloomberg says AT&T (NYSE:T) and a group led by Dan Gilbert/backed by Warren Buffett are each bidding ~$5B for Yahoo' s (YHOO) "core" business, patents, and real estate. Re/code, meanwhile, gives some valuable context to a Thursday CNBC report that said Verizon (NYSE:VZ) only bid ~$3.5B for the one-time web giant: Verizon's bid excluded the patents and real estate.
Re/code adds Yahoo values its patents around $3B and its real estate around $1B, though others assign lower valuations to each (~$1B for the patents). If Yahoo is confident about getting strong offers for its patents and real estate - the company is reportedly running a separate auction for the former - Verizon could still be well-positioned. As a reminder, Yahoo (thanks to its Alibaba/Yahoo Japan stakes) is worth $35B, not $5B.
Reuters: Amazon plans to give the world another $10/month streaming music service - In case the $10/month subscription music services provided by Spotify (MUSIC), Apple , Google/YouTube, Tidal, and Deezer all leave you unsatisfied, Amazon (NASDAQ:AMZN) might have something for you. Reuters says Jeff Bezos & Co. are prepping a rival service, while adding it's doing so because it "believes a comprehensive music service is important to its bid to be a one-stop shop for content and goods." Pandora's (NYSE:P) pending on-demand streaming service - it's being launched as listener growth for the company's web radio service flatlines - will clearly have no shortage of competition.
Amazon already bundles a streaming music/offline download service featuring a relatively limited (but still sizable) library with Prime subscriptions. Given how driven the company is to grow its Prime base, it's possible Amazon could give Prime subs a discount for the new music service.
Reuters: Alipay parent Ant Financial invests $35M for 20% stake in financial data firm Shanghai Suntime - Ant, which recently raised $4.5B at a reported ~$60B valuation, is reportedly investing in Suntime to further expand its financial services offerings. Though best known for Alipay's online/mobile payment services, Ant's offerings now also include wealth management products, small business loans, and insurance. While Alipay is believed to be quite profitable, the same doesn't hold for many of the other services.
Alibaba (NYSE:BABA), which stands to own a third of Ant after it goes public, has dipped its toes into financial content as well. Last year, the company invested over $190M in financial TV/newspaper owner China Business News to "create a financial data and information services company that will help Chinese small and medium enterprises tap a rich mine of financial data."
Google Fiber explores using gigabit Wi-Fi for the last mile - Chairman Eric Schmidt says Google (GOOG, GOOGL) is thinking of using Wi-Fi links delivered via high-frequency/millimeter-wave spectrum - it provides more bandwidth than traditional mobile spectrum, but has less range and can struggle to penetrate walls - to deliver gigabit broadband without having to undertake the costly and time-consuming effort to bring fiber inside homes, apartments, and offices.
Various carriers looking to use 5G for last-mile broadband also plan to rely on high-band spectrum. Likewise, Facebook wants to enable multi-gigabit broadband in dense urban areas via Terragraph, a wireless technology relying on base stations operating in the 60Ghz. band and placed every 200-250 meters. There are still technical challenges to work out, but Moore's Law (or what's left of it) and antenna advances appear likely to make last-mile gigabit wireless commercially viable within a few years. In Google's case, that could do a lot to further the company's goal of extensively providing Fiber in major U.S. metro areas, and become a bigger headache for incumbent broadband ISPs.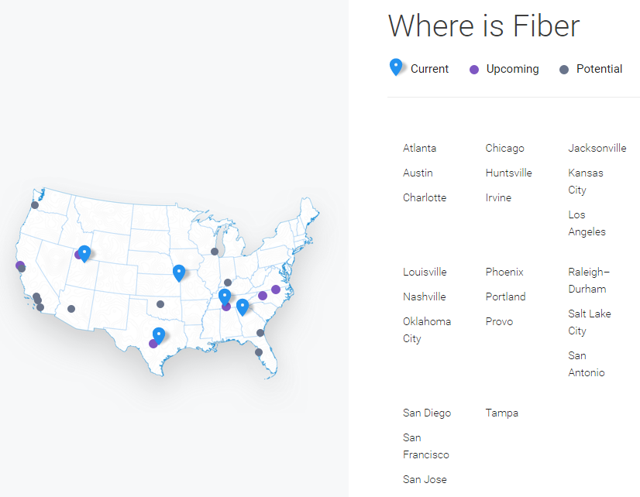 Gigabit wireless could help Google rapidly expand Fiber's availability
NPD: U.S. physical retail video game sales rose 19% Y/Y in May - After dropping an estimated 22% in April, new titles helped U.S. physical game sales fare much better in May. Sony's Uncharted led the way, and another Sony title (MLB 16: The Show) came in at #9. Take-Two (NASDAQ:TTWO) also had a good month, with Battleborn, Grand Theft Auto V, and NBA 2K16 coming in at #4, #5, and #7. Activision's (NASDAQ:ATVI) Overwatch and Call of Duty: Black Ops III were respectively #3 and #8. Electronic Arts (NASDAQ:EA) was shut out of the top-10, and console sales fell 10%.
NPD's numbers don't cover digital game, subscription, or content sales. PwC estimates U.S. digital console game revenue will rise from $2.01B in 2015 to $3.61B in 2020, and physical console game revenue decline from $7.6B to $6.23B over the same time. Total PC game revenue is expected to rise from $3.53B to $4.78B, with digital growth more than offsetting physical game declines.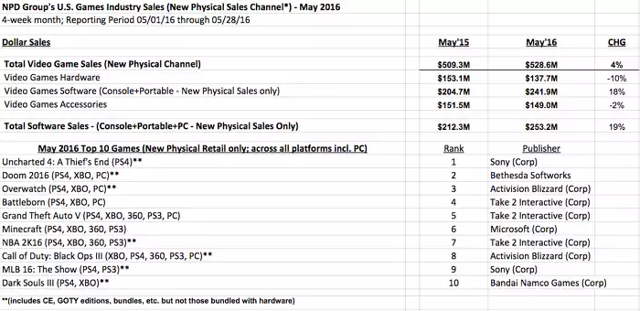 What to expect at Apple's WWDC conference - Apple's annual developer conference kicks off at 1PM ET on Monday (webcast), and as usual, software/services will get more attention than hardware. Along with new versions of iOS and Mac OS X - the latter is expected to be renamed MacOS - Apple is expected to unveil an Apple Music revamp, the opening of Siri to third-party developers, and support for web-based Apple Pay payments.
Disclosure: I/we have no positions in any stocks mentioned, and no plans to initiate any positions within the next 72 hours.
I wrote this article myself, and it expresses my own opinions. I am not receiving compensation for it. I have no business relationship with any company whose stock is mentioned in this article.
Editor's Note: This article discusses one or more securities that do not trade on a major U.S. exchange. Please be aware of the risks associated with these stocks.