Every "brick & mortar" retailer is now acutely aware of the existential threat posed by Amazon (NASDAQ:AMZN). While there is no doubt that Amazon has disrupted the market, unless a major recession is imminent, I do believe that Mr. Market has overreacted. Physical stores, particularly for apparel, are not going out of business and Retailers are ramping up their own online channels. The US dollar strength will eventually decline and foreign tourists will be back. Most people still want to touch and try on clothing before buying and not buy stuff online.
This article uses a couple of unique metrics you may not see often to demonstrate that apparel retailers are now offering exceptional value.
1. The first metric I will use here is Cash Return: It's actually a more useful tool than the P/E ratio as it is capital structure (debt/equity) agnostic. We can calculate cash return by adding free cash flow (cash from operations minus capital expenditures) to net interest expense (interest expense minus interest income), and then dividing the sum by enterprise value (market cap plus long-term debt, minus cash). We add back interest expense to free cash flow so that capital structure doesn't impact cash return.
Cash Return = (Free Cash Flow + Net Interest Expense)/(Enterprise Value)
The goal of the cash return metric is to measure how efficiently the business is using its capital - both equity and debt - to generate free cash flow. Cash return tells us how much free cash flow a company generates as a percentage of how much it would cost an investor to buy out the entire business. I convert the cash return to per share and divide it by the year-end share price to get a cash return %. Using a % enables us to compare this metric with the other yield-based metrics described below.
2. The second metric I will use is Owner Earnings popularized by Warren Buffett: The earnings that you can take out of the business every year without affecting its competitive position is called as wwner earnings. This is the excess cash that can be taken out without affecting the business.
Warren Buffett defines owner earnings as:
Owner Earnings (OE)= A + B - C, defined as below:
Reported earnings plus (A) + Depreciation, depletion, amortization, and certain other non-cash charges (B) - Average annual amount of capitalized expenditures (maintenance capex) used to maintain sales (C).
I then convert owner earnings to per share and divide by year-end share price to get an owner earnings yield.
Note that I distinguish capex used for "maintenance activities" from "growth activities." I calculate the ratio of PPE to sales for each of the five prior years and find the average. We use this to indicate the dollars of PPE it takes to support each dollar of sales. We then multiply this ratio by the growth (or decrease) in sales dollars the company has achieved in the current year. The result of that calculation is growth capex. We then subtract it from total capex to arrive at maintenance capex. - page 96 of Bruce Greenwald's EPV book. (Read more)
3. The third metric I use is more mundane. It is "Earnings Yield." This is basically the reverse of the P/E ratio converted to a percentage. Unlike the two measures supra, which are cash flow measures, earnings yield is a GAAP measure and gives an accounting perspective to the earnings.
In the charts below, I will show that apparel retailers are now in a bear market and barring an imminent recession are very undervalued as compared to their historical norms based on the above metrics.
(NYSE:KSS)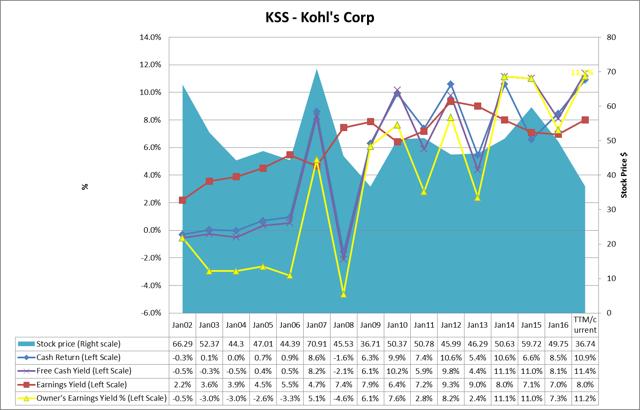 The above chart shows that Kohl's stock (represented by the blue area) has declined from a high of $65 in 2015 to $35 right now. Owner earnings yield has hit an astounding 11.2%. The company is producing tremendous amount of cash.
(NYSE:BKE)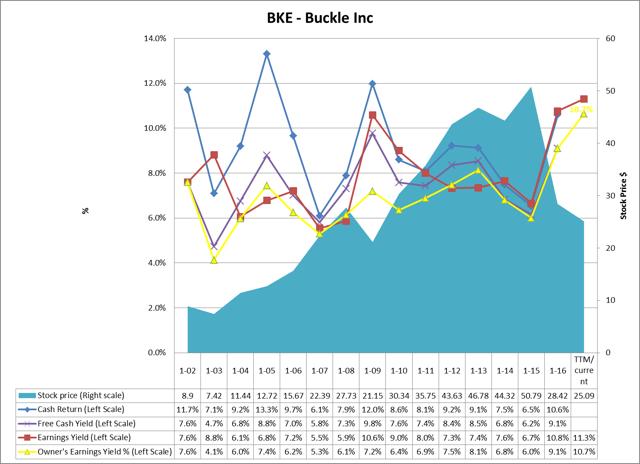 Buckle's owner earnings are also over 10%. The highest in its history.
(NYSE:JWN)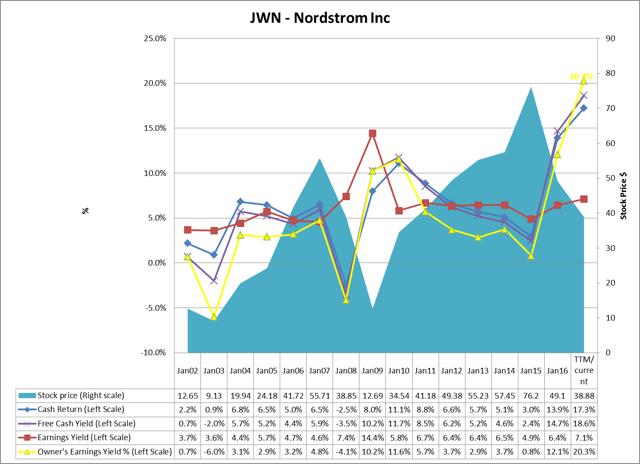 Nordstrom's owner earnings yield is an astronomical 20%. Much of it is driven by inventory reduction. It's an indication that it will come out of this downturn, lean and mean.
(NYSE:M)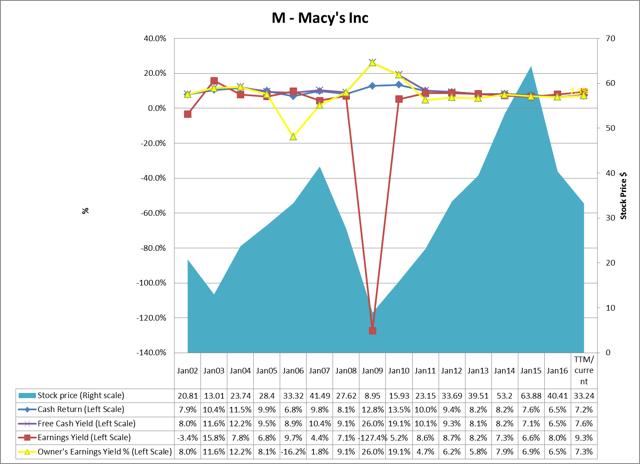 (NASDAQ:BBBY)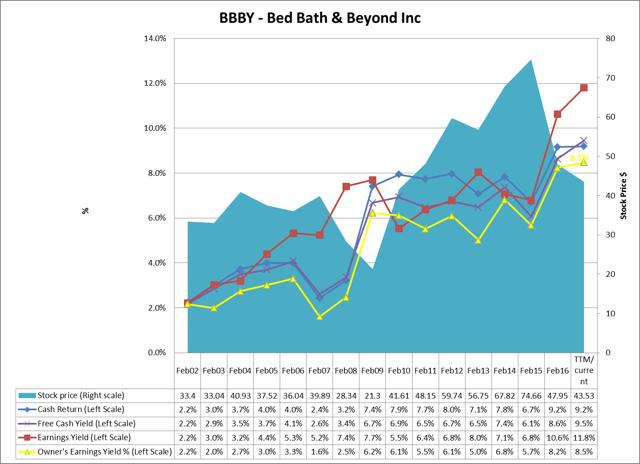 BBBY is another soft goods retailer with a very high cash return and earnings yield. Is everyone buying its towels and bed sheets from Amazon? If so, where is all the cash coming from? BBBY does not pay a dividend, but is using the cash to buy its own stock, thus returning cash to the shareholders.
(NYSE:GPS)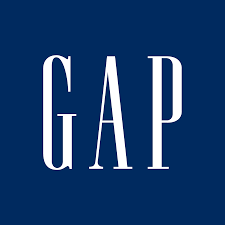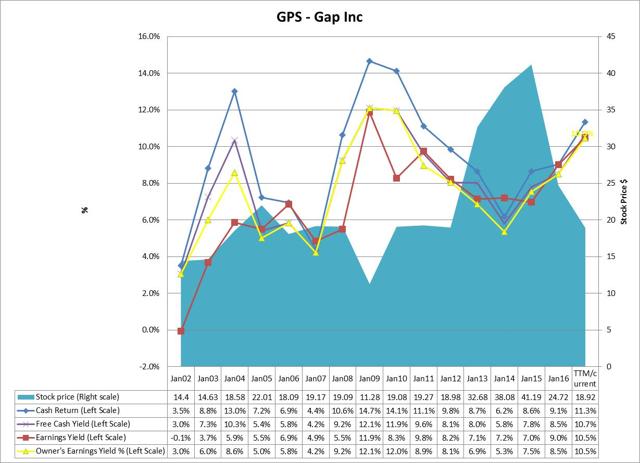 Gap is another retailer with yields over 10%. Gap is very shareholder friendly and not only pays out a 4.8% dividend, but is buying back stock hand over fist. GAP has bought back over half its outstanding stock in the last decade and has virtually no debt. An outstanding value in my opinion.
I am also including charts for Amazon, Wal-Mart (NYSE:WMT) and Costco (NASDAQ:COST) as a comparison for the above charts.
(AMZN)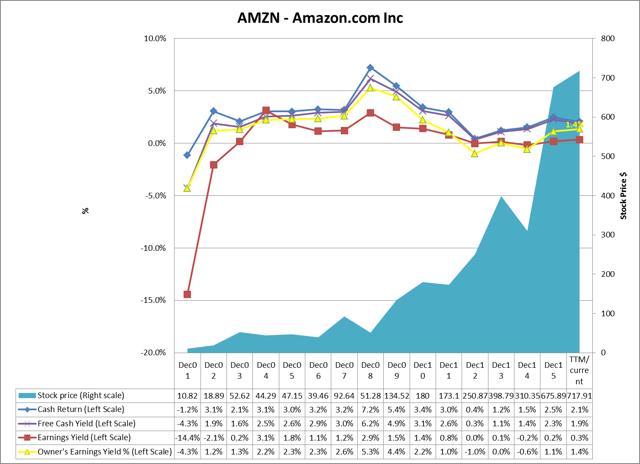 Amazon - the 8000-pound gorilla - but you are just getting 1.4% at this price. With an earnings yield of 0.3%, obviously, the market is expecting Amazon to wipe out all "brick & mortar" retailers from the face of the earth.
(WMT)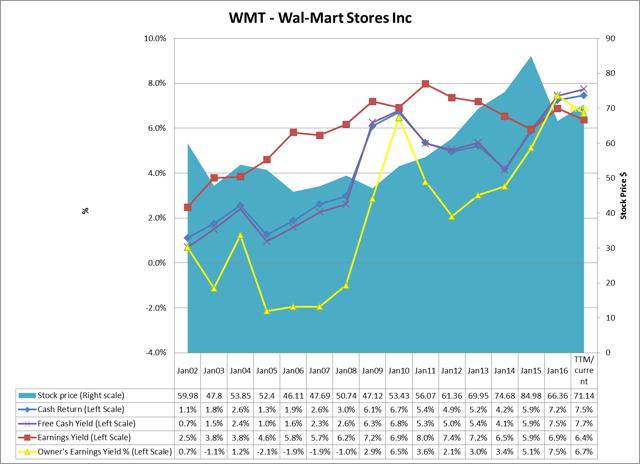 Wal-Mart has pretty decent owner earnings of 6.7% down from 7% last year, but close to the highest it's been in its entire history. Wal-Mart is in the midst of transforming itself into an omni-channel retailer.
(COST)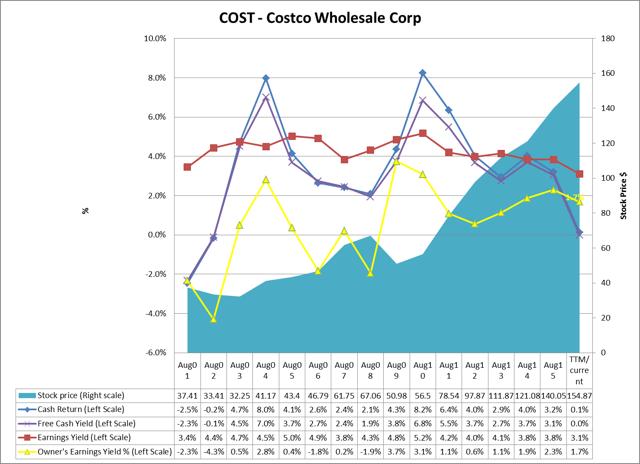 Costco again looks richly valued with owner earnings of 1.7% and earnings yield of 3.5%.
Summary
Softline retailers are suffering for a variety of reasons with stock prices in a clear bear market. Are the retailers signaling a recession? Or has Amazon inflicted a mortal wound on brick & mortars? Or is it the strength of the US dollar which is keeping the foreign tourists away in the larger US cities? Or is the American shopper simply shopped out with no more space left in their closet and bedrooms? I think it is probably all of the above, and we should keep a close eye of this sector, as it is now presenting some extraordinary value. I hope I have provided you with some food for thought and I look forward to your comments below.
Disclosure: I/we have no positions in any stocks mentioned, and no plans to initiate any positions within the next 72 hours.
I wrote this article myself, and it expresses my own opinions. I am not receiving compensation for it (other than from Seeking Alpha). I have no business relationship with any company whose stock is mentioned in this article.
Additional disclosure: Charts were created in Microsoft Excel from financial data obtained from Gurufocus.com.