Oil prices continued to rise on June 8th after news broke that crude inventories for the prior week managed to fall for a third week in a row but prices grew weaker later in the week. This data, provided by the EIA (Energy Information Administration) is certainly welcomed since any sort of drop in oil inventories helps the supply/demand rebalancing process but this report was a lot less appealing to me than it was to markets. In what follows, I will look at what this means for companies like Memorial Production Partners (NASDAQ:MEMP), Approach Resources (NASDAQ:AREX), and Legacy Reserves (NASDAQ:LGCY), as well as for those in the United States Oil ETF (NYSEARCA:USO) and other oil-related ETFs.
Inventories were mixed but mostly up
According to the EIA, crude inventories for the week came in at 532.5 million barrels. If this estimate is accurate, it implies a drop of 3.2 million barrels compared to the 535.7 million barrels seen a week earlier. This sort of drop is positive and was higher than the 3 million barrels analysts anticipated but it was below, unfortunately, the nearly 3.6 million barrels forecasted by the API (American Petroleum Institute) just a day earlier. In the graph below, you can see what the crude inventory level has been over the past 52 weeks.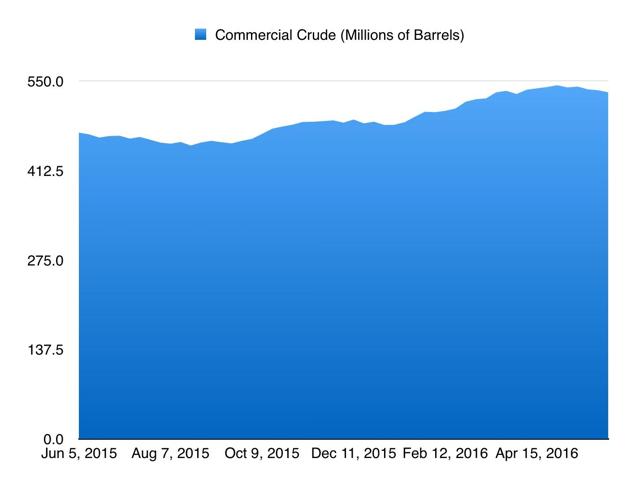 Unfortunately, while the crude level did drop nicely, most petroleum products categories showed inventory increases for the week. Motor gasoline, for instance, grew by 1 million barrels, rising from 238.6 million barrels to 239.6 million. Distillate fuel stocks popped 1.8 million barrels higher, climbing from 149.6 million barrels to 151.4 million and kerosene-type jet fuel saw a similar increase, growing 1.9 million barrels from 42.3 million barrels to 44.2 million. Propane/propylene shot up by 1.9 million barrels from 75.4 million to 77.3 million, while the "other" category of petroleum products grew by 1.9 million barrels from 261.6 million to 263.5 million.
For the most part, this is rather disappointing in my opinion but it remains to be seen whether this will turn into a trend or whether it's a one-time deal. Fortunately, some categories did show modest signs of improvement for the week, such as fuel ethanol, which dropped by 0.6 million barrels from 20.8 million to 20.2 million and residual fuel, which declined by 1.3 million barrels from 41 million to just 39.7 million. However, even with these declines, total crude plus petroleum products saw an increase of 3.2 million barrels for the week, growing from 1.3651 billion barrels to 1.3683 billion.
Production rises but demand stays strong
For the first time in several weeks, the EIA reported an increase in oil production after previously seeing output fall at a nice clip in the past. According to the data provided, output for the week came in at 8.745 million barrels per day, up 10 thousand barrels per day from the 8.735 million barrels per day seen a week earlier. This is slightly depressing but when you consider that Alaska saw an increase of 18 thousand barrels per day while the Lower 48 category saw a decline of 8 thousand barrels per day (or 56 thousand barrels for the week), the very area that needs to see a reduction in output in the long run, it takes some of the edge off the increase.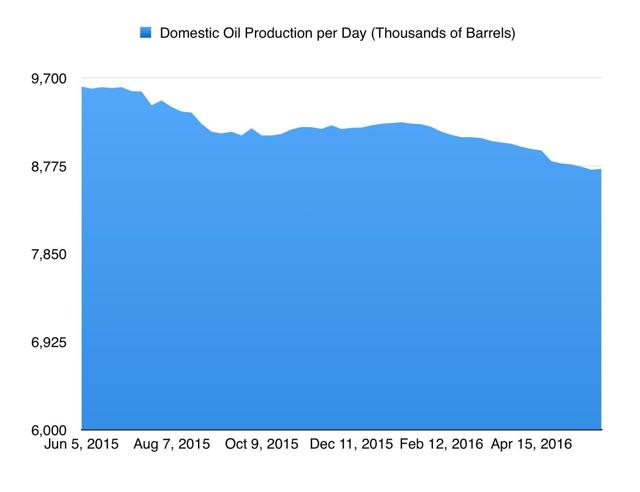 Though weaker than I would have liked, motor gasoline demand is still strong. During the week, demand came out to 9.568 million barrels per day, a decrease from the prior week's 9.716 million barrels per day and the 9.600 million barrels per day seen the same period a year ago. However, if you look at the four-week average year-over-year, demand came in at 9.639 million barrels per day, 2.6% higher than last year's 9.393 million barrels per day. Distillate fuel demand was also lower for the week and year-over-year but the four-week average for it came out to 3.954 million barrels per day, 0.4% above the 3.939 million barrels per day seen a year ago so that's not terrible given its weakness most of this year.
The rig count rose... again
Another negative reported for the week came from Baker Hughes (BHI). In its weekly report, the company announced that the oil rig count in the U.S. increased by 3 units last week, climbing to 328 units in operation. Although an increase like this is negative, it's important to keep in mind the fact that we are still 48.3% lower than we were last year, when the rig count stood at 635 units this time of year. In Canada, meanwhile, the oil rig count increased by 16 units to 29. Although this is a large uptick, the Canadian rig count is still 57.4% lower than the 68 units seen the same week a year ago.
Takeaway
After reporting previously that the oil picture is looking much, much better than it did earlier this year, I must now say that this release by the EIA is a bit concerning. I still believe the picture is far better than in the recent past and upside from here for oil-related investments could be material, but this release is the most bearish I've seen in quite a few weeks. Ultimately, we will need to keep an eye on things and I'd say this is probably more of a bump in the road than anything but with the price of oil rising as much as it has, there is the possibility that Mr. Market could be inviting additional production online.
Disclosure: I am/we are long AREX, MEMP, LGCY.
I wrote this article myself, and it expresses my own opinions. I am not receiving compensation for it (other than from Seeking Alpha). I have no business relationship with any company whose stock is mentioned in this article.
Additional disclosure: My LGCY holding is in the form of preferred units, not common ones.
Editor's Note: This article covers one or more stocks trading at less than $1 per share and/or with less than a $100 million market cap. Please be aware of the risks associated with these stocks.