History Rhymes
The countdown for Brexit has started. On June 23rd,the UK will decide whether to remain in the European Union or not. I am not British, I haven't studied the British situation and I am not sure Brexit will be a good choice. What I know is that Europe is not doing anything interesting to become an attractive region for business. Countries that managed to keep a decent amount of economic freedom have all the interest in being independent. I know there are some concerns and doubts about the potential fallout of Brexit, especially in the first years of the process. Economists have already exposed problems linked to regulatory divergences that may arise, the general shift of European policies towards less liberal ones after the most liberal country exits and the political contagion that could lead other countries to follow the UK. Markets have already started to react to all the concerns related to Brexit, with all the indexes falling sharply.
I am seeing a situation that, in some respects, replicates what we have already experienced in 2011, when fears that the eurozone could break up sent spreads to record highs and triggered a bear market for European stocks that, for many stock indexes - such as the Italian MIB and the Spanish IBEX - lasted until July 2012. Brexit could be more or less important from an economic point of view. But from a socio-political perspective, it could really generate a contagion in the region. The "proof of concept" of leaving the EU could liberate disintegrative forces elsewhere. The loss of an important contributor like the UK - the second-largest economy in the region after Germany, and expected to be the first by 2030 - could put interest rates on the rising path again and instill doubts about the future of the European Union and the eurozone. "Weaker" countries such as Italy and Spain could suffer again, watching interest rates skyrocketing once more if investors believe the eurozone could break up. Italy and Spain benefit from low interest rates on their government bonds as a result of being part of the European Union. After the break-up, every country will be paying interest rates that are consistent with their level of risk. If the markets anticipates fears of a break-up, as it did in 2011, we could see a sharp decline in all the eurozone stock indexes, especially for the weaker ones, such as the Italian FTSE MIB and the Spanish IBEX.
So, I will briefly summarize my short-medium term bearish view. Brexit can trigger concerns about a socio-political contagion that could cast doubts on the forever-lasting nature of the EU and the eurozone. The idea that the eurozone can break up could trigger a sell-off as the markets discount fears. The main targets of the sell-off will be the markets in countries with high debt, low GDP growth and structural problems, such as Italy, where public debt is even higher than in 2011 and GDP growth expectations point to a poor +1% for 2016. The idea that the weaker countries could end up paying interest rates on the basis of their credit merit, without all of the eurozone backing them, has already triggered a bear market in 2011. We could see a similar sell-off in the coming weeks (even if probably not one of the same magnitude, also because the market is already in bearish mode).
I see in Brexit a significant catalyst that could make my portfolio suffer in the coming weeks. I have therefore decided to start some short positions in some stocks that I had already targeted as potential shorts on a standalone basis, and for which I was waiting for a catalyst.
Mediaset
Mediaset (OTC:MDIEF, OTCPK:MDIUY) is a famous Italian company in the media & entertainment industry. It manages free on-air channels and, until a few months ago, also managed a pay-per-view platform called Mediaset Premium that it recently sold to Vivendi as part of a strategic deal. I have exposed a bearish view on the stock, based on rising competition and a lack of effective solutions by the management to face it.

Mediaset hasn't shown decent profits for years. The decline started even before the entrance of Netflix (NASDAQ:NFLX) and the other internet-based competitors. Now the company's business sees even more competition on several fronts. First, competition is coming from internet-based players such as Netflix and the streaming industry in general (pirate or legit). Second, the company's competitors are trying to gain market share by offering their contents in a sort of bundle. Sky (OTCQX:SKYAY) is offering subscriptions through a bundle with telecommunication operators Fastweb and TIM, while TIMvision is included in telephone and internet packages of Telecom Italia (TI, OTCPK:TIAOF, OTCPK:TIAJF). Netflix is doing something similar with telecommunication operator Vodafone (VODA).
If you are interested in my bearish view on the stock, you can read more here and here.
The company is still exposed to interest rates changes because of its leverage. According to the last annual report, the debt-to-equity ratio of the stock is 2.09, with €4,803 million in debt against €2,294 million in equity (USD 5,235 million in debt against USD 2,500 million in equity). Mediaset's business is done entirely in Italy and Spain, two of the economies that are highly exposed to rising interest rate risks. Moreover, the stock depends on advertising, a significantly cyclical industry that can easily go south with macroeconomic issues.
My bearish view, based on rising competition and ineffective strategic choices, can find support in rising interest rates if my expectations regarding Brexit are correct.
Brunello Cucinelli
Brunello Cucinelli (OTC:BCUCF, OTCPK:BCUCY) is an Italian fashion brand which sells apparel and accessories. It has caught my attention for the high valuation that the market gives the stock compared to its peers. The stock trades at 32 times 2016 expected earnings, and is expected to deliver earnings growth of about 9-10% a year. Salvatore Ferragamo (OTCPK:SFRGF, OTCPK:SFRGY) is trading at 16.7 times 2016 expected earnings, while Tod's (OTC:TODGF, OTCPK:TDPAY) is trading at 17.6 times 2016 expected earnings. Earnings growth expectations for both Ferragamo and Tod's are almost identical to Brunello Cucinelli, but they trade at almost half of Brunello Cucinelli's multiple.
Same story if we consider EV/EBITDA. Brunello Cucinelli is trading at 15.9 times forward EV/EBITDA, against 9.07 for Salvatore Ferragamo and 8.69 for Tod's. Again, the stock is trading at a significant premium to its peers.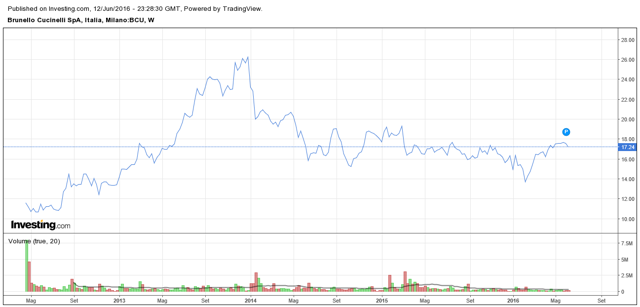 The stock skyrocketed after its IPO in 2013, reaching a P/E multiple close to 60, with the market expecting stellar growth for the company. In reality, Brunello Cucinelli's growth was all but stellar, with a 10% earnings growth in 2014 and actually no growth in 2015.

Regarding Q1 2016, only sales data are available, since European companies are not obligated to publish results for Q1 and Q3 anymore. The company delivered an interesting 9.1% revenue growth. Earnings growth expectations for Brunello Cucinelli are therefore in line with the company's recent performance.
Generally speaking, fashion industry stocks have been beaten down recently, in response to the Chinese slowdown, a decrease in consumer spending by tourists and a slight shift in consumer spending from fashion items to other sectors such as leisure and entertainment. Clearly, the company operates in a very particular segment, i.e., high-quality luxury apparel. This is probably the reason why it still enjoys such a higher valuation. The segment in which the company operates is less cyclical and less exposed to shifts in consumer spending preferences, but to be honest, I don't see stellar growth opportunities for companies selling $2,000-3,000 suits because of the modest market size and the significant competition that comes from small boutiques. For earnings expected to grow at a 10% yearly rate, a 32 P/E multiple looks very generous to me. The valuation gap with other companies in the fashion industry, such as Tod's and Salvatore Ferragamo, must be significantly reduced. Given the high exposure to Italy (that accounts for 20.8% of the sales) and to Europe in general (51.9% of sales), the sell-off I expect as a result of Brexit concerns could push down the stock to more reasonable valuation multiples.
Conclusion
I expect a significant sell-off in the coming weeks in European markets as a consequence of concerns related to Brexit. The idea that the European Union and the eurozone can lose pieces can create a situation similar to what we experienced in 2011, with rising interest rates and falling stock markets. Italy is particularly exposed to such risks, and I see this as a good opportunity to start short positions for hedging my portfolio. I have decided to take advantage of the opportunity to short stocks that I targeted as potential shorts for other reasons, such as high valuation or increasing competition. In the case of Mediaset, I have already exposed my bearish view in two recent articles, mainly based on rising competition, scarce/lacking profitability and no effective steps undertaken by management to correct such problems. In Brunello Cucinelli's case, the high valuation and the significant premium to market peers is not justified by recent performance and expectations for the future. I don't have a price target, but in the case that the market reacts to Brexit as I expect, I think the potential downside for both stocks can be easily in the 20-25% area.
Remember that short selling is risky. Please do your own research before selling stocks short.
Disclosure: I am/we are short MDIEF, BCUCF.
I wrote this article myself, and it expresses my own opinions. I am not receiving compensation for it (other than from Seeking Alpha). I have no business relationship with any company whose stock is mentioned in this article.
Additional disclosure: I am short Mediaset stock, Brunello cucinelli stock. I am long Mediaset put options, Brunello cucinelli put options.
Editor's Note: This article discusses one or more securities that do not trade on a major U.S. exchange. Please be aware of the risks associated with these stocks.