Introduction
Inditex (OTCPK:IDEXY) started out in 1963 as a small dressmaker's shop in A Coruña, Spain. Today its one of the world's largest fashion retailer with eight brands such as Zara and Bershka. This €93 billion market cap company has more than 150 thousand employees throughout its 7000 stores in 88 markets worldwide. They are growing double digits even when other retailers are seeing slowdown. While e-commerce is disrupting the retail industry, Inditex is benefiting from lower capital intensity. It leads to reduced costs and higher margins. Large part of their sales still comes from Spain (17.7%) and from other European countries (44%). The expansion target for 2016 is to enter 5 new markets with hundreds of new stores and bring brand awareness to even more countries. They will increase the share of Asia (23.5%) and Americas regions (14.7%).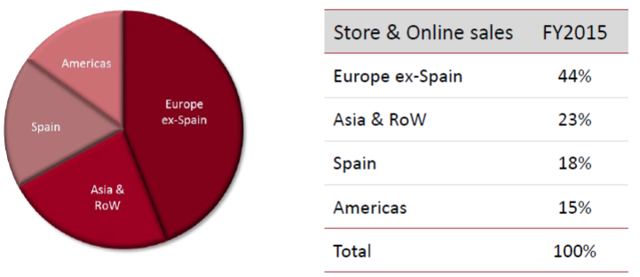 Source: Inditex IR
Brands
When people talk about Inditex they mainly think about Zara, which is natural since the clear majority of their revenues comes from the brand. Zara and Zara home produces 68% of the net sales from over 2600 stores&online totaling €14.3 billion. These brands also make the majority of their profits. The combined EBIT is €2.6 billion or 72% of the total profits. The clothing and home textile products are targeted to men, women and children of all ages. Zara was the first brand to catch global success out of the Inditex brands and it's one of the most recognizable clothing brands in the world.
Other major brand is Bershka which is targeted for young men and women from early teens to young adults. It's the second largest segment for Inditex with €1.9 billion in sales or 9% of total. There are around 1000 stores worldwide. Bershka's EBIT margin is around 16% or €300 million, which is slightly below the company average of 18%. Bershka is known by every teenager in major European countries and it's one of the go to places when you are in need of the latest fashion at affordable prices.
Rest of Inditex's revenues comes from 5 other brands which are Massimo Dutti, Pull&Bear, Stradivarius, Oysho and Uterqüe. These brands produce €4.7 billion in net sales and ~800 million EBIT for the company from 3300 stores&online. The first three brands are quite similar in size and profitability but offers clothing for different customer segments. Massimo Dutti is focused to deliver elegant design for men, women and children while Pull&Bear offers more casual fashion. Inditex also owns women only stores. Stradivarius stores offer urban fashion for young women while Oysho has the latest on women's loungewear, lingeries and undergarments. Top of it all, Uterqüe brand has premium accessories for women such as bags, shoes and jewelry. All in all they have broad-based selection for every customer.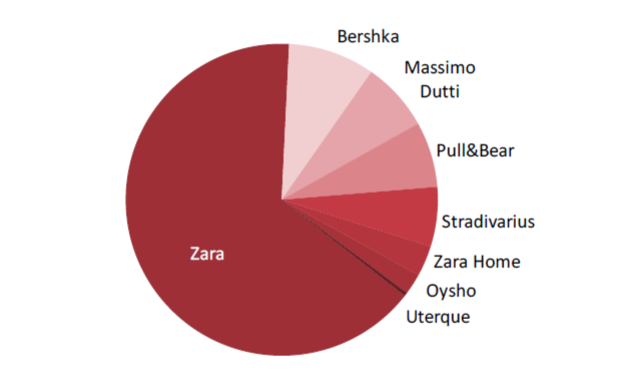 Source: Inditex IR
Fundamentals and conclusions
Since 2010 Inditex has grown steadily turning €12.5 billion in sales to €20.9 billion in 2015 representing 11% CAGR. The bottom line grew from €1.7 billion or €0.56 per share to €2.9 billion or €0.92 per share. CAGR for net income was also 11% but looking at earning per share it drops to 8.7%. These growth figures didn't go unnoticed and Inditex's market cap tripled from 2010 levels. Additionally to capital appreciation they have also rewarded shareholders with increased dividend payments. Since 2010 they have raised the dividend from €0.32 to €0.6 which follows also the similar CAGR of 11%. They are maintaining a conservative payout ratio of 65% which gives them room to raise the dividend substantially if they wanted to. Today the semiannually distributed dividend yields 2%.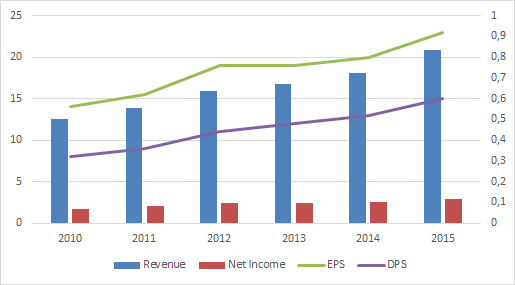 Source: Inditex IR. Figures in billions of EUR except per share.
On valuation basis the company is expensive and it usually trades with a large premium. Analysts are expecting net sales to reach €23 billion this fiscal year and EPS amount to €1.02 (10% growth). Inditex trades 28.4 times this year's projected earnings and 25 times next years which really limits the upside potential. Considering that the rival H&M trades just 19.5 times this year's projected earnings. That gives Inditex a 45% premium and if there's any trouble in the markets the multiple will definitely go down. The company is financially strong and is executing their strategy well but the premium is just too high.
Unlike luxury clothing brands that are witnessing slowdown, Inditex is poised to perform well in all economic cycles. Today people are more price aware and favor affordable fashion that translates to higher sales for Inditex and H&M (OTCPK:HNNMY). Inditex is projected to grow double digits for the next 3 years, expand to new markets and grow its dividend from increased earnings. But for now the world's largest fashion retailer doesn't have a SALE sign on it, even after the 20% decline from it's 52-week highs.
Disclosure: I/we have no positions in any stocks mentioned, and no plans to initiate any positions within the next 72 hours.
I wrote this article myself, and it expresses my own opinions. I am not receiving compensation for it (other than from Seeking Alpha). I have no business relationship with any company whose stock is mentioned in this article.
Editor's Note: This article discusses one or more securities that do not trade on a major U.S. exchange. Please be aware of the risks associated with these stocks.