MARP (the Macro Asset Rotation Portfolio) is a theoretical, top down macro portfolio which takes positions in broad asset classes and rotates between these classes based on the current state of what we believe are the three fundamental drivers of risky asset prices: liquidity, risk tolerances and economic fundamentals. The portfolio has a longer term focus which best aligns with a multi-year investment horizon and trades occur on a monthly basis marked at the end of the month.
MARP's objective is to outperform long term passive or buy and hold portfolios while also avoiding the massive drawdowns of these more passive approaches. Its focus is primarily for US based investors, though we consider global impacts on US investments and asset classes to attempt to outperform buy and hold approaches. This is done by intelligently rotating into positions expected to outperform during the current market outlook.
June Update on Market Outlook:
Relative to the earlier months of the year, May was rather quiet, with the most significant market updates coming in the form of rebounding oil prices (mostly due to unexpected short-term shocks to supply rather than any fundamental change or OPEC action) and Yellen solidly standing her ground in no-man's land, neither committing to rate hikes or ruling them out, even after further signs of US economy weakness.
May then was largely a continuation of April's trends, namely signs of a top to the USD and continuation of falling yields (each which suggest a continued threat of deflation and further delays to FED rate hikes), and an ever more precarious economic fundamentals picture.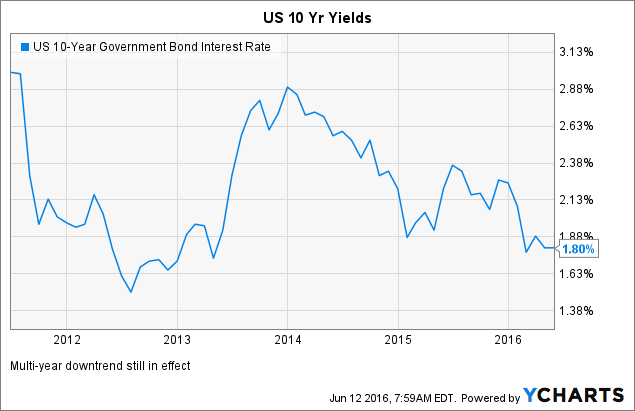 US 10-Year Government Bond Interest Rate data by YCharts
It hasn't just been corporate earnings growth rates and margins that are suffering, the fundamental macroeconomic picture also seems to be souring. While it is far too early to jump to the conclusion of an outright bear market in equities or an economic recession, increased risk, volatility and likelihood of a sudden correction are all things that investors should be prepared for through the summer of 2016. There are several near-term catalysts that could pose to 'pop' any valuation bubbles which have formed- including the upcoming Brexit vote, a return to the fundamentally driven long-term downtrend in oil prices, a reversal in the last few years strengthening USD and a loss of faith in central banks.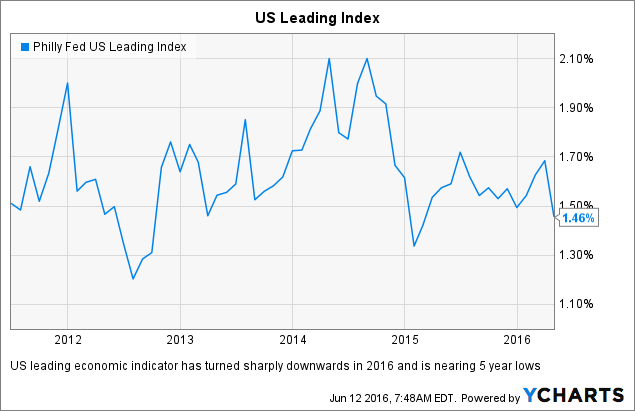 Philly Fed US Leading Index data by YCharts
Portfolio Holdings as of June 12th 2016:

Given the continued state of uncertainty, unsustainable central bank action, and evidence of overvaluation in the equity markets, treasuries remain the top option to hold going into the summer months. As previously discussed, treasuries stand to gain in a wide variety of situations. That picture has not changed, and in the meantime treasuries continue to perform admirably.
Included (long or short): PBP, SPY, VB, GLD, TLT
Thank you for reading, please add your thoughts in the comments and follow for monthly updates on the MARP portfolio and analysis on global markets.
Additional Disclosure: The MARP (Macro Asset Rotation Portfolio) is a theoretical portfolio only. The author's personal holdings which overlap or conflict with MARP will always be discussed in the disclosures listed above, but at times the author's holdings can and will differ from MARP holdings.
Disclosure: I am/we are long TLT, GLD.
I wrote this article myself, and it expresses my own opinions. I am not receiving compensation for it (other than from Seeking Alpha). I have no business relationship with any company whose stock is mentioned in this article.