At Tanuki Capital, we are dedicated to meeting every Sunday to discuss markets when the news is quiet and the ticker tape has stopped. It provides us a valuable opportunity to talk about the major events of the past week, put them in context of the broader market, and pontificate about what may lie ahead.
This practice was inspired by the Japanese tradition of Radio Taiso (calisthenics), in which employees at many of Japan's largest corporations collectively stand-up and stretch for 10-15 minutes before the start of the workday.
We believe the collective stretching of our minds on Sundays stimulates us for the week ahead, and we wanted to share our market taiso with the SA community on a semi-regular basis. As with any weekly exercise, there are varying degrees of results, but we believe it is the regularity that bears fruit.
Our market Taiso is loosely organized into the following silos:
1) US markets (NASDAQ:QQQ); (NYSEARCA:SPY); (NYSEARCA:DIA); 2) Energy/ Commodities; 3) China/ Emerging Markets; 4) Japan; 5) Banking/ Capital 6) Wildcard Topics. Not all topics are covered every week.
US Markets
"My selfish ambition with Spotify is just trying to show…that we can create one of those super companies here in Europe. The No. 1 advice I tell everyone is 'don't sell', because that's the biggest problem we have. All these things could grow gigantic if you just kept the course and kept doing what you're doing,"
This reinforces an ever growing perception that Unicorn executives are better suited at stoking their egos than profits.
China/ Emerging Markets
SA Article of The Week
SA Contributor 720 Global put out an interesting read titled: Loan Delinquencies Signal For Caution
Graph of The Week
With less than two weeks until the British referendum on EU membership, we wanted to highlight that the race is tight. According to the below graphic from the Telegraph, Brexit risk is real.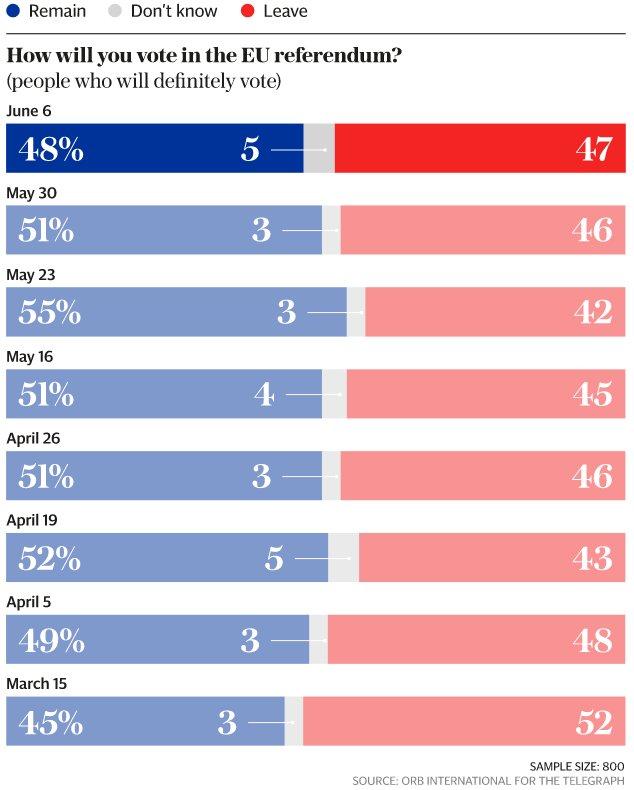 Disclosure: I/we have no positions in any stocks mentioned, and no plans to initiate any positions within the next 72 hours.
I wrote this article myself, and it expresses my own opinions. I am not receiving compensation for it (other than from Seeking Alpha). I have no business relationship with any company whose stock is mentioned in this article.
Additional disclosure: This article is for informational purposes only.