Well, a June rate hike is off the table.
Thanks to a conveniently timed horrific NFP print and possibly thanks to China weakening the yuan fix to its lowest level in five years, equity (NYSEARCA:SPY) investors needn't worry too much about Wednesday.
Just ask Deutsche Bank, who apparently dictates Fed policy these days. Here's an excerpt from a note out Friday:
The May jobs report rendered implausible a bullish view of the US economy in which a steadily tightening labor market would push up wages and lead to accelerated rate hikes.
Ok, then. A bullish view of the US economy has been "rendered implausible" by one data point.
What's actually been "rendered implausible" over the past three or so weeks is the idea that the Fed can be relied upon as a trustworthy guardian of long-term price stability and steady employment in the US.
It's pretty clear at this juncture that they're just careening from "live" meeting to live meeting and what they'll decide is predicated almost entirely upon whatever the last major market move or data point prior to those meetings happens to portend about the extent to which the world's collective psyche can handle a 25 bps hike.
It kind of reminds you of a bar scene out of some Spaghetti Western where someone pisses off a drunken cowboy who then stumbles to his feet and starts waving a loaded gun around, swinging this way or that and pointing it at anyone who breathes wrong.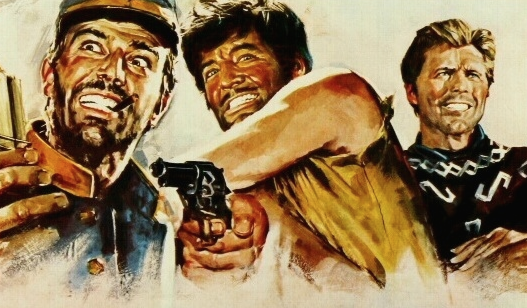 It's that very characterization of the FOMC that consistently leads the sellside to speculate on what a "policy error" might look like and also on what the consequences of a dovish/ hawkish "surprise" might be. To continue the analogy, it's like asking who, of all the people in the bar, the drunken cowboy best not take a potshot at and then guesstimating what the consequences would be if he did.
Unfortunately, the markets are now beholden to the drunken cowboy just as much as the drunken cowboy is beholden to the markets. Which means that you probably should at least consider historical instances of Fed "surprises" on the off chance the FOMC has a come-to-Jesus moment and hikes despite weak payrolls and to spite the PBoC.
Furthermore, you should note that the Fed isn't the only drunken cowboy in the bar. That is, it's also worth looking at the effect policy surprises out of the BoJ, the ECB, and the BoE have had on markets, especially considering the fact that Japan is at a crossroads in terms of monetary policy (January's move into NIRP actually precipitated yen strength) and Europe has just officially kicked off an unprecedented effort to monetize corporate bonds.
On that note, Goldman has taken a look at the effect hawkish and dovish surprises have on yields, FX, equities, and financial conditions. The results should provide a bit of guidance on what to expect going forward in a world where markets and central banks share virtually the same reaction function. Here's Goldman:
The G3 central banks are getting ready to diverge again. The Federal Reserve is likely to hike the funds rate in July or September; the Bank of Japan looks set to ease policy via conventional and unconventional channels in July; and while the ECB seems to be on hold for now, continued downside inflation surprises could trigger another easing before long.

Many investors believe that the market turmoil of January and February shows the dangers of such policy divergence. In their view, Fed rate hikes now have a prohibitive impact on US financial conditions, and divergent monetary policies result in large cross-country spillovers. So they ask whether another attempt will result in yet another global market swoon.

To help answer this question, we take a statistical look at the impact of monetary policy shocks from the major DM central banks-the Fed, the ECB, and the BoJ-on overall financial conditions and their components both at home and abroad.
And here's a snapshot of the results in terms of equity prices...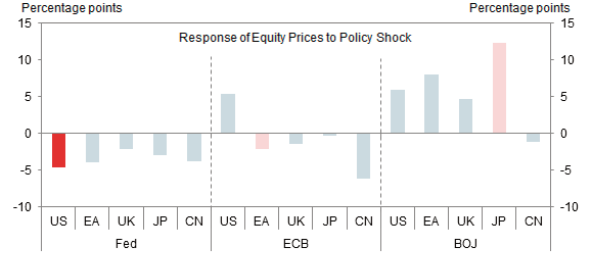 ...and the USD...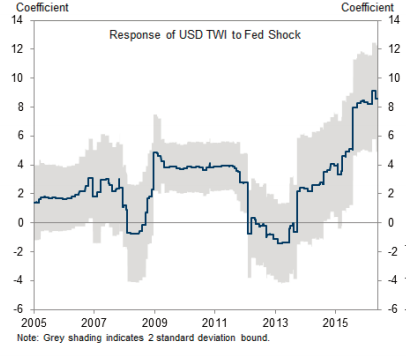 (Charts: Goldman)
Two things should stick out there.
First, a Fed policy shock is bad news for equities across the board - at home and abroad. The dark red bar for US equities (as opposed to the lightly shaded bars) indicates that the results were statistically significant at the 5% level.
Next, note that the response of the USD (NYSEARCA:UUP) seems to be getting more pronounced over time. Here's how Goldman puts it:
There is clear evidence that the impact of Fed shocks on the dollar is now bigger than prior to the divergence that started with the 2013 "taper tantrum."
The question you should be asking yourself here is this: if the USD is now more sensitive than ever to a policy shock and a stronger dollar is generally associated with slumping crude, EM turmoil, and risk-off sentiment, what does that mean for US stocks considering they're already inclined to respond negatively to a Fed "surprise?"
Goldman's conclusion is that policy shocks should generally be manageable across markets.
At the very least, historical precedent is worth considering here given that it's possible the Fed has boxed itself in when it comes to a summer hike and given that the market is now looking out to September.
As a bonus, here's a look at weekly and monthly inflows/outflows into equities via BofAML: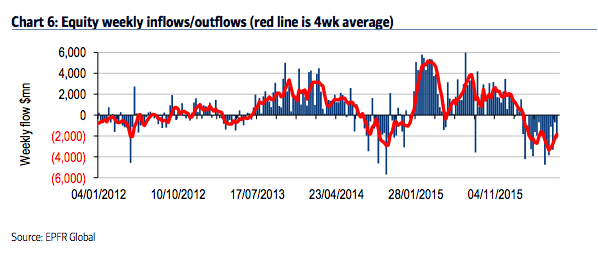 Disclosure: I/we have no positions in any stocks mentioned, and no plans to initiate any positions within the next 72 hours.
I wrote this article myself, and it expresses my own opinions. I am not receiving compensation for it (other than from Seeking Alpha). I have no business relationship with any company whose stock is mentioned in this article.