Recent data releases suggest that Nigeria is at risk of sliding into recession. After GDP figures published last month showed that the economy had contracted over the first quarter, the Stanbic IBTC Bank PMI signaled a downturn for the third time in four months during May. With inflation, currency weakness and fuel shortages all depressing the economy, Nigeria looks unlikely to escape recession in the second quarter.
The PMI, which pools responses from around 400 companies and gives early insight into the health of the private sector economy each month, painted a bleak picture in May. Output fell at a survey-record pace, while new orders declined after stabilizing in April. As a result, business conditions worsened for the third time in four months, contrasting with growth seen throughout the first two years of data collection.
Nigeria PMI: Output vs New Orders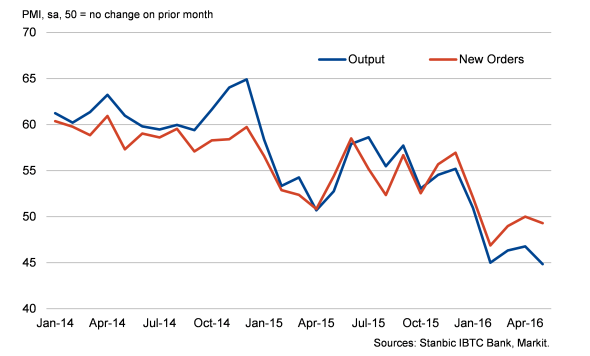 GDP confirms torrid start to 2016
In line with the deteriorating PMI trend seen at the start of the year, first quarter GDP results were even worse than expected. The data, compiled by the National Bureau of Statistics, showed the economy contracting 0.4% on an annual basis, the first year-on-year decline since the second quarter of 2004. With the PMI signaling an ongoing downturn in output through April and May, a technical recession is signaled for the first half of the year.
Nigeria Output PMI vs GDP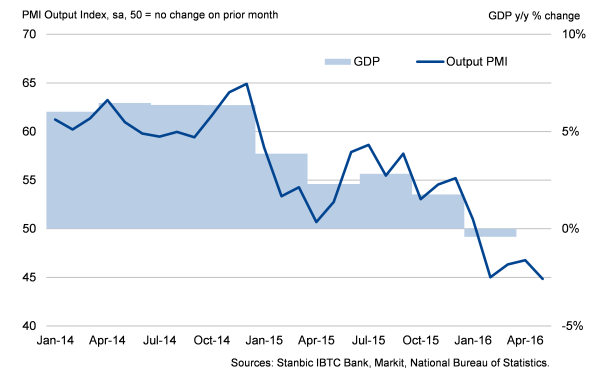 The risk of recession calls for further stimulus, but policymakers are caught with little room for manoeuvre. So far this year, the central bank has generally leaned towards curbing inflation rather than stimulating growth - the interest rate has risen by 100 basis points to 12% since January. It remains to be seen whether they will stick with this approach as we move towards the second half of the year with the threat of recession looming large.
Inflation surged to a near six-year high in April, meaning that any policy loosening could risk pushing inflation higher. The government has so far also resisted calls to devalue the naira, which is fixed against the US dollar. This has led to difficulties in accessing foreign exchange, and a subsequent fuel shortage. With oil being central to Nigeria's economy, its lack of supply and the currency weakness continue to place upward pressure on prices.
Nigeria CPI