MLPs continued last week's rally early on this week, adding an additional 2.9% over Monday and Tuesday, helped by strength in commodity prices. The rally faded late in the week, picking up downside momentum Friday when oil prices dropped back below $50/bbl in a broad market sell-off. MLPs closed the week down 0.2% overall, with large cap strength helping to mask broader MLP weakness (Equal Weight MLP index was down 1.1%). MLPs remain solidly in the green for the year, and comfortably above key technical levels.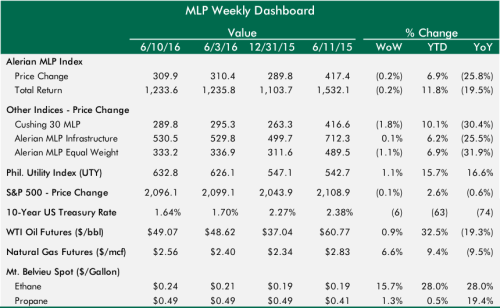 Positive sentiment gave way to concerns over valuation, which makes sense after the sharp move off the bottom. Concerns crept in regarding the level of future activity and commodity prices reflected in today's MLP stocks prices. Research analysts voiced skepticism with downgrades that factored into some of the weakness.
It is encouraging to see the market beginning to question a few things. Not all MLPs will thrive just because oil has crossed $50/bbl. The competition for customers and capital is far from over. Re-rating MLPs to reflect their ability to stay in business is one thing, but to price in certain prosperity across the sector is quite another.
But overall, the mood remains constructive for the MLP sector. Friday's 2.3% MLP Index decline was the worst single day decline in more than 2 months. A few months before that it was unusual if MLPs didn't fall 2%+ at least once a week. So…progress!
Read My Lips: Higher Coverage
One theme from the MLPA conference I forgot to mention last week is the future of the MLP model. On this site, we've posited the concept of MLP version 2.0: a more resilient MLP financial model that relies less on capital markets and more on self-funding. This is accomplished with lower leverage, higher distribution coverage, and ideally some permanent reduction or elimination in IDRs. MMP is the most extreme example of this model, a growth MLP with no IDRs that hasn't issued equity in more than 5 years.
At the MLP conference, MLP management teams were often asked if they would consider operating with higher coverage as a general rule in the future and adopt a more resilient financial model. Management teams are happy to say they will carry higher coverage and lower leverage in the next boom cycle, but what they say today and what they end up doing may be different (especially those with publicly-traded general partners).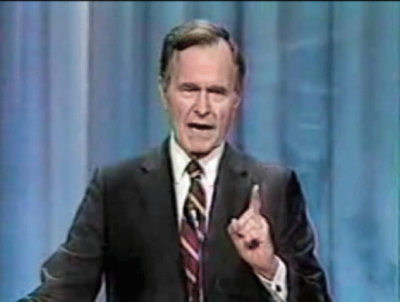 We take politicians' campaign trail promises with a grain of salt. We should do the same with promises of MLP management teams. If commodity prices end up bailing out some poorly managed MLPs, we can expect some MLPs to continue to be poorly managed. It's up to the investment community to demand more "prudent" behavior.
Winners & Losers
News that Shell reached final investment decision (FID) on its planned ethane cracker in Pennsylvania helped boost Marcellus players early this week. CONE Midstream Partners (CNNX) held those gains better than others and led all MLPs higher. The Alerian rebalancing announcement that added NGL Energy Partners (NYSE:NGL) and Tallgrass Energy Partners (NYSE:TEP) to the AMZI Index provided those two stocks with a boost Friday, landing them in the top 5 as the rest of the sector faded. Plains All American Pipeline (NYSE:PAA) continues to have a bid, despite lack of clarity on its volumes, leverage and restructuring.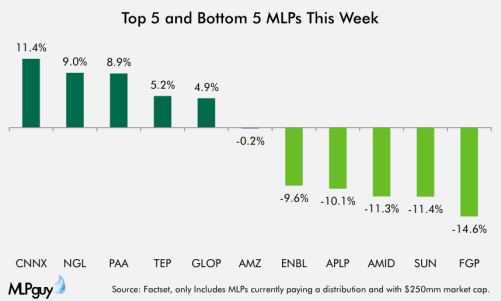 On the downside, Ferrellgas Partners' (NYSE:FGP) step out acquisition into a midstream-ish business last year is proving challenging, and questions about contracts plus weak earnings sent FGP down this week. Sunoco (NYSE:SUN) was downgraded and questions were raised regarding distribution sustainability.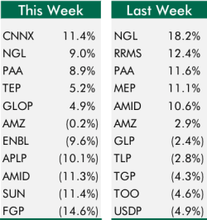 Big weeks from CNNX and NGL sent those two to the top of the sector from outside the top 5 last week. Columbia Pipeline Partners (NYSE:CPPL) climbed out of the bottom 5, replaced by SUN.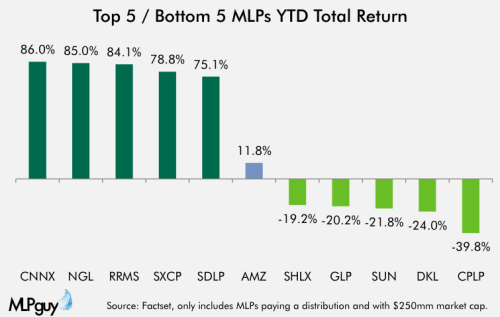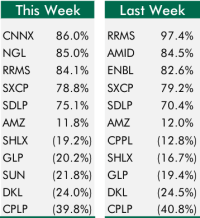 General Partner Holding Companies
GPs as a group performed in line with the MLP Index, and the dispersion of returns within the GP group was less than the MLP sector, which is pretty rare. Several of last week's big winners sold off this week, including Energy Transfer Equity (NYSE:ETE), Williams Companies (NYSE:WMB) and SemGroup Corporation (NYSE:SEMG). EnLink Midstream (NYSE:ENLC) and ONEOK (NYSE:OKE) both were downgraded by analysts, and have rallied on similar themes, but OKE kept on rallying while ENLC sold off hard.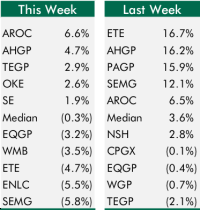 News of the (MLP) World
Meaningful equity capital markets activity this week. We had the first primary offering by a gathering & processing MLP so far this year, and it traded up! Also, we had an offering from Tesoro Logistics (TLLP) that priced at the tightest discount we've seen in several months, and it traded up! On the M&A front, ETE and WMB continue to go through the motions of their merger, even though closing the deal may not even be possible at this point.

Financing
M&A/Growth
Other