Skechers' (NYSE:SKX) stock price peaked at $55 per share in Aug 2015 then soon plummeted to $25 after a big earnings miss primarily caused by legal issues that the company faced. Prior to the big drop in share price, SKX was one of the best performing stocks in the entire market. A $22M+ miss caused skx to drop nearly 30% in a day and the stock has still not recovered fully. The stock currently trades at ~$30 per share.
I love Skechers shoes. They are trendy, stylish, durable and less expensive than Nike (NYSE:NKE) shoes. All of my family members would buy at least two pairs of Skechers shoes every year.
Beside its shoes, I love the stock even more. With a market cap of $5B, operating profit margin of more than 10%, and revenue growth at 20% in the last three years, the company offers a long-term investors strong growth potential.
There is no doubt that Skechers will be a good play for a long term investment with its sustainable growth potential and low P/E ratio. But this article will focus on its short-term downside risk to gauge when it would be a good time to buy with a certain margin of safety. After following SKX selling volume, we can see why its stock price plummeted after it split, institutions reduced its ownership and insiders sold its shares recently. (See Figure 1 and Figure 2)
Figure 1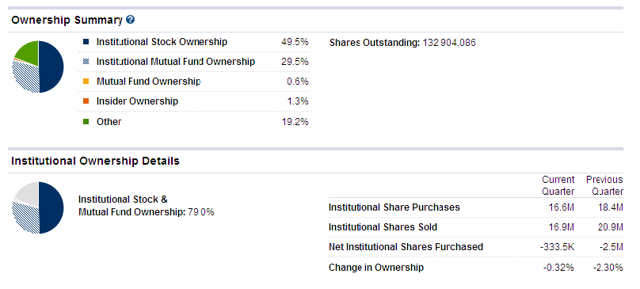 Figure 2

Another reason to be cautious is that Skechers has reached its fastest growth peak, annual returns reached 45.6% in the last five years, which is unrepeatable in the near future, even with its fast international expansion. That is part of the reason why institutional investors reduced holdings recently. Once the Fed continues to increase interest rates and shrink its own balance sheet, a US downturn may show up soon. That would impact consumers spending and thus to Skechers as well. For short term consideration, Skechers may need more patience to initiate a buy signal. (See Figure 3)
Figure 3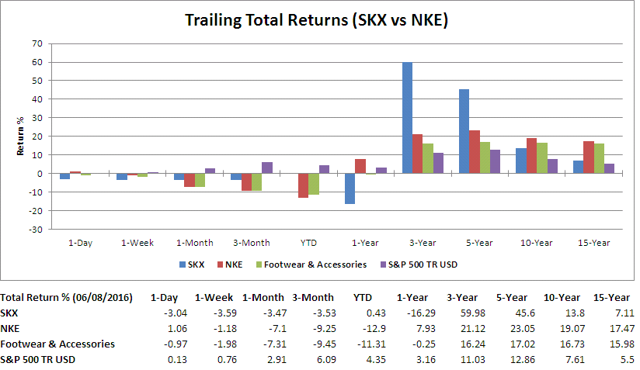 If we use valuation ratios of the year 2008 as a reference, we can see the current price level still have some risk to slide further, even as the company has tried its best to diversify market share globally. (See Figure 4)
Figure 4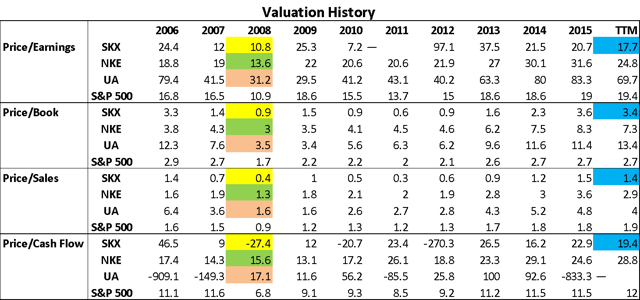 From a technical point of view, $25 per share would be its solid support level for value investors to consider an initial buy signal. For trend followers, once the price crosses above its resistance level of $33 per share, this would also be a good time to trigger long position. (See Figure 5)
Figure 5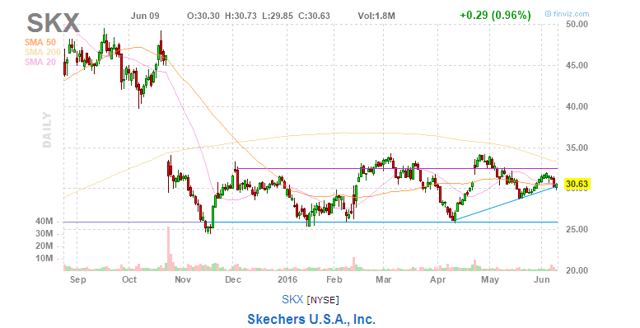 Jenny Liu - Leverage Equity Research
Disclosure: I/we have no positions in any stocks mentioned, but may initiate a long position in SKX over the next 72 hours.
I wrote this article myself, and it expresses my own opinions. I am not receiving compensation for it (other than from Seeking Alpha). I have no business relationship with any company whose stock is mentioned in this article.