Last week, the S&P 500 got within 0.5% of the all time high. At that point, the S&P 500 (SPDR S&P 500 Trust ETF SPY) had rallied more than 16% from the February bottom. The Russell 2000 rallied more than 25%.
I have not been net long most of the time during this rally. I stuck to my cross industry hedges and did some short term trades like a long position in Chesapeake CHK during the oil rally.
The picture below is a huge part of the reason why I am not a huge bull. GAAP earnings are in decline since 2015 and have not increased since then. Both the summer 2015 and Q1 of 2016 correction happened after the earnings peak. Note that the 2016 correction had a lower low than the one in 2015.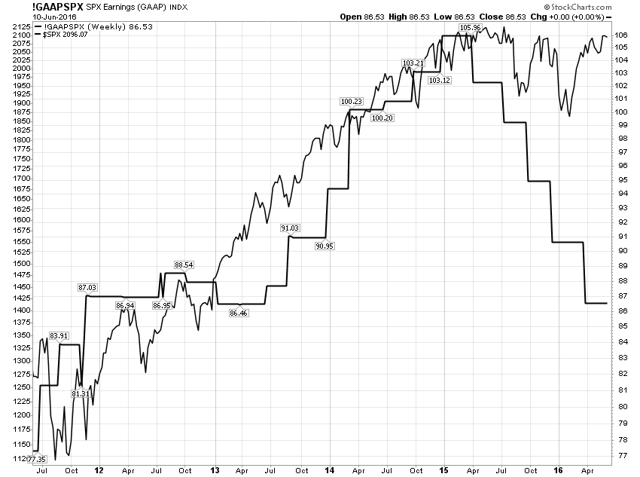 The graph above is a coincident indicator. In other words, it is not leading stocks. It is 'merely' an indicator that tells us whether the leading indicators have been right or not and tells us what to expect from lagging indicators like the GDP numbers.
Falling GAAP earnings are only a problem when the outlook is bad too. Because in that case, it would mean that it will take much longer till earnings increase again or maybe even fall further.
As you can see below, the manufacturing PMI, conducted by the ISM, is not able to break the growth slowing trend that started in the third quarter of 2014. The index stayed rather weak despite higher oil prices.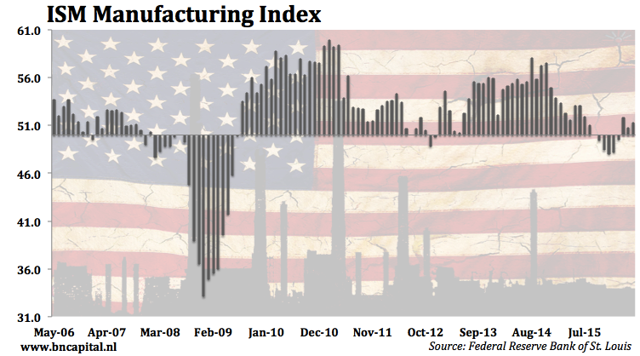 Not only manufacturing is slowing, services are starting to feel it too. The Non-manufacturing index or NMI for short, rose further after manufacturing peaked. Even after that, the slow down was much weaker than the one in manufacturing. This definitely supported stocks if you keep in mind that the US economy is increasingly depending on the service economy.
At this point, the index is at its lowest point since 2014 and has completely erased the gains from the previous two months.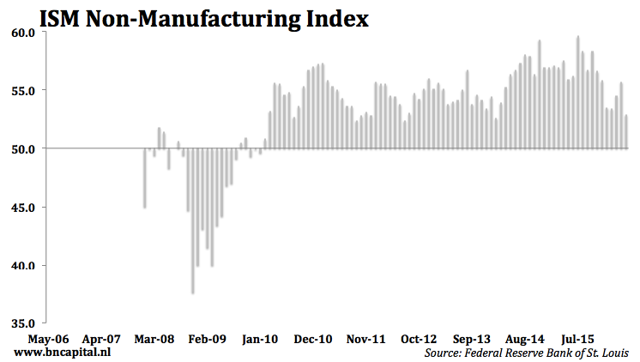 The manufacturing and non-manufacturing slow down makes it less likely that corporate earnings are going to recover soon. They might even decline further.
Another thing I came across during my research is the bullish percent index. I use this index to get my timing right when I do short term trades like going outright long SPY for example.
I normally use a 6 months time horizon but found an interesting development on the chart that dates back to 2011. As you can see, the "ceiling" of the bullish percent index has been a lot lower after Q3 of 2014. Exactly at the point where growth slowing started(!).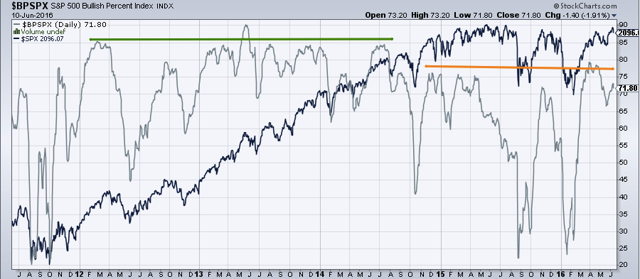 Now, let's look at the sentiment indicators that tell us whether risk is ON or OFF. For the people who are not familiar with RISK ON/OFF, this tells us something about the willingness to take risk. RISK ON means that investors are willing to take risk and RISK OFF means that traders are avoiding risky assets. We therefore can use the ratio spread of risky and less-risky assets to determine the sentiment.
The ratio spread below consists of junk bonds and long term government bonds. The spread is back at May lows after rallying along with the S&P 500.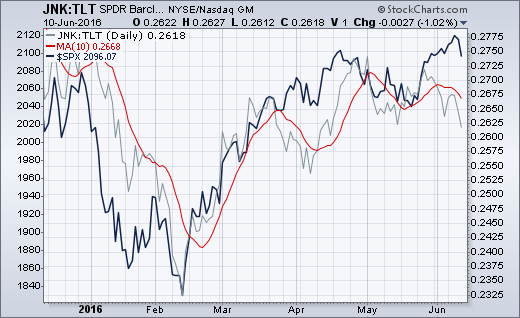 The second indicator, transportation versus utilities looks worse. This index has erased all gains that were achieved after the February rally. This is quite remarkable if you consider that utilities tend to underperform when commodities soar while transportation stocks perform rather well under the same circumstances.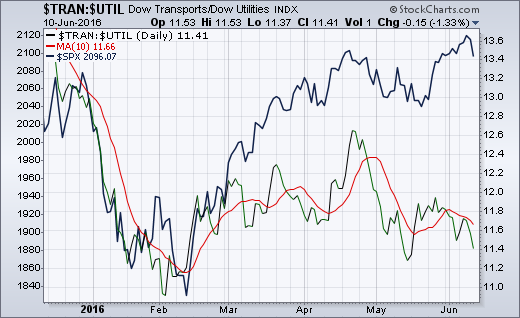 The third and last one I want to show you is the ratio spread between the S&P 500 (NYSEARCA:SPY). This ratio has had a much higher correlation with stocks than the other two I just showed you. The volatility explosion on Friday however, pushed this spread way lower.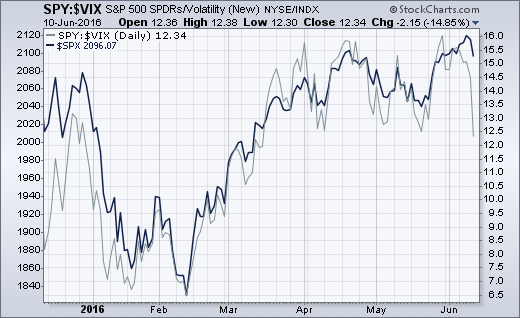 In addition to the slower economy and short term outlook, it is important to keep an eye on the USD. Further strengthening is likely to put more pressure on commodities which means that the downturn could accelerate.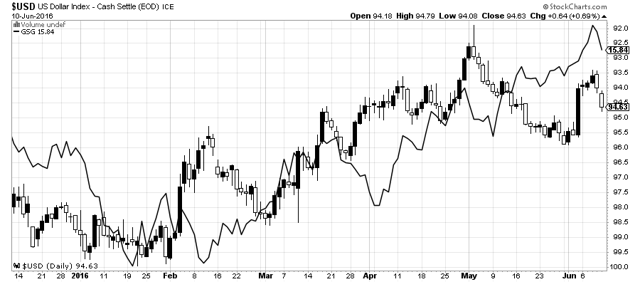 Conclusion
Once again I've written an article mentioning the slow US growth and the likelihood of further weakening. However, this info is important when you want to predict stock prices. Stocks have not gone anywhere since 2014 and a short term cool down is very likely. So my message to you is not to go full ham on shorts but to play it safe. Stocks can rally suddenly and crash all shorts on the short term. I stick to my +-0% net long portfolio and might add to my energy shorts.
Disclosure: I/we have no positions in any stocks mentioned, and no plans to initiate any positions within the next 72 hours.
I wrote this article myself, and it expresses my own opinions. I am not receiving compensation for it (other than from Seeking Alpha). I have no business relationship with any company whose stock is mentioned in this article.