The short and the long of Facebook's debt.
"Those who drink the water must remember those who dug the well."

- Old Chinese proverb
Facebook (NASDAQ:FB) has been in hot water this election season. Allegations swirled that it was discouraging conservative web sites from posting. In particular, news organizations like Breitbart charged Facebook with hiding conservative postings from its trending news. But financially, Facebook has a balance sheet that is clean as a whistle, the envy of any social media company - or any company at all. It carries no long-term debt and has a five-year revolving credit facility of up to $6.5 billion at Libor plus 1%. As of December of last year, the company had not used this facility. In terms of its short-term debt, Facebook carries $201 million of a promissory note payable that was used in connection with a $488 million business combination involving land and buildings adjacent to Menlo Park.
Compare and contrast FB's situation with that of Apple (NASDAQ:AAPL). In the latest financials of Apple, the company reveals a long-term debt of $69.3 million, implying a debt-to-equity ratio of 53%. The current portion of the company's long-term debt, along with its commercial paper outstanding represents $10.5 million, with a corresponding short-term debt-to-equity ratio of 8%.
As the following graph shows, FB stock has recently taken over AAPL stock. Over the period, AAPL's average return was 11.7%, while FB returned 52.5% on average. Was this because of Facebook's lack of debt? Not necessarily. Because under some circumstances, short-term debt may not necessarily be a good thing.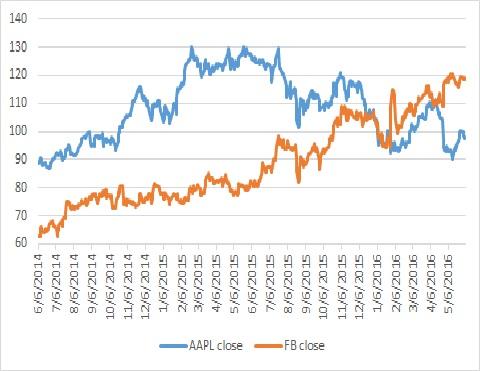 Source: Yahoo Finance
Debt overhang exists for short-term debt as well.
FB, as stated above has achieved the miracle of solid growth relying on no long-term debt and just $201 million in short-term debt. However, as a paper by Diamond has pointed out, debt overhang - defined as the disincentive to equity due to the existence of debt - also exists under certain circumstances for companies, like FB, that rely exclusively on short-term debt. In general, the existence of short-term debt involves a dissociation between the equity value of the firm and the value of the debt.
However, under certain circumstances, the existence of short-term debt can have drastic consequences on a company's debt overhang. For one thing, it is unlikely that holders of short-term debt can or will reschedule. They demand return on their investment and impose greater discipline on a firm with declining value compared to the same firm which holds longer-term debt. Further, for a growth firm with known future investment opportunities, it is more rational to hold longer-term debt, since the realized returns will be more correlated with the debt maturity. Another way of understanding the same proposition is that a growth firm should hold short-term debt only if there is substantial uncertainty about the value of investment opportunities and if there is a great correlation between future and current investment opportunities.
The opposite consideration occurs when a firm which has a lot of short-term debt also concurrently has shorter-term assets. In this case, the shorter maturity of the assets correlates with the shorter-term nature of the debt, leading to a lower level of overhang.
Facebook is in a good situation now with some worries in the future.
My premise is that Facebook's absence of long-term debt (and low level of short-term debt) shows a company with a healthy balance sheet. However, I also want to look at trends. The first situation of possible overhang with short-term debt exists when there is a low correlation between the maturity of assets and that of debt. The following graph shows that the company's past high level of current assets (cash and marketable securities) has declined recently to the same level as that of Apple. While Facebook can afford a lower level of current assets, still it is the decline, and not the actual level, that is worrisome. The company's current level of current assets to total assets is on the level of Apple's.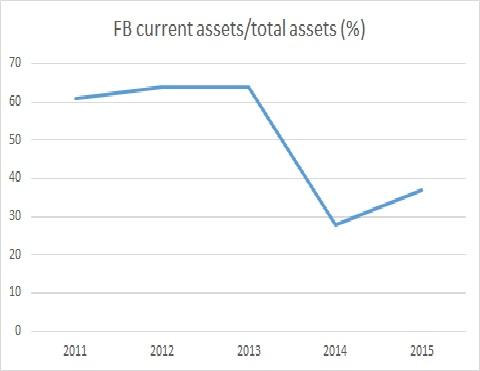 Source: Facebook's annual reports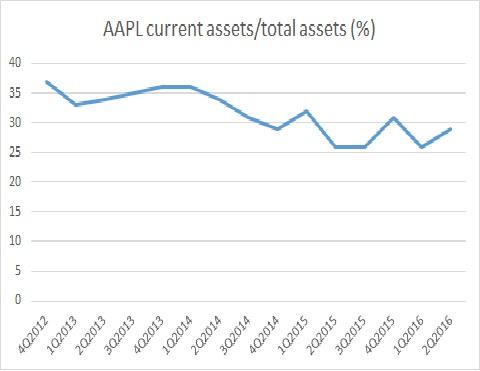 Source: Apple's quarterly reports
Then I look at Facebook's ROE and also the % change in its ROE. As I explained above, short-term debt is a preferred strategy if investment opportunities are volatile. I use a proxy for this variable, the ROE of a company. But even more importantly is the correlation between current and future investment opportunities. The percentage change in the ROE is an approximate proxy for the correlation. If this correlation is high, the debt overhang for short-term debt is low, since short-term debt mature approximately at the same time as the investment opportunities themselves. On this more nuanced measure, it seems Facebook's ROE has become more volatile lately, indicating that the company is better served by relying on short-term debt.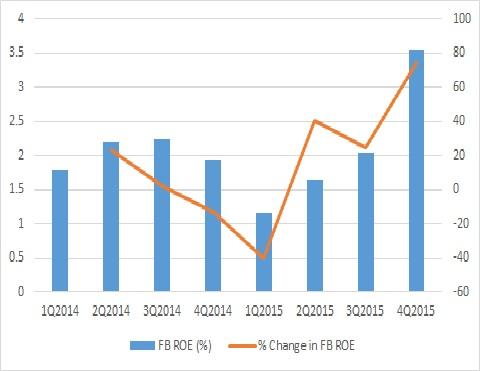 Source: Facebook's annual reports
Looking ahead, Facebook's debt situation deceptively positive.
As the above analysis indicates, Facebook's level of current assets has declined steeply. The match between that any its liability structure means that it is in a weaker position if its earnings decline in the future. However, this is counterbalanced by the second indicator, which is the trend in its ROE, and even more importantly, the change in the ROE. The question is which indicator is more important. I would venture to say that investors in Facebook should be worried more by the decline in current assets.
Disclosure: I/we have no positions in any stocks mentioned, and no plans to initiate any positions within the next 72 hours.
I wrote this article myself, and it expresses my own opinions. I am not receiving compensation for it (other than from Seeking Alpha). I have no business relationship with any company whose stock is mentioned in this article.