By Scott Tzu
Insys' (NASDAQ:INSY) main product, fentanyl, is back in the news for two new reasons, and neither of them are good for the company.
First, fentanyl has been reported to have played a part in the death of musician Prince,
So far, 2016 has seen an alarming number of fentanyl-related deaths, and late popular musician Prince was confirmed Thursday as another victim of this dangerous opioid. A report from the Midwest Medical Examiner's Office identified fentanyl overdose as the cause of his untimely death on April 21.
In addition, former Insys employees were charged last week for illegal kickbacks,
Two former employees of Insys Therapeutics, Jonathan Roper and Fernando Serrano, were arrested on Thursday for allegedly participating in kickback schemes involving doctors who prescribed the company's main drug, Subsys, a pain medication containing fentanyl.

Headlines linking Prince's death to a fentanyl overdose have raised the profile of the opioid; however, CNBC has previously reported on the dangers of these highly addictive drugs and the alleged illegal tactics some pharmaceutical companies have employed to drive sales.

These include allegations against specialty pharmaceutical company Insys, whose market cap is down about a billion dollars since last year. Company officials weren't immediately available to comment on the charges against Roper and Serrano.
Neither of these headlines are good for the company, as we believe they're going to compress the number of fentanyl prescriptions being doled out by doctors. We expect Insys' prescription data to get worse, and we would not want to be shareholders for any reason at a point in the company's life cycle when headlines look like these:


When we first wrote about Insys in December of 2015, we tried to figure out whether or not the company was just another questionable pharma outfit that was being dragged lower with the Valeant (NYSE:VRX) scandal and subsequent news about specialty pharmacy companies. We concluded in December that we thought Insys was NOT going to be able to fly under the radar, and that we thought the government was going to make an example out of the company. We stated,
It is very easy for people to look at the INSY story and say to themselves that this is just another case that will be swept under the rug and will be taken care of with a small fine and settlements with regulators.

We think just the opposite is going to happen with INSY. We think they are going to be made an example by regulators and the preponderance of the evidence combined with reported looming indictments may already tell the tale.
Here is how the stock has performed since our initial story "Insys Shareholders May be in Real Danger",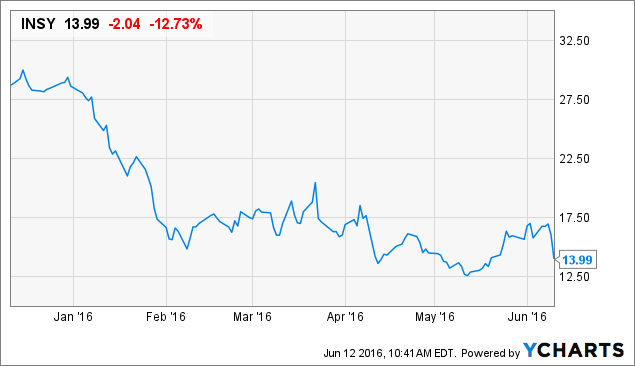 Today, we have even more reason to avoid INSY, while advocating that others do the same. Despite the questionable ethical fibre of the company, INSY doesn't seem to cut the mustard from an investment standpoint either. Two great reasons to avoid INSY.
After a fantastic series of expose articles was written by the South Investigative Research Foundation detailing despicable Insys sales practices, we had seen enough from an moral standpoint.
For those not familiar with INSY, the company's main drug, Subsys is a highly potent fentanyl spray.
As we stated in our first article, Subsys is a drug that already, by conventional means, is a giant exception to the norm. Morphine and opiates are considered to be extremely dangerous and extremely addictive drugs for a reason. Anyone who has had first-hand experience taking any of these types of drugs understands why it is easy for opioids to get a hold on people. The addictive nature of these products is far worse than alcohol and they are handled and treated as such in a very different manner from pharmaceutical production all the way down to arriving at the patient.
So to start, Subsys is like the grain alcohol of pain medications.
Subsys is in an entirely different category. Clocking in at about 80 to 100 times the strength of morphine, Subsys is in extraordinarily powerful drug. The rules for handling this drug need to be far more strict than the handling of other opiates. Due to the potential lethal nature of these drugs and their effect on the human body and human psychology, these need to be classified under an entire different category, something like "lethal weapons".
The initial expose on INSY linked above details a company doing anything they can to push this highly powerful drug onto whomever they can. We reckoned that these tactics would come back to bite the company and their shareholders, and it looks like that is going to be the case.
Given the new information that has broken over the last few weeks, we continue to think that Insys is going to have a difficult time staying out of the headlines.
We would avoid the company at all costs as an investment. We believe that,
1. Prescriptions will continue to move lower as doctors become far more stringent about how they prescribe the powerful drug.
2. Doctors will realize there's a stigma attached to prescribing fentanyl and may opt back for conventional opioids.
From a financial standpoint, the company is not moving in the right direction. Analyst estimates for this year are at $0.37, down from $0.96 just 90 days ago. We've seen the same kind of shocking revision downward for next year's estimate, which 90 days ago was $1.50 and today is just $0.87. We think the truth is that analysts just don't know how bad the pain can get at this point.
Even with revised estimates, the company still trades at 16x forward estimates, and despite having no debt, trades at 4.5x book and 3.5x sales. INSY isn't expensive, but it certainly isn't cheap enough that we'd consider it for an investment. Companies with these types of outstanding issues should be give 8-10x multiples, meaning we believe INSY could easily move into the single digits from here. Based on the company's operating history, new headlines, and its current valuation, we'd continue to simply avoid INSYS at all costs.
Disclosure: I/we have no positions in any stocks mentioned, and no plans to initiate any positions within the next 72 hours.
I wrote this article myself, and it expresses my own opinions. I am not receiving compensation for it (other than from Seeking Alpha). I have no business relationship with any company whose stock is mentioned in this article.