There has been some debate on Seeking Alpha about Under Armour (NYSE:UA)(UA.C) and whether or not they should pursue Lululemon (NASDAQ:LULU) via a buyout. First we had Dana Blankenhorn make the case that Under Armour needed Lululemon in order to expand it's brand and grow revenue in the absence of Sports Authority. In response to that article Economics Based Investor made a strong case that UA doesn't need LULU and the companies are too different to mesh well. I tend to agree with Economics Based Investor here. Kevin Plank, the founder and CEO of Under Armour, started the company because he couldn't buy what he wanted so he made it himself. I don't see him going out and buying a company when his own company can make a better product. Under Armour is now pursuing Lululemon, just not in the way that has been discussed lately.
In the beginning of June it was revealed that Under Armour hired fashion designer Tim Coppens to design a new clothing line that will be called Under Armour Sportswear, or UAS. Mr. Coppens is a high-end fashion designer, and the current offerings from UA are anything but high-end with prices on the low end compared to competitors such as Nike (NYSE:NKE) and LULU. Investors in Under Armour have long been worried about that pricing and the effects on margins as well as the lack of growth into the female area of the market.
Bringing on a high-end designer is no doubt an attempt to offer premium priced clothing to women which will strike at the heart of LULU. Just looking at Mr. Coppens' designs I'm shocked at the prices. The cheapest shirt I could find was $120 and looked like it was designed to be worn in the 1983 movie "Flash Dance."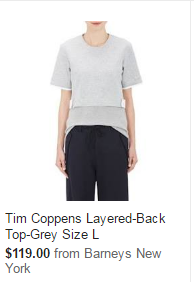 A typical price is closer to the $250 range, perhaps they're crafted by the EL Fudge elfs from unicorn hair or something, either way I don't understand it. I also never understood why somebody would pay $70 for a tank top, which is exactly what some women pay for a Lululemon tank top.
The high-end sportswear market has been good business lately with athletic wear becoming accepted as everyday wear. This is something the more utilitarian-minded Under Armour has been mostly missing out on. Up to this point their products have been mission-oriented and intended to serve a very specific purpose and they've been priced for people who use and abuse their products.
Just a quick look at the lowest priced women's tank tops shows some very different prices. LULU's website shows the cheapest tank at $42 and the most expensive at $68.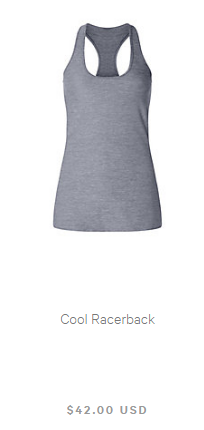 Nike ranges from just $15 to $95 and Under Armour has a plain tank starting at $15 and going up to $70. With Mr. Coppens coming on board at Under Armour it seems they'll be going after the $42 tank top market and raising that price window a tad.
Right now the UAS line is set to be released in the fall of 2016 just in time for those high priced/high margin sweatshirts and other heavy outerwear. There haven't been any teasers released, but the designer did just come on board so we probably won't see anything for a few weeks at least.
Leveraging their brand into a higher priced market using a high-end fashion designer is a great move for the company and illustrates that they are going after Lululemon in a space Nike hasn't.
This will also help UA diversify their offerings to be more welcome outside of the gym. That is where the real money is, because lets face it, not everybody is as active as they should be but they want to look active. Under Armour has been doing an "okay" job at gaining female consumers and this will create a greater avenue to steal some of those customers away from Lulu. If they can offer the same fashion and high-end feel that Lulu does at a competitive price then Lululemon is in real trouble.
Investor Takeaway
With this hire UA is going into a higher margin market with their sights set on Lululemon. While the company has been going toe to toe with Nike neither company has really gone after LULU and as a result that company has done really well for itself. I really like this move by UA and am anxious to see what the UAS line looks like and where it is priced. With this new hire and the unveiling of the new UA Shop app I am bullish on UA and have high hopes for the future.
I'd be remiss not to address the very large risks with this move. Taking on LULU in their area of expertise is risky and there is no guarantee that UA will succeed here, even with a high-end famous designer. I'm not sure if branching out in this space is wise as they still have Nike to contend with and that competition is pretty fierce. If this line fails it will be a black-eye for the company and investors may lose some faith in Mr. Plank.
That being said, great companies are not made without taking risk. The risk/reward here is pretty slanted in favor of UA because even if this line fails they still have their successful athletic wear. A failure in UAS shouldn't hurt the reputation that they've earned in athletic wear and most of the consumers who purchase those items probably aren't going to be concerned with UAS. This is a great chance for the company to grow margins and enter into a new market, something they will need to do to continue to grow.
Disclosure: I am/we are long UA, NKE.
I wrote this article myself, and it expresses my own opinions. I am not receiving compensation for it (other than from Seeking Alpha). I have no business relationship with any company whose stock is mentioned in this article.