In a prior article, I wrote about the value of debt for Linn Energy (LINEQ) / LinnCo (LNCO). Based on my findings, I concluded that valuing the company's debt is very hard, if not impossible, given the current situation and how the bankruptcy process operates, but I did conclude that, as energy prices continue rising, the value of that debt should, in theory, increase. Now that I've looked at Breitburn Energy Partners (OTCPK:BBEPQ) in the same light, I decided that it would be a wise idea to write a piece about its debt moving forward.
A note on the bankruptcy process
Perhaps more than anything in finance, the bankruptcy process is extremely complex and figuring out the appropriate value of assets in a restructuring is as much a matter of applying pressure as it is finding the actual value of said assets; maybe even more so. The reason behind this is that, once a company is restructured, shares are usually sold once again on the open market, allowing the lenders in question to recoup some or even all of their losses.
Some of the debt in question tends to be left on the books and is repaid down the road but the fact that equity will have some value that cannot be determined by the creditors ahead of time creates interesting incentives. More senior lenders, who want to be guaranteed their money back but who have been given some equity as opposed to just a complete issuance of debt again, try to make the case that the firm is worth less since they will, keeping all else the same, be granted a larger ownership of the enterprise than if it were worth more.
More junior debtholders, on the other hand, want to try and grab as much of the entity's ownership as possible so they tend to make the case that the business is worth more after being restructured than it probably is. Because of this, it's impossible to know what will happen but by looking at Breitburn's existing assets and debts, we should be able to get a glimpse of what value, if any, exists for the firm's publicly-traded debts.
Just as in the case of Linn, as the price of oil has increased in recent months, the ability for more junior debtholders to claim a higher value on the company rises. In the image below, you can see exactly that. Since hitting bottom at $0.0675 on the dollar earlier this year, the price of the company's 8.625% 2020 Senior Notes has nearly doubled to $0.129 on the dollar as of the time of this writing. The company's 7.875% 2022 Senior Notes would have a similar trajectory and are now going for $0.1375 on the dollar.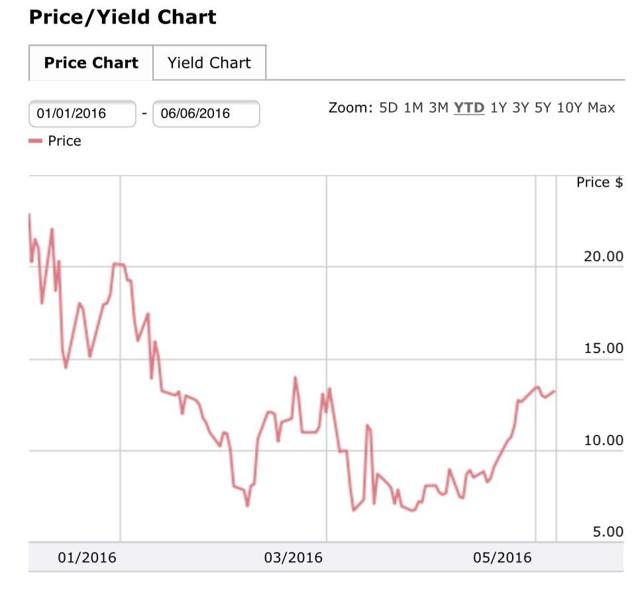 Is debt worth anything?
At a very basic glance, it's possible to see that (using first quarter financials) Breitburn's assets are worth $4.72 billion while its debts, taxes due, and other top priority claims (like accrued wages) are worth $3.05 billion. The debt portion of this alone is shown in the image below. This may seem like a clear-cut story where lenders would get reimbursed in full across the board but it's necessary to understand what the assets of the firm are.

For instance, cash of $81.69 million should be worth exactly what it's listed for, while accounts receivable of $113.22 million should be worth close to what it's listed for unless something happens to the customer who owes the business money. Derivatives that were valued last quarter at $568.49 million should also be similar to cash in that they should be worth exactly what they are listed for after factoring in any derivatives that have expired or been exercised and after accounting for price fluctuations in the price of oil and natural gas.
Other assets, on the other hand, are not so easy to value. An example of this would be Breitburn's oil and gas properties, as well as property, plant & equipment. Collectively and net of depreciation, depletion, and amortization, these assets are priced on the company's books at about $3.86 billion, with over 97% of that value attributed to oil and natural gas properties. Yet, if you were to rely on the firm's PV-10 calculation, which factors in recent oil and natural gas prices, the discounted value of its energy reserves comes out to $1.28 billion.

Seeing as how this (using book value) accounts for 81.8% of Breitburn's assets, with other assets that can be easily argued higher or lower accounting for another 2% of its value, it's not hard to see that credit facility lenders will get paid and that Second Lien holders will likely get paid a good portion (or all) of what they are owed, but there is certainly risk for the holders of Senior Notes. This group is at the bottom of the debt ladder and they currently are owed $1.16 billion. If, as an example, all assets are valued at book except for reserves, which would be valued at a hypothetical $1.28 billion and if all lenders senior to the Senior Notes holders get paid in full in the form of ownership, the owners of the Senior Notes would get $0.254 on the dollar. This represents a nice increase in value but there are many variables here that create a great deal of uncertainty.
Takeaway
At this moment, it's evident that Mr. Market is more excited about Breitburn's debt than it has been in a while. There certainly is a chance that investors in those bonds could see very attractive upside should things go well, but it's also important to keep in mind that there's a great deal of risk since the bankruptcy process is as complex as it is. For me, I am personally staying out of the debt at the moment but if I see positive indications of attractive upside, I may dabble in it to some degree.
Disclosure: I/we have no positions in any stocks mentioned, and no plans to initiate any positions within the next 72 hours.
I wrote this article myself, and it expresses my own opinions. I am not receiving compensation for it (other than from Seeking Alpha). I have no business relationship with any company whose stock is mentioned in this article.
Editor's Note: This article covers one or more stocks trading at less than $1 per share and/or with less than a $100 million market cap. Please be aware of the risks associated with these stocks.