I see Fitbit (NYSE:FIT) as an intriguing investment opportunity for the short-term and possibly for the long-term. The significant sell-off over the past year has created a deep undervaluation for the stock. Fitbit products are selling well at double-digit rates, which is likely to help catalyze the stock in the short-term (within the next year or two). The longer term prospects for the company will depend on Fitbit's ability to innovate and create products that meet consumer demand.
Deep Value
Fitbit's stock is trading at bargain valuation levels, which is surprising for a company that is expected to grow revenue at double-digit rates this year and next year according to consensus estimates. Fitbit is trading at only 10X next year's expected EPS of $1.41 (consensus). This is 41% below the S&P 500's forward PE of 17 and 40% below the Scientific & Technical Instruments industry's forward PE of 16.6.
One of Fitbit's key competitor's, Garmin (NASDAQ:GRMN) who also produces fitness trackers, is trading with a higher forward PE of 18. Fitbit also stands out with an EV/EBITDA ratio of only 7.9 as compared to Garmin's ratio of 11. This shows that Fitbit is attractively undervalued even when taxes are taken out of the equation. It's not common to see a profitable company trading with an EV/EBITDA ratio below 10.
Fitbit sold off last year after hitting a price to sales ratio of 10. The stock is now trading with a price to sales ratio of only 1.6. Garmin is trading 1.8X higher with a price to sales ratio of 2.86. Investors have been concerned with increased competition from the Apple (NASDAQ:AAPL) Watch, Nike's (NYSE:NKE) FuelBand, Garmin's Vivofit products, Samsung's (OTC:SSNLF) Galaxy Gear, and Microsoft's (NASDAQ:MSFT) activity trackers.
The selling in the stock continued as Fitbit diluted shareholders with a 21 million share secondary offering in November. Then, early in 2016, investors didn't like the company guiding below expectations for Q1. So, Fitbit took more of a hit with a series of downgrades from multiple companies.
Overall, I think the negativity is already baked into the stock price. I see Fitbit's stock as attractively undervalued. This looks like a good entry point for the stock as investors can start a position at a bargain price.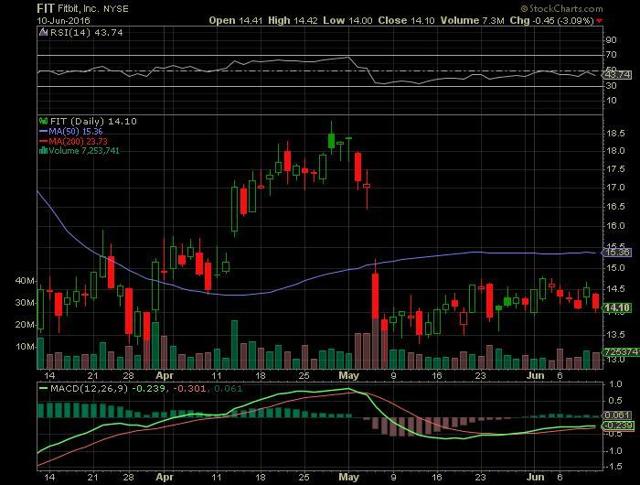 Catalysts for the Stock
In addition to trading at a bargain price, Fitbit also has some catalysts that are likely to drive the stock higher. As of September 2015, 21% of U.S. adults used a wearable device. Of those who wear a fitness device, 36% are using Fitbits according to a Forrester Research survey.
Fitbit's competitors each have a lower market share. Nike, Apple, Samsung, Microsoft, and Jawbone have market share levels of 16%, 16%, 13%, 11%, and 10%, respectively. So, Fitbit remains the market leader for fitness trackers.
I think that Fitbit will continue its dominance in the space at least over the next year or two due to brand recognition and price points. Since Fitbit is already the dominant player among fitness trackers, current users are likely to use word of mouth to tell their friends and acquaintances about the device. This will entice other fitness-conscience consumers to buy a Fitbit.
Fitbit's price points are also attractive. For about $90 to $130, you can get Fitbit's latest fit bands. The Garmin Vivofit might be less expensive, but the display looks clunky and hideous in my opinion. The Garmin Vivosmart is more attractive, but costs about the same as a Fitbit. The Microsoft Bands can cost you $130 to $175 depending on the model. Fitbit's Blaze watch sells for about $200, while Apple's Watch is more than $300.
The Fitbit gets a high percentage of 5 star ratings according to reviews on Amazon (NASDAQ:AMZN). The Fitbit products tend to have higher ratings over most of its competitors' products. For example, the Fitbit Alta gets 58% 5-star ratings. The Samsung Gear2 only gets 25% 5-star ratings. The Garmin Vivofit2 gets 50% 5-star ratings. However, the Apple Watch does get higher ratings than the Fitbit Blaze, so Apple does add value with its higher cost according to most reviewers. My main point is that most of Fitbit's products rate well with users, which makes it likely for them to recommend them to others. This is likely to have a positive word-of-mouth effect to increase sales.
The Millennials (Generation Y) use the most devices, with 35% of them expecting to buy a fitness wearable device this year. Millennials are now the largest living generation as they surpassed the Baby Boomers. Therefore, the Millennials represent a strong sales catalyst for Fitbits. Generation Z has the highest interest in wearables. So, the younger generations also represent a strong market for Fitbit, especially for the fitness features (i.e., tracking steps/miles).
Generation Xers are now middle-aged and are likely to be interested in monitoring their health. Fitbit highlighted a story in the Q1 conference call of a 42 year old man with atria fibrillation who experienced a grand mal-seizure. Doctors were able to use the heart rate data from the man's Fitbit app to determine when the arrhythmia began to help decide the best treatment to get his heart beat under control.
Although Baby Boomers use this technology the least, I would think that many of them would embrace the use of Fitbits to help monitor their health. Perhaps they will be influenced by their children and grandchildren's use of this technology to take more control over their health.
Fitbit's stock has a high short interest with about 29% of the float shorting the stock. With such a high short interest, the stock is likely to experience a short squeeze on any positive news. The next catalyst could be the next earnings report. If the company exceeds its estimates for revenue and earnings and provides strong future guidance, many of those shorting the stock are likely to cover. This will put upward pressure on the stock price.
Conclusion
The negative sentiment is fully priced into the stock in my opinion. Although plenty of competition exists for Fitbit, the company does have great brand recognition. Fitbit's brand recognition, competitive product pricing, and high user reviews make it likely that the company will be able to continue to achieve strong revenue growth.
The stock has shown incremental strength over the past month. The stock is selling at a bargain price. So, there are likely to be investors reconsidering the Fitbit as an investment or at least a trade. With the high short interest, I think the stock is poised to go higher on positive news. With many fitness enthusiasts out there and others interested in monitoring their health, I think that Fitbit has a future.
I think that the stock can reasonably increase by about 20% to 25% over the next year. The catalyst for this is likely to be strong sales, earnings, and strong company guidance for future quarters. The stock could be trading with a forward PE of under 13 with a price of $18. So it is not unreasonable to see a strong gain as sentiment turns from negative to positive.
Since conditions can change quickly with technology, I would consider this a buy and keep a close eye on it.
Disclosure: I am/we are long AAPL.
I wrote this article myself, and it expresses my own opinions. I am not receiving compensation for it (other than from Seeking Alpha). I have no business relationship with any company whose stock is mentioned in this article.
Additional disclosure: If you like my analysis, click on FOLLOW at the top of the article near my name. This will allow my articles to appear on your homepage as they are published.