IDI, Inc. (IDI) is a relatively unknown, but rapidly growing company that is positioning itself within the multi-billion dollar data-fusion industry. The company's platform (idiCORE) was created by Ole Poulsen, IDI's Chief Science Officer and the primary architect of two prior platforms (Accurint and TLOxp), which have served as cornerstones for the industry. The company's expertise is in extrapolating otherwise unattainable insight from disparate sources of structured or unstructured data sets which could not have been deduced via the individual elements on their own.
Through the commercial launch of idiCORE in early May after a year and a half of development, the company anticipates that it will be able to effectively scale into the risk management market utilizing regulated data. These are data that are closely regulated by federal guidelines and laws, which are restricted for use outside of their permitted purposes.
However, as the company grows, the expectation is that IDI will increasingly begin to input into their platform marketing information and other forms of unregulated data. In doing so, the company hopes to broaden into another market that is aimed towards advertisers looking to gain valuable and previously unrecognized marketing insight. This will allow companies to more effectively understand their customers and further optimize their acquisition strategies.
To accelerate into the second transformation phase, IDI acquired a rapidly growing digital marketing company called Fluent in December 2015. In doing so, the company bolstered their position with a profitable entity that could further support IDI while it continued to scale its primary platform. Through this acquisition, IDI further achieved synergies and gained a significant amount of data assets which will continue to be increasingly vital towards improving the knowledge base of its primary platform.
This brings us to the rather interesting Form 8-K filed with the SEC on June 8. Although not expanded upon by IDI through an announced press release, the filing reports that IDI acquired yet another company. According to the filing, IDI acquired Q Interactive, LLC from Selling Source, LLC through an all-stock transaction. The company issued to the seller 2.37 million shares with an incentive of another 1.2 million shares if Q Interactive is able to meet at least $25 million in revenue for 2016. The company also has an option to alternatively offer $10 million in common shares instead of 1.2 million shares should Q Interactive meets the stated benchmark. Altogether, the acquisition could be valued up to $21 million based on the closing share price of $4.61 as of June 8.
A Look At Q Interactive
As a private company, information about Q Interactive remains sparse. According to the seller, the performance-based marketing company "leads the industry in monetization" by connecting advertisers to their ideal consumers and utilizing the sites of publishers and their email lists. Based on Q Interactive's website, the company has managed to flourish since the early days of the Internet, having been founded in 1994. Initially, the company focused on coupon marketing and one such enterprise owned by Q Interactive is Cool Savings.
One interesting distinction about Q Interactive is its commitment to performance-based marketing. This is similar in nature to Fluent, as both companies appear to be dedicated to being compensated by their clients on the basis of quantifiable results. Ironically this has become far from the norm in the digital age where the majority of advertising dollars have gone towards potentially empty page views or banner clicks.
In contrast, performance-based marketing focuses on specific results sought by the company such as increased mailing list subscribers or likes on Facebook (NASDAQ:FB). Results like these are more difficult to achieve and require a greater degree of motivation by the consumer. As such, performance-based marketing takes a higher pedestal when comes to how companies want to spend their advertising dollars. According to the company's LinkedIn (LNKD) profile, Q Interactive boasts having more than 1000 leading brands rely upon it and nearly half of the nation's top 100 advertisers as ranked by Advertising Age.
In order to focus on performance-based marketing, Q Interactive must establish deep ties with its marketers in order to better understand their goals and objectives. The same could be said of Fluent. Both companies must understand their clients in order to know their ideal consumer. Once this is understood, Q Interactive and Fluent can pursue look-alike audiences to attract new acquisitions that best represent the profiles of these ideal consumers.
According to Q Interactive, the company maintains hundreds of millions of high quality leads and interests which are generated each year across all verticals for advertisers. It does this by interacting with millions of actively engaged consumers every month. The company also maintains its own proprietary websites and performs data validation.
Why This Acquisition Matters For IDI
Following an interview after the announced Fluent acquisition in 2015 with IDI's CEO, Derek Dubner, he stated that the company would continue to explore bolt-on acquisitions in a manner that is very mindful to increasing shareholder value. He would go on to elaborate that the company would only do so if it continues to increase the technology of what has already been built or if it adds customers at scale in order to promote the ability for further cross selling functionality.
Based on what is known about Q Interactive, it appears that the company continues to meet these objectives as it further expands the scope of what the Fluent acquisition has already accomplished for IDI, and it broadens what it has already been moving towards. This is further reiterated with a follow-on email response from Dubner to Ezra Marbach in the blog found here. Specifically, some of the key points are summarized below:
Q Interactive is already profitable.
Dramatic expansion of self-reported database and traffic volume.
Access to new clients and campaigns.
New technology and product capabilities.
Q Interactive enhances synergies already found between IDI and Fluent.
According to Dubner, IDI now regularly gains over 700,000 registrations per day in the United States. These naturally represent additional customer acquisition opportunities that can be targeted by the company. IDI has also vastly expanded its network of advertisers, which could result in additional conversions towards new projects with IDI. Additionally, Q Interactive introduces new proprietary methodologies to which it has been able to effectively engage and monetize its audiences. The incorporation of these alongside with those of Fluent could further optimize their combined targeting capabilities.
A Look At The Company Now
Based on the last outstanding share count of 48,244,285 according to the Form 8-K previously stated, IDI now trades with a market capitalization of $233 million based on the last share price of $4.83 as of June 10. IDI is now in a stage of rapid growth as it continues to digest its recent acquisitions of Fluent and Q Interactive. Additionally, with the recent launch of the company's primary product of idiCORE just last month, IDI should continue to gain increasing momentum in the risk management business as well.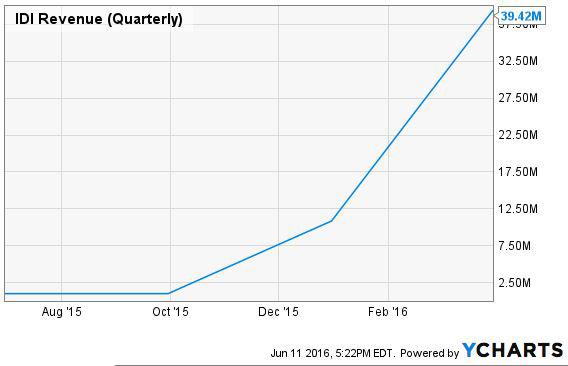 The revenue ramp for the company has already begun to take shape over this past year. In Q1 2016, IDI generated $39.4 million in revenue, a vast improvement from the $1.3 million experienced in Q1 2015. The company also achieved positive adjusted EBITDA of $2.4 million along with positive cash flow from operating activities. Despite this, the company also experienced a net loss in light of high amounts of share-based compensation. IDI reported a net loss of $6.8 million but had also issued non-cash share-based payments of $7.4 million.
It was previously asserted by Dubner in March that IDI would witness more than $170 million in revenue along with strong earnings. Naturally, this was before the Q Interactive acquisition where an incentive exists for the company to contribute at least $25 million for 2016. Further confirmation from Dubner that Q Interactive is already profitable helps to reassure that the acquisition will not take a significant amount of time before it begins to contribute meaningfully to the bottom line.
Final Thoughts
One thing that stands out to me in particular about this acquisition is that Q Interactive has managed to thrive in a rapidly evolving space over the span of more than 20 years. The company is a proven dinosaur in this industry, a more impressive feat when you consider its relatively small size. It has also managed to stay afloat by evolving and adjusting its marketing approach as the Internet expanded.
While it would be difficult to believe that the company has any revolutionary technology having just been acquired for approximately $21 million, what may ultimately prove to be most important is the massive amount of data that it has accumulated over the length of its company history. Investors would do well to remember that IDI's platform also gains a growing amount of knowledge and insight through ever increasing amounts of data.
Additionally, the fact that Q Interactive continues to be profitable to this day makes the company immediately important to IDI, which has thus far operated with a net loss as it continues to scale. Most intriguingly, Selling Source agreed to an all-stock transaction for the sale of Q Interactive. This places a significant amount of confidence in the performance of the enhanced IDI. Altogether, IDI appears to be growing at a rapid rate. The company is armed with a promising platform that is poised to capture an increasing amount of the market share. Its most recent acquisitions only appear to offer further synergies by the company that have yet to be realized.
Disclosure: I am/we are long IDI.
I wrote this article myself, and it expresses my own opinions. I am not receiving compensation for it (other than from Seeking Alpha). I have no business relationship with any company whose stock is mentioned in this article.
Editor's Note: This article covers one or more stocks trading at less than $1 per share and/or with less than a $100 million market cap. Please be aware of the risks associated with these stocks.