In this article I have set myself the task of deciding on a top 5 pure play lithium mining stocks.
Why invest in a lithium miner?
Lithium mining is a leading industry supporting three separate billion dollar industries - smartphones, electric vehicles and energy storage.
China's lithium-ion battery production tripled in 2015.
With 12 lithium ion battery "mega factories" set to come on line (or expand) by 2020 (including Panasonic (OTCPK:PCRFY), Tesla (NASDAQ:TSLA), LG Chem (OTC:LGCLF), Samsung SDI (OTC:SSDIY), Byd (OTCPK:BYDDF), Foxconn (OTC:FXCOF), and Boston Power), according to Benchmark Mineral Intelligence (and 7 of those in China), owning more of the supply chain makes a great deal of strategic sense.
Goldman Sachs (NYSE:GS) calls "lithium the new gasoline." They forecast 22% electric vehicle (NYSE:EV) penetration by 2025, and "lithium demand for all EV applications could grow more than 11x by 2025."
GS also state: "A Tesla model S with a 70kWh battery uses 63 kilograms of Lithium Carbonate Equivalent (LCE) - an equivalent content of more than 10,000 cell phones."
Other technical experts say an EV battery requires around 2.5kgs per kWh. This means the 70kWh Model S would require 175kgs of LCE, or the 60kWh model 3 would require 150kgs.
If 1m EVs (with 60kWh batteries) are sold in 2018 (Tesla alone plans to sell 500k EVs in 2018), then we will need 150m kgs, or 150k tonnes of LCE just to supply cars.
GS also says "for every 1% increase in battery electric vehicle (BEV) penetration, there is an increase in lithium demand by around 70k tonnes of LCE/year." Based on the other experts above this would mean the real figure is much higher than 70ktpa, and closer to 150ktpa, especially as the industry moves to longer range EVs with bigger batteries capacity (60kW).
Macquarie Bank says "lithium is the new wonder resource in the mining sector", and that "demand is expected to systemically outstrip supply in a few years, driven by an estimated 31% CAGR of EVs to 2021."
Over the next two years, 25 new makes and models of electric cars are expected to be released. Byd and Tesla currently lead global sales.
Ford (NYSE:F) is spending USD 4.5b to add 13 new EV models to electrify 40% of it's vehicle line up by 2020. Audi plans to introduce a new EV model every year beginning in 2018.
General Motors (NYSE:GM) has the Bolt coming in 2016, Nissan (OTCPK:NSANY) has the Leaf, Toyota (NYSE:TM) the Prius, Mitsubishi (OTCPK:MSBHY) the Highlander. Others with EVs include Volkswagen (OTCPK:VLKAY)(Audi/Porsche), BMW (BAMXY), Daimler Mercedes Benz (OTCPK:DDAIF), Renault (OTC:RNSDF), Volvo (OTCPK:VOLVY), Mazda (OTCPK:MZDAF), Honda (NYSE:HMC), Hyundai (OTCPK:HYMTF), and Kia (OTCPK:KIMTF).
The Economist magazine recently called lithium "the world's hottest commodity."
Tesla's Elon Musk also recently announced that Tesla "could triple the total planned battery output of the Gigafactory to ~105 GWh of cells and ~150 GWh of battery packs - or over 3 times the current total lithium-ion battery production worldwide." He also stated around half of this capacity would be needed to cater for the growing energy storage business.
Apple (NASDAQ:AAPL) is working on a secret project called Project Titan, to build an electric car. Musk believes Apple will have a car in the market by 2020.
Norway's four major political parties are readying a bill to ban the sale of gas powered cars by 2025.
I will look at the following metrics to choose my top 5 lithium miners:
1) Resource size, quality and type (brine, spodumene or clay).
2) Stage of development, and risks to reaching production. Including financing mine and plant construction.
3) Cost of production.
4) Company valuation metrics.
Note: I may soon write an article to focus on new lithium extraction technologies and the companies using them.
I have not had time here to discuss political risk in detail. Needless to say, the South American countries have higher political risk especially Chile and Bolivia at this time. Investors should also assess the companies management before they buy.
I wont go into the supply/demand issue with lithium as I have done this previously, you can read here. My view is that demand will be equal to, or stronger than, supply between now and 2020. Demand will be driven by 25 new makes and models of electric cars that are expected to be released by all the major players combined with the more fully electric 60kWh battery EVs (rather than smaller battery EVs), and energy storage gaining ground. Add to this the difficulty of quickly bringing new supply to market.
1) Resource size, quality and type (brine, spodumene or clay).
The largest lithium brine resources are generally as follows;
No 1 - Salar de Uyuni (Bolivia) - Government controlled.
No 2 - Salar de Atacama (Chile) - SQM (NYSE:SQM), Albermarle (NYSE:ALB)
No 3 - Salar de Cauchari-Olaroz - Lithium Americas (TSX:LAC) and Orocobre (ASX:ORE)
Summary of lithium triangle brine projects and their resource size and quality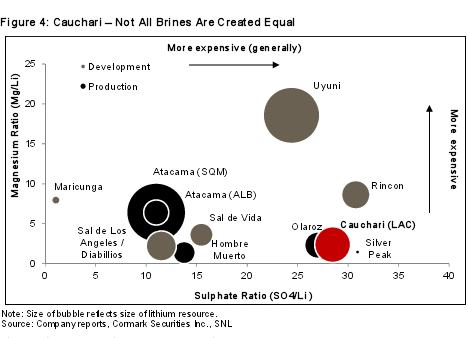 The above chart shows the comparative sizes of the worlds major lithium brine resources, and their magnesium and sulphate ratios. With regard to brine, the best ones are those low in magnesium. The reason for this is that when removing magnesium you can lose a lot of lithium as they are chemically similar. The higher sulphate is easier to remove but does add some cost. This is why some experts believe the massive Bolivian Salar de Uyuni (high in magnesium), may not be cost competitive compared with the Chilean and Argentinian salars. You can see now why SQM and Albermarle, two of the early movers, chose Salar de Atacama. Unfortunately for them, the Chilean Government has decided to impose a 40% royalty on the lithium miners. To date only Albermarle has agreed to this. SQM is fighting the Chilean government and has since decided to focus now on Argentina with their 50% JV with Lithium Americas (OTCQX:LACDF) (TSX:LAC).

Source: Cormark Securities Inc. - Alec Meikle
Based on the above table comparing the major lithium triangle brine projects, we can see that of the listed pure lithium miners, Lithium Americas has the largest total resource/reserve size of 11.849m tonnes, followed by Orocobre (OTCPK:OROCF) (ASX:ORE) with 9.794m tonnes, and Galaxy Resources (OTCPK:GALXF)(ASX:GXY) with 8.373m tonnes of lithium carbonate equivalent (LCE). Of the listed pure plays Li3 Energy (OTCQB:LIEG) has the highest grade but a small deposit size at only 633,000 tonnes.
Summary of the global spodumene resource sizes
Talison's Greenbushes (51% owned by China's Chengdu Tianqi, 49% by Albermarle) is the largest global lithium spodumene mine and has the highest grade, followed clearly by Pilbara Minerals (ASX:PLS). After a large gap comes Nemaska Lithium (OTCQX:NMKEF) (TSXV:NMX), Altura Mining (OTCPK:ALTAF) (ASX:AJM), NeoMetals (NYSE:NMT), and Galaxy Resources.
In terms of clay resources the Bacanora (OTC:BCRMF) (TSXV:BCN) Sonora project is said to be the largest. However, some experts have concerns regarding extracting lithium economically from clay.
2) Stage of development, and risks to reaching production. Including financing mine and plant construction.
The table below gives an excellent summary of the lithium miners that are heading towards production before 2020. Again I will focus only on the listed pure plays.
Orocobre leads as they are already in production, as does Galaxy Resources with it's spodumene restart of Mt Cattlin. Galaxy also recently took over General Mining. Mineral Resources which has a 27% stake in Mt Marion(ASX:MIN) is ramping up, as is Neometals.
Year producing.
2016 - Orocobre, Mineral Resources, Galaxy Resources, Neometals
2017 - Should see Altura Mining and Pilbara Minerals (late 2017 or early 2018) entering production.
2018 - Should see Nemaska lithium entering production.
2019 - Should see Lithium Americas entering production.
2020 - Should see Bacanora Minerals and Lithium X (ROCEF) entering production.
Summary of lithium miners close to production with estimated date of mining and estimated production pa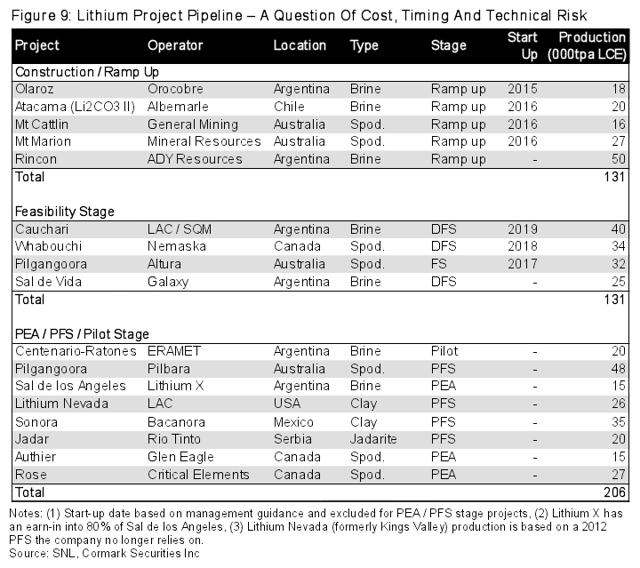 NB: ADY Resources is a former subsidiary of Admiralty Resources NL, now a private company.
Lithium producers entering the market 2015 to 2020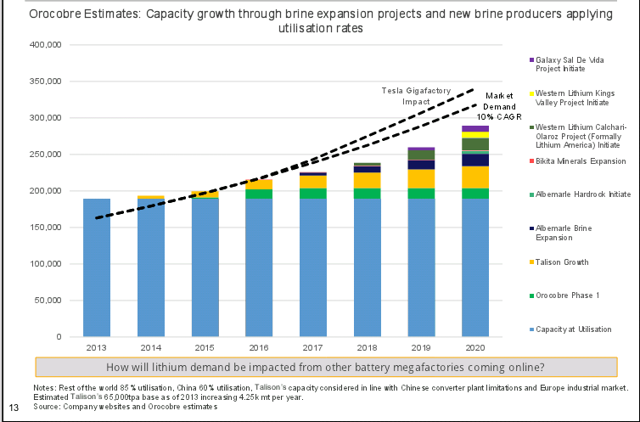 3) Cost of production.
It is generally well accepted that lithium brine projects production costs are significantly lower than spodumene or clay deposits. Having said that, spodumene and clay projects are quicker to bring to market with lower CapEx.
Lithium brine requires evaporating and processing to get to the lithium carbonate, which then contains about 18 per cent of metallic lithium. Whereas spodumene hard rock contains about 6% lithium, so is a more concentrated source of lithium ore, but more expensive to process as the rock requires crushing.
The clay and spodumene generally have higher costs of production as you can see with Galaxy's spodumene project (right side of graph below). Off course this may soon change with newer lithium extraction technologies. POSCO, Lithium Australia and Nemaska Lithium are leaders in this area.
Comparison of the lowest cost lithium producers - done by Orocobre in 2014.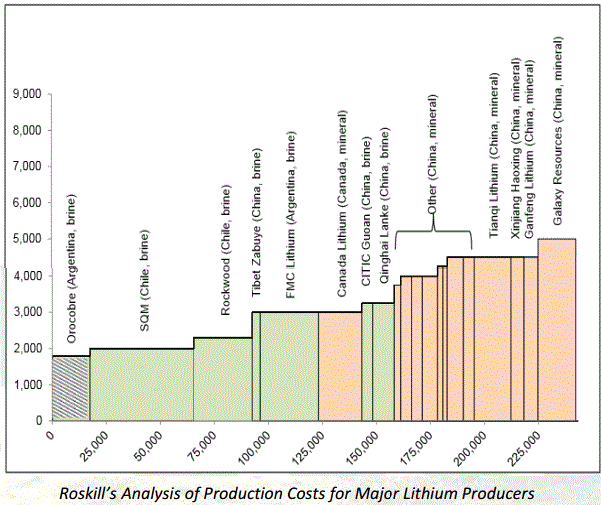 As expected we can see the brine producers as the current cost leaders. It should also be noted that both Nemaska and Bacanora claim they will have low costs of production around USD2,500-3,000 per tonne. When choosing the top 5, I have considered those with the lowest costs of production. Pilbara Minerals will be the exception to this. Being able to use the one facility to mine ever larger volumes helps off set their higher cost, however it is a weak point for Pilbara Minerals. This applies to Galaxy Resources current spodumene production in Australia, however for the next few years demand is very strong such that the higher cost mines are still very profitable at least for now. Down the track they will have a large Argentine brine production.
4) Company valuation metrics - market caps
Company

Share price

local currency

Market Cap

($ US)

My Price

target

end 2020

Increase

(times)

Mineral Resources
AUD 9.15
1,260
Orocobre
AUD 4.74
732
AUD 13.94
2.94
Pilbara Minerals
AUD 0.68
507
AUD 2.53
3.71
Galaxy Resources
AUD 0.525
*497
AUD 2.32
4.41
Nemaska Lithium
CAD 1.42
240
CAD 6.96
4.90
Altura Mining
AUD 0.265
192
AUD 0.76
2.85
Lithium Americas
CAD 0.81
184
CAD 3.60
4.50
Bacanora Minerals
CAD 1.84
140
CAD 7.32
3.98
Lithium X
CAD 1.73
70
Critical Elements
CAD 0.60
67
CAD 3.23
5.39
Pure Energy
CAD 0.65
34
NB: *Galaxy Resources' market cap will soon increase (to around USD 600-670 million) due to the off-market takeover of General Mining [ASX:GMM], wherein General Mining shareholders will receive 1.65 new Galaxy shares for every 1 General Mining share held. This is accounted for in my target price.
NB: I have not yet commenced coverage for those above with no targets. Stock dilution has been factored in to the above forecasts.
NB: My model forecasts are based on LCE USD 2,500 per tonne production costs, USD10,000 selling price, and a P/E of 15.
Conclusion
Investors could choose their own top five based on any of the criterion discussed in the article.
If time to production was the key then you would likely choose Orocobre (producing), Galaxy (2016), Mineral Resources (2016), Pilbara Minerals (2017), Altura Mining (2017), Nemaska Lithium (2018) and Lithium Americas (2019).
Based on the four criterion discussed in the article my top 5 would be:
1) Galaxy Resources - 2016 spodumene producer and expected (by 2019) low cost brine producer, very large brine resource (Argentina), and two spodumene resources (Canada and Australia). Diversity of product and location. Catalysts are earnings soon from Mt Cattlin, and in June an updated feasibility study on Sal de Vida, where the NPV is expected to increae 2-3 fold. You can read more here.
2) Lithium Americas - Expected 2019 low cost producer, strong partner in SQM de-risking the project, very large brine (Argentina) and clay (Nevada) resources, excellent valuation with low market cap relative to potential. Catalyst are an updated feasibilty study in 2016 with a significanty increased NPV, and commencement of mine construction in later 2017 or early 2018. You can read more here.
3) Orocobre - Current low cost producer, very large brine resource (Argentina). A safer play as already in production. Fully valued for now, but well valued based on a 2020 outlook. You can read more here.
Equal 4) Pilbara Minerals - Spodumene producer with second largest global spodumene resource (Australia), and ability to ramp up to a very large production, strong off take agreements.
Equal 4) Altura Mining - Smaller resource than Pilbara, however it has a much lower market cap (and valuation). Still the resource is big enough for a 14-year mine, with a small CapEx (AUD 140m) to start the project. Strong off take agreements. Catalyst is a Definitive Feasibility Study (NYSE:DFS) coming soon in 2016, and production late 2017, early 2018.
5) Nemaska Lithium - 2018 expected producer, large spodumene resource (Canada), large 35ktpa production plans, reported by Nemaska to have low estimated costs of production due to their proprietary processing technology.
If I was allowed a sixth I would most likely choose a tie for Lithium X (LIXFF) (TSXV:LIX) and Critical Elements (TSXV:CRE). Both have good resources and lower market caps, so have strong potential to do well also, but with higher risk.
The above companies would give investors a diversified portfolio of producers, and near term producers, diversified globally, with large quality resources.
I am not an industry analyst, and investors should do their own modeling and due diligence.
Happy to hear your comments as usual.
Disclosure: I am/we are long OROCOBRE (ASX:ORE), LITHIUM AMERICAS (TSX:LAC), GALAXY RESOURCES (ASX:GXY), PILBARA MINERALS (ASX:PLS), ALTURA MINING (ASX:AJM), LITHIUM X (TSXV:LIX), CRITICAL ELEMENTS (TSXV:CRE).
I wrote this article myself, and it expresses my own opinions. I am not receiving compensation for it (other than from Seeking Alpha). I have no business relationship with any company whose stock is mentioned in this article.
Additional disclosure: The information in this article is general in nature and should not be relied upon as personal financial advice.
Editor's Note: This article covers one or more stocks trading at less than $1 per share and/or with less than a $100 million market cap. Please be aware of the risks associated with these stocks.