Orexigen (NASDAQ:OREX) investors may not want to hear it, but Contrave sales have dipped below the prior year for the first time and are flattening out to a point where with 6 to 8 weeks, they will likely remain below the prior year for the balance of 2016. This is not an indictment of the drug, but rather simply an assessment of the numbers and trends.
This past week Contrave sales dipped to about 13,200. A dip was expected because of the holiday, but that is a small consolation when you consider the recent trending in sales. The peak for Contrave sales was at about 15,700 in the beginning of March.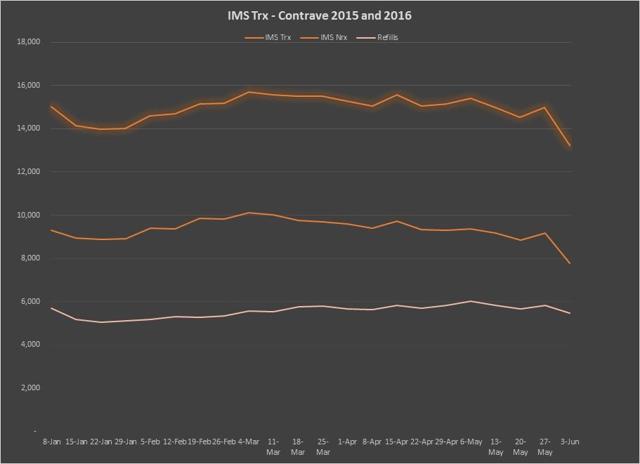 Chart Source - Spencer Osborne
On a quarter over quarter basis we are seeing that sales in Q2 are barely above what was delivered in Q1. With the holiday sales last week, Contrave sales actually dipped below all four of the previous quarters. At this juncture in Q2 sales are just 1.15% better than Q1. In the anti-obesity space Q2 was typically the strongest quarter. That dynamic shifted in 2016, and sales of these branded anti-obesity drugs have started downtrends early.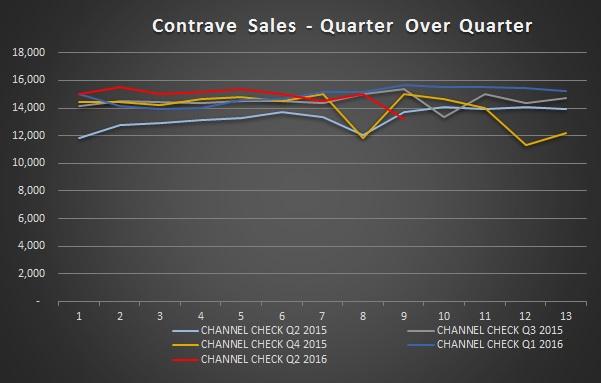 Chart Source - Spencer Osborne
On a year over year basis we can now see a physical demonstration of the poor sales illustrated. This past week the sales tracking line for 2016 dipped below the sales line for 2015 for the first time. Investors that read my tracking were already aware that the sales pace had flattened substantially, now they should be keenly aware of how these dynamics can impact the financials and comparisons. Delivering sales growth is critical. At this stage year over year sales are up just 14.5% and declining each week. In my last report the year over year percentage was 16.91%.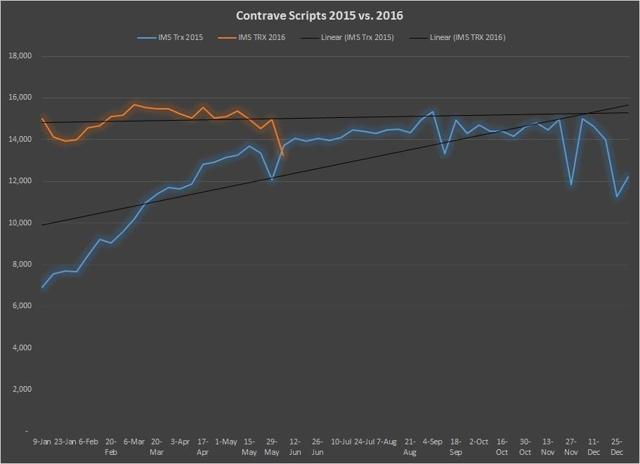 Chart Source - Spencer Osborne
In looking at market share we are seeing the trajectory of market share gains by Orexigen flatten out. In fact, the market share of Contrave is now lower than it was at the beginning of the quarter. At this stage the only drug in the sector delivering consistent improvement is Saxenda from Novo Nordisk (NYSE:NVO). This past week the Contrave market share was 40.65%.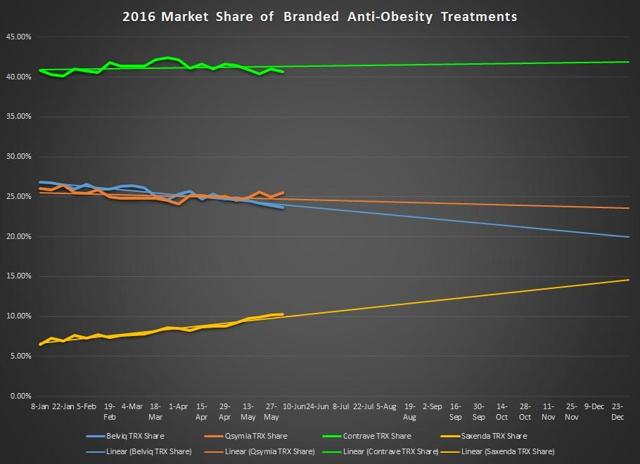 Chart Source - Spencer Osborne
At this stage it is going to be hard for Orexigen to meet its guidance. The company had stated that it expected the branded anti-obesity space to grow in the low double digits earlier this year. That was adjusted to high single digits later, and will likely need to be shifted again. At this stage, the year over year performance in the sector is a paltry 1.91% and in a continued decline. If you have not come to this realization already, I will spell it out clearly. Branded U.S. anti-obesity sales in 2016 will see a decline over the sales levels that were posted in 2015.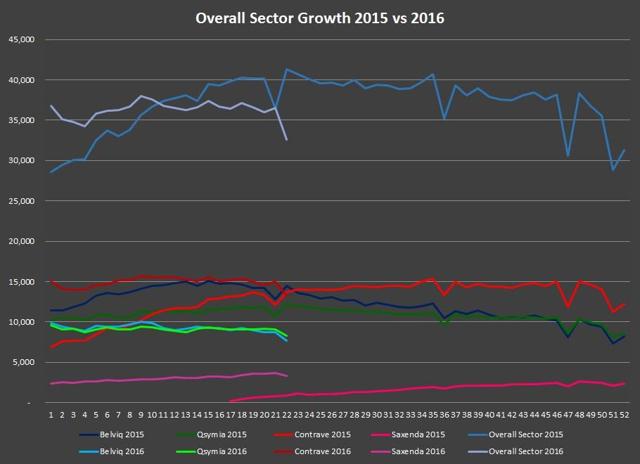 Chart Source - Spencer Osborne
The bearish argument for Orexigen is stronger than the bullish argument. Orexigen is 100% reliant on selling anti-obesity pills and thus hitched to that wagon in success or failure. Contrave will be launching in South Korea at some point in the weeks ahead, and is planning a limited launch in small European nations in Q3. In all likelihood, neither of these launches will add enough revenue to shift the narrative. Year over year comparisons will lose their flare as sales numbers continue to underwhelm.
This equity remains highly speculative. Many long term investors have been stung hard because they were either to heavily invested, or wanted to believe in a weight loss product so much that they allowed their judgement to be clouded. At this stage many will simply hold on and hope. If that is your strategy, it is fine. However, you need to recognize that the numbers are the numbers and the data are the data.
Orexigen will have a press release here or there that can cause a rise in the stock, but unless the underlying situation in this sector changes, such pops will be short lived. Stay Tuned!
Disclosure: I am/we are long NVO.
I wrote this article myself, and it expresses my own opinions. I am not receiving compensation for it (other than from Seeking Alpha). I have no business relationship with any company whose stock is mentioned in this article.
Additional disclosure: I have no position in Orexigen
Editor's Note: This article covers one or more stocks trading at less than $1 per share and/or with less than a $100 million market cap. Please be aware of the risks associated with these stocks.