Just a week ago many newsletter writers were turning bearish on gold while it hovered just above $1,200/oz. The consensus was that it was time to take profit in the gold miners before the shares gave any more ground back. Today, gold sits at $1,270/oz, the miners have rallied 10% and the bull market in each is far from over. In my Roxgold (OTC:ROGFF) article two weeks ago, I recommended buying the stock as I believed the correction in gold would find support near $1,220/oz on its up trend line. While I was wrong on gold as it slid another $15/oz before bottoming, ROGFF had since risen over 30%. Many chalk the gold move up to an alarming jobless claims number, but the bounce was inevitable with gold sitting on two different levels of support.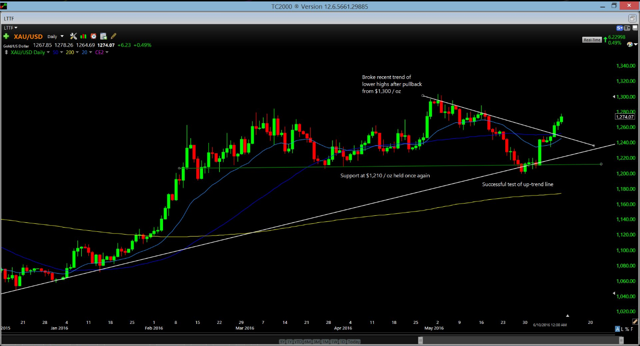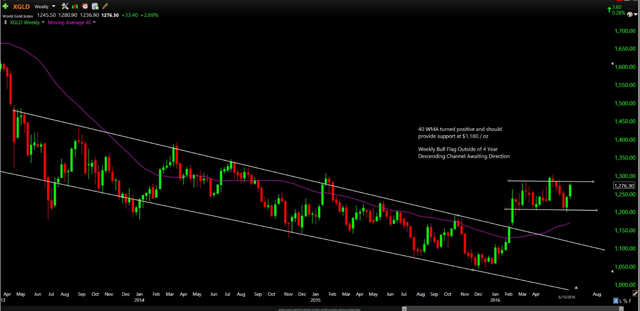 Nothing goes straight up, and with a 20% rally this year, a 30% retracement of the move was completely normal. Impressively, while gold pulled back from its highs at $1,300/oz, many miners traded sideways and even made new 52-week highs. The junior gold miners (NYSEARCA:GDXJ) continues to be the strongest sector this year by a wide margin. The M&A in the sector this year is hotter than ever with a new takeover offer showing up every month of 2016 thus far. The most recent takeover came Wednesday when Fortuna Silver (NYSE:FSM) offered $129 million for Argentinean gold exploration company Goldrock Mines (OTC:MFMNF). The acquisitions continue to be done at very large premiums and ounces acquired are being valued at over $50/oz. While this number may seem low with gold trading over $1,200/oz, many of these companies are still in exploration stage and years from getting gold out of the ground. Last month, I wrote an article displaying my criteria for selecting the best potential takeover targets. In the post, I focused on gold juniors with a market cap above $250 million and highlighted TMAC Resources and Gold Standard Ventures (NYSEMKT:GSV) as two potential targets for gold majors. Given the fact that most deals this year are taking place at the sub $250 million market cap level, I thought I would follow up by discussing 2 smaller junior gold mining companies.
Finding the next takeover target
After studying acquisitions of the past 9 months, I have settled on a criteria, which I believe will aid in uncovering the next junior takeover target. Instead of looking at all acquisitions over the past 5 years, I believe it makes more sense to look at recent acquisitions as they are more indicative of what future M&A deals should look like. Given that gold is trading at the lower end of its 5-year range, I find it more relevant to look at gold companies being acquired at current levels than those acquired with gold near record highs. Below is a table showing all of the acquisitions in the past 9 months, in addition to the 2 gold juniors I am highlighting in this article.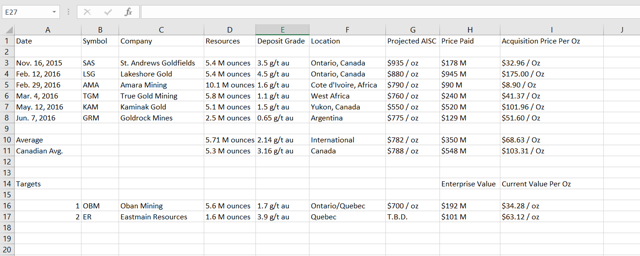 By looking at this table and digging through additional research, I have landed on 4 criteria, which I find to be most important in selecting junior takeover targets:
Deposit grade: The grade of the deposit should be no less than 0.8 grams per tonne gold, as high grades translate into low costs in most mining scenarios. The one exception I make with grade is if the all-in sustaining cash costs are under $800/oz, despite having a grade below my 0.8 gram per tonne benchmark.
All-in sustaining costs: All-in sustaining cash costs for the deposit outlined in the PEA or feasibility study should be below $800/oz. This gives potential suitors lots of flexibility in margin if gold prices do not continue higher.
Exploration upside: Gold majors are not just looking for a one deposit wonder but instead massive land packages with the potential for additional discoveries. Gold majors have very deep pockets to fund exploration, and while one deposit is a nice addition to their portfolio, the potential for a new gold district is what truly commands a premium in takeovers.
Previous strategic investment: I am looking for gold juniors that majors have already made strategic investments in. This serves as further confirmation I am looking at the right junior and I'm not just biased in my research. While gold majors have their sights on many different juniors, nothing speaks more volume than them putting their money where their mind is by purchasing shares in a specific junior.
Takeover Target #1: Oban Mining (OTCPK:OBNNF)
Oban Mining is a Quebec exploration company with 152 million shares outstanding, giving the company a market capitalization of $328 million. Osisko (OKSKF) is one of their largest shareholders, holding almost 20% of shares in Oban Mining currently. Mining companies are constantly using capital to fund studies as well as drill out their properties to better delineate them. One of the fears of investing in smaller exploration companies is financing which tends to put a ceiling on the stock short term and can dilute shareholders. Fortunately for investors in OBNNF, unexpected financing and raising capital are the least of their worries. Oban Mining has an absolutely massive treasury with almost 40% of their market capitalization in cash. The company is currently sitting on $136 million, giving them an enterprise value of $192 million. The company has 3 different projects with a combined resource of 5.7 million ounces.
1) Garrison Project - Currently their largest deposit which is located in the Kirkland Lake Camp of Ontario, Canada. The deposit has a resource of 2 million ounces at an average grade of 1.4 grams per tonne gold. The deposit is over 750 hectares in size and sits less than 15 kilometers west of Kirkland Lake Gold's (KGILF) Holloway and Holt mines. These mines are new additions to KGILF's portfolio as they were acquired from St. Andrews Goldfields just last year for $180 million dollars. There's no question in my mind that Oban Mining is exploring in the right territory when they are the closest exploration property to a major junior gold acquisition.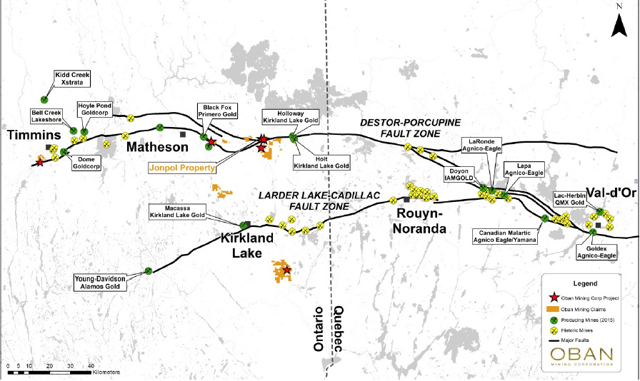 2) Urban Barry - The company owns over 70,000 hectares of land along the Urban Barry greenstone belt. The property is located 200 kilometers north of Val-d'Or and is accessible year round by all-weather roads. They acquired the Windfall Lake deposit from Eagle Hill Exploration which sits just west and along strike of the majority of their claims. The Windfall Lake deposit is their highest grade deposit and has exceptional economics to support the 1.5 million ounce resource with grades averaging over 8 grams per tonne gold. The PEA done by Eagle Hill exploration shows the deposit can produce gold at all-in sustaining cash costs of $536/oz and has a very reasonable initial capex of $207 million. Recent exploration at Urban Barry has discovered new mineralization over 3 kilometers southwest of the Windfall deposit, with 2 drill holes spaced over 700 meters apart. The grade of the drill results is consistent with the current grade of the Windfall Lake deposit as it showed 1.5 meters at 12.72 grams per tonne gold.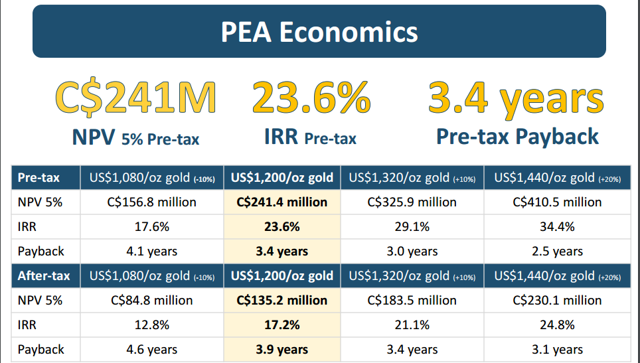 3) Marban Block - The Marban Block property is located 15 kilometers west of Val d'Or in the Abitibi region of Quebec, Canada. The property is their most exciting property on an infrastructure basis as 6 active or producing mines are located within a 10 kilometer radius. Their Marban deposit has just over 2 million ounces at an average grade of 1.4 grams per tonne gold, with an updated resource estimate expected in the second quarter.
Based on the table above, Oban Mining is ahead of the average Canadian junior gold acquisition in almost all categories. Their all-in sustaining cash costs at Windfall Lake are over 10% below the $788/oz average. The company's resource of 5.6 million ounces is also larger than the average acquired resource size of 5.3 million ounces. Despite this, they are being valued at $34.28/oz, or roughly 30% of the price majors paid for ounces in Canada over the past 9 months. While Oban's average grade is lower than the average grade of deposits acquired in 2016, I feel they are nowhere near fully valued at current levels. Oban has an extremely exciting year ahead with over 100,000 meters of diamond drilling planned to further delineate their current resources. They have an extremely successful technical team who were responsible for discovering both Canadian Malartic of Osisko Mines, as well as Goldcorp's (NYSE:GG) Eleonore mine. Both deposits are currently in production with resources of over 8 million ounces in the same province which they are currently exploring. With 3 different properties all with potential for new discoveries, I would not be surprised to see Oban Mining taken out at an enterprise value of closer to $500 million.
Takeover Target #2 - Eastmain Resources (OTCQX:EANRF)
Eastmain Resources is another Canadian gold junior, exploring in the James Bay region of Quebec on their flagship Eau Claire deposit. The company has 175 million shares fully diluted with $9.5 million in cash, giving them an enterprise value of $101 million. Almost 20% of their shares outstanding are currently held by Integra Gold (OTCQX:ICGQF) and Goldcorp, instilling confidence that majors are interested in them. The company has two 100% properties, one of which has a substantial resource already in place.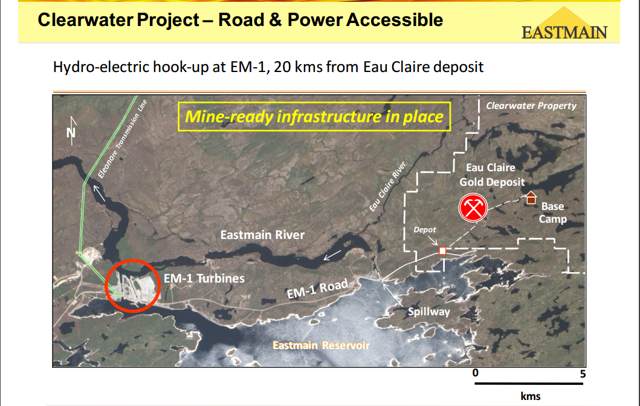 1) Eau Claire Deposit - Eastmain's main property is already road and power accessible with a hydro-electric hookup just 20 kilometers away. The deposit currently has a resource of 1.5 million ounces at an average grade of 3.9 grams per tonne gold, with 50,000 meters of drilling planned for this year. The current resource estimate was based on 117,000 meters of diamond drilling, therefore it's possible the current drill program could propel the resource closer to the 2 million ounce mark. The Eau Claire deposit is less than 50 kilometers away from Goldcorp's Eleonore mine and would be an excellent fit for Goldcorp which has recently gone as far as the Yukon to acquire ounces (through their Kaminak Gold (OTCPK:KMKGF) acquisition).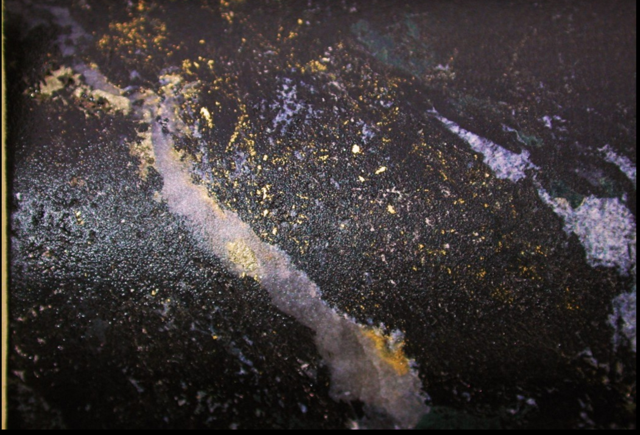 2) Eastmain Mine Project - The company's Eastmain Mine project is a 125 kilometer square land position located 200 kilometers east of their Eau Claire deposit. The Eastmain Mine property already has existing infrastructure worth over $40 million, and was a past producing gold deposit in the 1990s. The Route 167 Nord has helped to de-risk the project as it gives the property permanent all weather road access at no cost to them. The existing infrastructure includes a tailings pond, air strip, an 100 person mining camp as well as a fuel farm and mining lease. While discoveries will need to be made to put the Eastmain Mine back into production, the fact that Eastmain has all the necessary infrastructure significantly de-risks the project.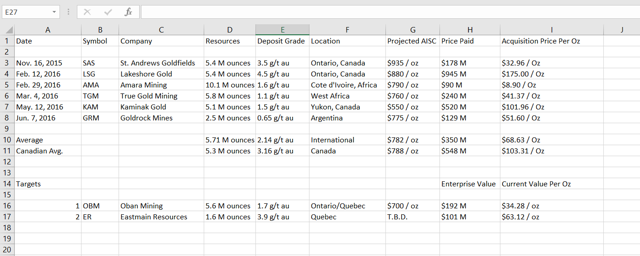 Based on the acquisition table above, Eastmain Resources is currently being given a value of $63/oz on their 1.6 million ounce resource. I am giving Eastmain no credit whatsoever for any of their other projects as I believe they are too early stage to fairly assign a value to at this point. Looking at Eastmain in comparison to other juniors on the table shines the light on just how undervalued Eastmain currently is. While Eastmain has a resource much smaller than the average Canadian junior gold acquisition made in the past 9 months, their resource is at a 25% higher grade which should command a premium on those ounces. In addition to this, Eastmain will be able to mine some of these ounces through an open-pit mining scenario which should significantly lower their mining costs. I believe the current drill program will help Eastmain to garner more respect in the junior mining space as it pushes its resource estimate past the 2 million ounce mark. While there is no PEA or Feasibility study in place to give us an idea of future mining costs, I expect they will come in near the table's average at around $750-$800/oz. Between the infrastructure in place and the ability to mine some of the ounces through open-pit methods, I am confident all-in sustaining cash costs should be sub $800/oz.
With Goldcorp as a neighbor and a massive drill program in place, I believe any further discoveries will push Goldcorp to begin to take a harder look at Eastmain Resources. Given that Eastmain's ounces are only being valued at $63/oz, I see very little downside for the stock at current levels, and significant upside if the current drill program makes any step-out discoveries to their 1.6 million ounce resource.
Technical Outlook & Summary
I believe the fundamentals for Oban Mining and Eastmain Resources to be exceptional as they are undervalued takeover targets in the best mining jurisdictions in the world. Having said that, I believe it is imperative to look at the technicals to make sure the timing is right for these investments.
Oban Mining has just broken out of a 2-year downtrend on the weekly chart and the 40-week moving average has turned positive for the first time since mid-2014. Looking at the daily chart, the stock is trending higher with all its key moving averages also trending up. The 200-day moving average (yellow line) has finally turned positive and is signaling a new bull market is underway in the stock. The 50-day moving average is moving up exponentially and currently sits at $1.60, roughly 25% below the current share price. The 20-day moving average, which has provided support for this whole rally, has caught up to price and sits 5% away, just over $2.00. The stock looks to be consolidating in a 10% range which is extremely positive after a 50% move like the stock had last month. The stock has primary support at the swing lows it has carved out recently at $2.00, and some resistance at the old highs of $2.30. Oban Mining is bullish on all time frames, and even if gold trades sideways, I believe Oban should continue to trickle higher.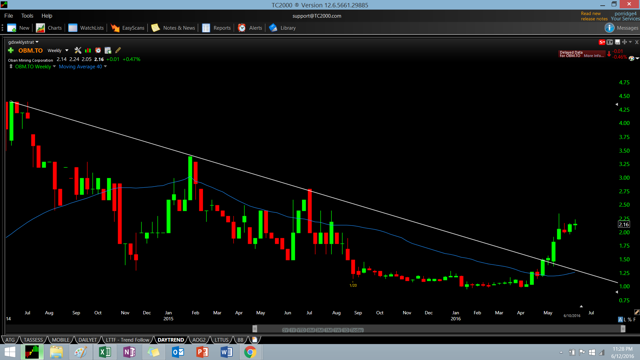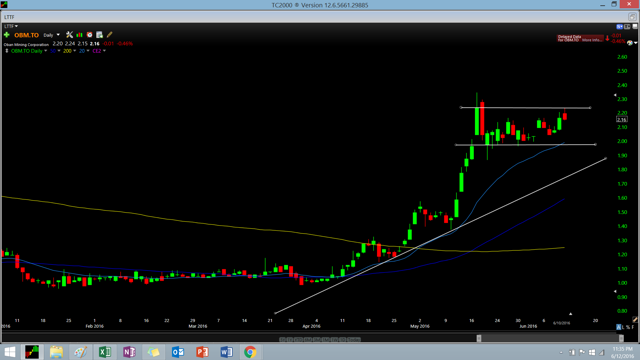 Looking at Eastmain Resources, it has had a much less parabolic climb than Oban Mining and is currently completing a large base breakout. Eastmain has had significant resistance the past 2 years at the $0.55 level but has since broken above it with a vengeance. The 40-week moving average on EANRF is trending higher for the first time since 2015 and it has made a weekly close above the box it spent over 2.5 years stuck in. Zooming into the daily chart, Eastmain gapped higher last week on massive volume making new 3-month highs, a very bullish signal. The 50-day moving average, which has provided support on this rally, is currently at $0.52 and continues to trend higher giving the stock support on this new breakout. I believe the current breakout on Eastmain to be very healthy, and while it has had a slow start to the year, it would not be unreasonable to see it begin to outperform the GDXJ. The up-trend line for the stock lines up with the 50-day moving average and should be strong support if any dips occur in the future.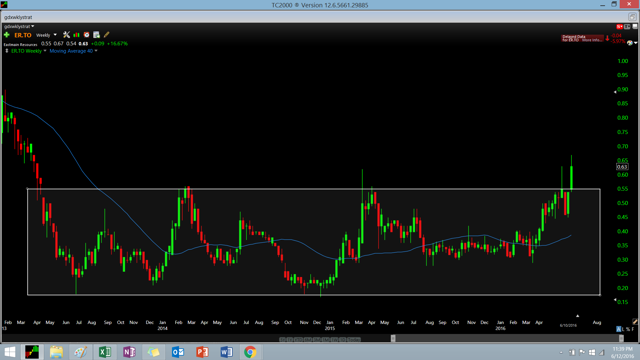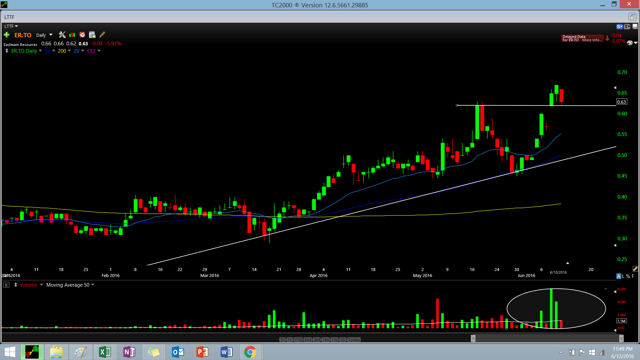 Investing in gold juniors can be risky, but I believe Eastmain Resources and Oban Mining are two undervalued companies in very sought after mining jurisdictions. They are both well funded and have no reason to dilute shareholders in the coming months, which cannot be said for all juniors with similar market capitalizations. The fact that they have already received strategic investments from major gold companies gives me further confidence I am looking in the right place. I am confident gold will continue its rise this year and safe gold juniors with exceptional grades will likely be sought after as premiums will only get higher if gold continues its ascent.
Disclosure: I/we have no positions in any stocks mentioned, but may initiate a long position in EANRF, OBNNF over the next 72 hours.
I wrote this article myself, and it expresses my own opinions. I am not receiving compensation for it (other than from Seeking Alpha). I have no business relationship with any company whose stock is mentioned in this article.
Additional disclosure: If you liked this article and found it useful, please feel free to follow me by clicking on my name next to my avatar at the top of this article. I also invite you to check my performance at TipRanks.com where my average return on equities this year is over 60% on new long positions.
Editor's Note: This article covers one or more stocks trading at less than $1 per share and/or with less than a $100 million market cap. Please be aware of the risks associated with these stocks.