Overview
According to Alphaliner, Hapag-Lloyd (HLAG.DE) is the sixth largest container shipping line in the world as measured by both ships and twenty-foot equivalent units, TEUs. As of June 2016, the company had 171 ships with 70 owned and 101 chartered, and a nearly 930,000 TEU capacity with nearly 55 percent owned. Contrary to the five larger companies ahead, Hapag-Lloyd is not on the books for adding much more capacity via newbuilds. The current orderbook stands at 5 new ships with just over 50,000 TEUs.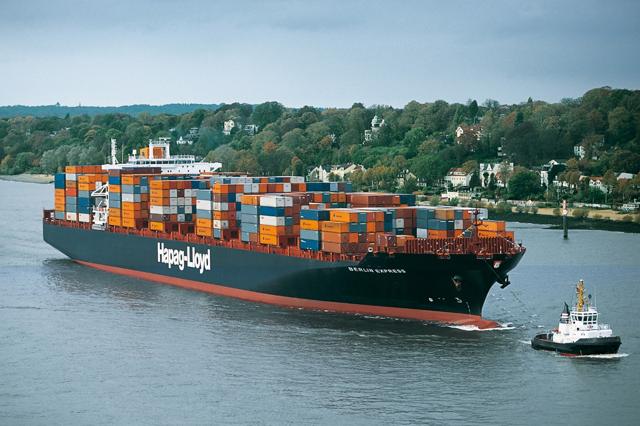 Hapag-Lloyd Berlin Express
Hapag-Lloyd experienced substantial growth in transported TEU volumes and corresponding revenue during 2015 versus 2014. This was primarily driven by the company's acquisition of Chile's CSAV which was completed in the fourth quarter of 2014. This deal was arguably a kick-starter to the continued consolidation afterward.
A year later, Hapag-Lloyd achieved another milestone by successfully carrying out its initial public offering, IPO, becoming listed on the regulated market, Prime Standard, of the Frankfurt and Hamburg stock exchanges.
Speculation surfaced a couple of months ago regarding the company's interest in United Arab Shipping Company, UASC. The speculation has turned into discussions with the company postponing its annual shareholder meeting as a result. UASC ranked thirteen with nearly 530,000 TEU capacity. Combined, the merged companies would move into fifth place, slightly behind COSCO Container Lines.
The company has also joined the newest Vessel Sharing Alliance, VSA, THE Alliance including Hanjin, 'K' Line, Mitsui O.S.K. Lines, Nippon Yusen Kaisha, NYK and Yang Ming. The recent moves by Hapag-Lloyd are evident based upon the current freight rate environment and need for competitors to grow their operations as consolidation continues.
Hapag-Lloyd By The Numbers
Hapag-Lloyd's revenue grew nearly 30 percent during 2015 to $8.8 billion. During the first quarter of 2016, revenue declined by 16 percent and earnings before interest, taxes and depreciation and amortization, EBITDA declined by over 55 percent. The company did not earn a profit for the second consecutive quarter.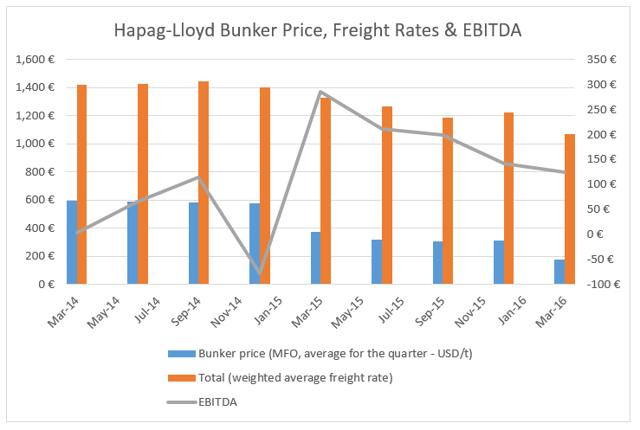 Source: Company financials and personal database
Hapag-Lloyd's correlation to declining freight rates has been more erratic as the company struggled regarding profitability and EBITDA during 2014. Once the merger with CSAV was completed in late 2014, the company witnessed a substantial improvement. However, the recent decline in freight rates has weighed on EBITDA. Management uses EBITDA as its guide for profitability, but net income has been negative the previous two quarters.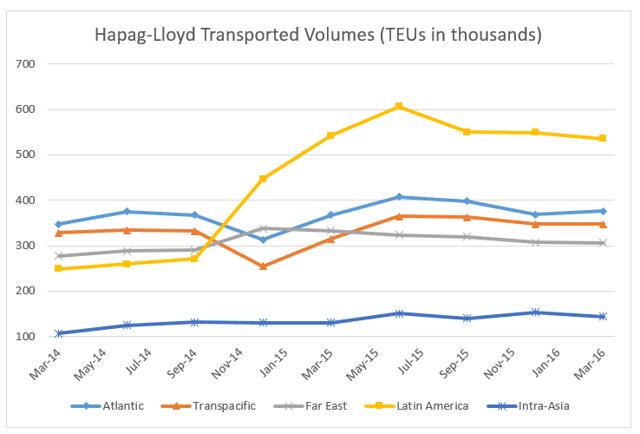 Source: Company financials and personal database
Hapag-Lloyd's transported TEU volumes have grown substantially from the CSAV acquisition, most notably in the Latin America trade lane. During the first quarter of 2016, total transported TEU volume increased 2 percent. This was led by the Trans-Pacific and Intra-Asia lanes and to a lesser extent, the Trans-Atlantic. The Trans-Pacific and Intra-Asia increased over 10 percent, while the Trans-Atlantic increased 2.5 percent. The Far East, which includes trade between Europe and Asia declined over 8 percent. Latin America declined marginally by over 1 percent.
While average freight rates declined 20 percent during the first quarter, the Far East witnessed declines near 30 percent. The drastic measures did not translate to positive transported volume, and this should continue to weigh on this lane. Contrarily declines of 23 and 25 percent respectively for the Trans-Pacific and Intra-Asia trade lanes did lead to higher volumes. The Trans-Atlantic lane witnessed lower volume increases, but also only witnessed average freight rate declines below 9 percent. Latin America witnessed average freight rate declines of nearly 24 percent.
Unsurprisingly, the Far East and Latin America were the worst performers during the first quarter for revenue per trade lane; with declines of 33 and 23 percent respectively.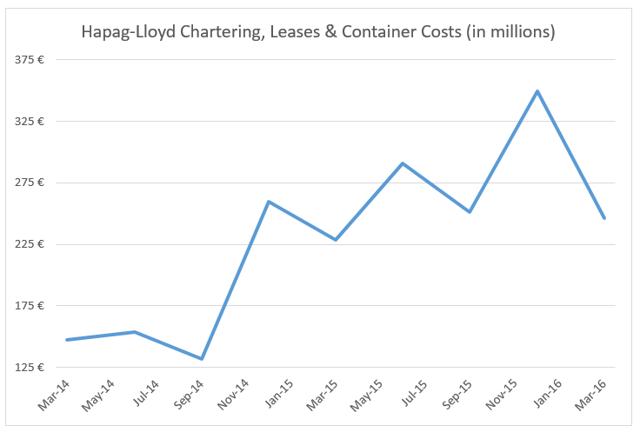 Source: Company financials and personal database
Chartering, leases and container costs, increased by nearly 8 percent during the first quarter. This line item is especially important for U.S. investors as it provides a general indication for U.S.-based container lessor and vessel charter companies. Similar to the prior figure, the majority of the increase during 2015 stemmed from the CSAV acquisition.
Merger Talks Intensify Amidst New VSA
There is a significance to VSA developments as they impact the current overcapacity and low freight rate environment. A domino affect has occurred since the M2 VSA between Maersk Line and Mediterranean Shipping Company, MSC. This has triggered the Ocean and now THE Alliance VSAs. The primary capacity impact from these alliances is that vessels share container slots allowing for shippers to gain more options for their supply chains through ports of call across the globe.
M2 only includes two container shipping lines, but these two lines combined accounted for nearly 6 million TEUs and over 1,100 ships as of June 2016 according to Alphaliner. The Ocean alliance includes CMA CGM Group, COSCO Container Lines, Evergreen Line and Orient Overseas Container Line, OOCL.
During late April, Hapag-Lloyd stated that forms of cooperation were being discussed with UASC with no binding results as of that time. Discussions have involved a potential combination of mutual container shipping operations with Hapag-Lloyd owning over 70 percent and UASC owning nearly 30 percent. Roughly a month later, Hapag-Lloyd postponed its annual general meeting in order to allow for the case of a successful finalization of the merger talks. While very positive, this event is still no guarantee.
Based recent VSAs and acquisitions, there are still quite a few companies out there which could still be acquired. Existing VSAs could still change further or entirely new VSAs could emerge. The clear factor is that consolidation has been rampant and is showing no signs of slowing.
Investor Perspectives
While Hapag-Lloyd is listed on German stock exchanges, the company offers U.S. investors insights into the container shipping industry. These insights relate to demand for leases with container lessors and vessel charterers.
Indications from other companies including CMA CGM point to stable and/or increasing chartering and slot purchases and container rentals. Risks for vessel charterers are real as evidenced by Hyundai Merchant Marine, HMM's recently negotiated reduction of charter rates by 20 percent in order to avoid bankruptcy. Hanjin has similarly struggled with the company's financials. Pressures weighing on global container shipping lines has and will continue to impact container and vessel lease arrangements. The good news is that as long as demand grows and transported TEU volumes remain positive, corresponding leases should remain in place.
Disclosure: I/we have no positions in any stocks mentioned, and no plans to initiate any positions within the next 72 hours.
I wrote this article myself, and it expresses my own opinions. I am not receiving compensation for it (other than from Seeking Alpha). I have no business relationship with any company whose stock is mentioned in this article.