"Seth, you haven't said much about SodaStream (NASDAQ:SODA) lately and nothing about the company announcing a move into do-it-yourself beer. Do you think this could be a big business for them?"
I've received 186 emails asking pretty much the same question and to most every email I've responded with, "Let me know when they plan to spend the money to have their retail partners acquire a liquor license and we can expect something, but even then it won't amount to a hill of beans". Frankly speaking, SodaStream knows this is little more than an effort to get the share price higher so the executives can achieve their stock compensation bonus payout. There's a reason the company didn't make a single mention of this pending initiative during its Q1 2016 conference call and that's because they didn't want to answer the most obvious question about retailers, most retailers not having their necessary licensure to carry alcohol products within the standard alcohol content levels. And that smart move on the part of the company allowed them to avoid intelligent questions and promote this new initiative to those investors absent the consideration of retailers who can actually carry the product for which SodaStream can improve its sales further.
In recognizing SodaStream's recent Q1 2016 sales improvement, I would also offer that most of the improvement came from outside the Americas and within Europe as the company deployed its new flavor concentrates in the region more broadly. For SodaStream, it is all about new sell-in and coming off of depressed sales levels. Well, in truth if you look at the CEMEA region with regards to sales, the company also benefited from the Czech distributor placing a big order during the quarter that will be very tough to comp in the future. All sell-in related! Actual sell-through has been pretty poor and has largely been ignored by the very few analysts that still cover the company. If Europe is anything like the United States, which it has proven to be in the past for syrup sales, that benefit to sales will be fleeting. Not more than a year since SodaStream launched its completely revamped line of flavor syrups in North America and already sales have fallen double digits. To be exact, SodaStream flavor unit sales declined 18% in North America during Q1 2016. This performance WILL be mirrored in Europe post the launch period. As I stated many a time before, "When will the numbers be low enough for SODA shares to benefit from YOY performance?" I think in 2016 that answer is now at hand.
SodaStream knows this Blondie Beer initiative is nothing more than "another syrup flavor" and nothing less. It's why it will only be available in a handful of retail locations in Switzerland and on-line in Germany. What I find particularly interesting about the photographed packaging and product offering for this initiative is that for some reason the Genesis sparkling water maker still exists. The Genesis, you know, the formerly written off, yesteryear model.

As I've articulated before regarding the impossibility of SodaStream to have accounted for its stated $25mm in write-downs since 2014 with flavor syrups and former sparkling water makers…well what more proof does anybody need. SodaStream also offered to investors in its 2014 Growth Plan that it would eliminate older sparkling water makers in favor of the Source design. Pick whatever direction you wish to head in and you will find SodaStream's management offering stories with little efficacy. In SodaStream's defense nobody has cared enough about the company and its foreign status to recognize the difference between what the company states in its quarterly filings and what comes to light later. SodaStream doesn't seem to care either as this supposed written-off Genesis product is now being brought back from the "graveyard" to accompany the beer initiative for 49.99 Euro.
We are excited to launch a brand dedicated to serving the global growing trend of home crafted beer," said CEO Daniel Birnbaum in a statement. "Our core carbonation technology and distribution infrastructure provide a great platform for us to extend our business into this emerging category, and we choose to do so with a dedicated beer brand.
The beer initiative by SodaStream has been tried before with mocktails and even by other companies in various products like the Draftmark.
Since launching Draftmark in 2011, we have appreciated the unwavering loyalty of our fans. We recognize this will disappoint many of you which we greatly regret.

We understand that you may have questions or concerns about this news, so we would encourage you to get in touch by contacting us at 1-877-97- DRAFT.

Thank you for your support of Draftmark.
The Draftmark was distributed by one of the biggest small appliance brands in North America and Europe, Jarden Corporation. It came with some of the biggest brands in beer like Budweiser and Michelob and could never, ever gain any traction. Wal-Mart (NYSE:WMT) tried to give it a go with the product in 2012 and failed. Target (NYSE:TGT) tried to give it a go in 2015 and it failed. When SodaStream puts forth that there is a growing trend for craft beers it has nothing to do with the understanding that SodaStream's first goal has to be selling the appliance that would make that craft beer. That is what Draftmark found impossible and likely what SodaStream has and will continue to find difficult for its other flavor syrups. Akin to the continuous growth in sparkling water sales over the last several years and while SodaStream's sales fell over the last two years regardless of that trend, the craft beer sales trend won't help SodaStream sell more sparkling beverage makers. Let's not get too excited either with SodaStream growing machine sales some 8% in the U.S. during Q1 as that equates to less than 5,000 machines. SodaStream tries with all its might to be a sparkling water company, but has always failed to understand it needs to sell more sparkling water makers to be a sparkling water company with ever-improving sales.
There are several examples of companies that have attempted to address the growing trend in craft beer sales to no avail. DrinkMate and Patt's Back Country Beverage partnered to address this market over the last 12 months or so and the retailers simply haven't adopted it because they understand the sell-through of sparkling water makers to be so very poor.
The photograph below from Target shows another home-beer contraption that aims to take your already bottled beer and simulate a draft beer experience...for $169.99. Since launching the Fizzics home-beer product they have sold less than 50 units in its test stores. It's just a dreadful product that offers very little to the consumer. But Target needs to fill the space and give new products a chance so kudos to Fizzics. This is also why Target gave back some of SodaStream's former space as Target simply has nothing of value to go where SodaStream's former products used to lay claim. That, or the CEO of SodaStream made a veiled "suggestion" to the retailer regarding the distribution of CO2 by the retailer going forward. Yeah, you know what I'm talking about Daniel!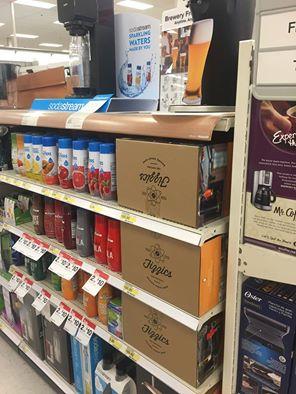 Moreover, placing an alcohol product like flavor concentrates outside of the beer and liquor section of the store comes with increased liabilities to the retailer. The retailer has to have the necessary sku identification placed on the beer concentrate to account for the alcohol content of the product and individual state laws regarding the sale of alcohol. Most retailers WILL NOT adopt the beer concentrate from SodaStream and SodaStream's management team is well aware of that as former executives have indicated these issues in the past. Lastly but certainly not least, the mouth feel for carbonated, do-it-yourself beer is just so different from real beer. The sensation and the foam are so completely different that it hasn't worked in the past and likely will impact SodaStream's attempt. Even A.B. Inbev (NYSE:BUD) has tried to do at-home craft beer and failed.
As it has been offered by the media in error, SodaStream may have plans to expand the Blondie Beer initiative, but it will prove to be meaningless long term and only benefit short-term sell-in results. Craft beer that is bottled and ready-to-drink is no different than SodaStream's failure to address carbonated water and soft drink sales over the last two years. SodaStream is an appliance company first and foremost and if it fails to sell more appliances it doesn't have the opportunity to sell more syrups as has been proven for two consecutive years. But I will congratulate the company for finally basing out its appliance sales to show an improvement in Q1 2016. Again, it is important to revisit previous years' conference calls where SodaStream articulated it was reducing inventory levels of both syrups and sparkling water makers to understand that this bump in sparkling water maker sales is an offshoot of extremely low comps from last year.
In closing, there is no opportunity here for SodaStream in the craft beer market as has been proven by predecessors and SodaStream's failures regarding flavor syrup sales. Secondly, the only opportunity I see for long-term shareholders is an opportunity to minimize stock losses from the last 2-year period or an opportunity to short shares of SODA should they appreciate further. On the day SodaStream announced this beer initiative I took the opportunity to short shares at $22 myself and covered within a few minutes of the market opening at $21 a share. I announced this trade through my Twitter (NYSE:TWTR) feed.
In order for SodaStream to show continued improvement in 2016 they will likely need to get their new Spirit machine into an older retailer partner later this year. I expect SodaStream to bundle the Spirit sparkling water maker for a holiday sales package at Sam's Club and HSN. If they can manage to get back in stores and on air with these two retail partners it could prove to be beneficial to sales. Unfortunately, the product will likely be met with poor sell-through results as always and offer the company another tough YOY comparison as they will likely not be able to match that product placement the following year. I don't believe current management cares all that much about next year, as I don't expect the team to be in place come next year.
Disclosure: I/we have no positions in any stocks mentioned, and no plans to initiate any positions within the next 72 hours.
I wrote this article myself, and it expresses my own opinions. I am not receiving compensation for it (other than from Seeking Alpha). I have no business relationship with any company whose stock is mentioned in this article.