"Pessimism leads to weakness, optimism to power." - William James

After three straight weeks of gains, the biotech sector lost momentum this week and again had a "hiccup" as sector lost some six percent from its highs earlier in the week and was down over four percent on the week overall. One of the items contributing to the decline was the weakness in the overall market. Global growth concerns once again became a key focus point for investors.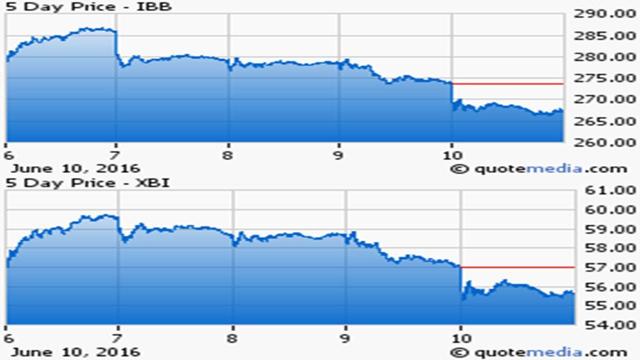 In addition, a new poll showed that a "Leave" vote in the upcoming U.K. referendum on whether to exit the European Union looks much more likely than a few weeks ago. This is an event if it occurs on June 23rd that could rattle the global currency and equity markets. Given the morass Europe has become in recent years, this sentiment is certainly understandable although from a market perspective; a "Stay" vote is much better for the global equity environment. A leave vote would also probably mark the end of David Cameron's political career.
In addition, after several weeks of several significant purchases of small and mid-cap concerns in the sector at big premiums; there was a dearth of M&A in the industry. Finally, high profile trial disappointments at large cap concerns Biogen (NASDAQ:BIIB) and Alexion Pharmaceuticals (NASDAQ:ALXN) did nothing to help sentiment in this high beta sector.
Note: To get these Biotech Forum Daily Digests as soon as they are published, just click on my profile and hit the big orange "follow" button and choose the real-time alerts option.

Eagle Pharmaceuticals (NASDAQ:EGRX) soared more than 25% in trading Friday on five times normal trading volume. Its distribution partner for BENDEKA, Teva Pharmaceuticals (NYSE:TEVA) won a key patent dispute around its compound Treanda against would-be generic competitors. Treanda is a drug used to treat people with chronic lymphocytic leukemia and indolent B-cell non-Hodgkin lymphoma.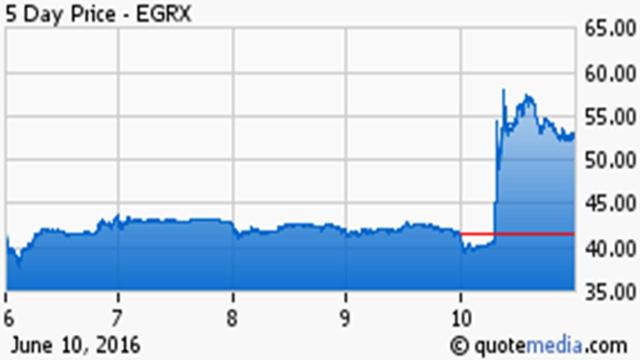 This bodes well for premium pricing of BENDEKA which is a rapid infusion version of Treanda and one TEVA is committed to replacing with BENDEKA. Treanda does some $750 million in annual sales. The patent ruling should give patent protection until 2026. This development makes it much more likely the company will meet or beat the consensus of just over $5.50 a share in earnings Eagle is forecast to earn in FY2017.
Galena Biopharma (GALE) bucked the large downdraft in the biotech sector on Friday on news that the FDA has designated GALE-301 and the combo GALE-301/GALE-302 Orphan Drugs for the adjuvant treatment of ovarian cancer. These compounds are cancer immunotherapies consisting of a Folate Binding Protein-derived peptide and granulocyte macrophage-colony stimulating factor (GM-CSF). 301 is a peptide called E39 and 302 is an attenuated version of the peptide called E39' (E39 prime). Both are in early/mid-stage development. The company has also been reiterated as a Buy at FBR Capital, Maxim Group and Roth Capital so far in June. This has been the first analyst activity on the stock since January.
Interesting take on the upcoming presidential election from Pfizer's (NYSE:PFE) CEO this week. Worth noting is this company's proposed mega-merger with Allergan (NYSE:AGN) was derailed by the Treasury Department in April.
Pfizer's leader states "at this moment distinguish between the policies that Donald Trump may support or those that Hillary Clinton may support." Both Trump and Clinton have endorsed the idea of allowing Medicare to negotiate for cheaper drug prices. However, if the House of Representatives stays under Republican hands, major changes to the industry are probably not in the cards.
Moody's (NYSE:MCO) came out with a report this week stating specialty pharmaceutical companies will steadily resume making acquisitions after being on a hiatus for most of the past year. However, their focus is likely to change from acquiring products they can raise prices on to areas of unmet medical need.

Teva Pharmaceuticals fresh off its patent win (see above) also was the recipient of positive analyst commentary last week. Oppenheimer (NYSE:OPY) reiterated its Buy rating and $77 price target on the world's largest generic drug maker after following a positive FDA Advisory Committee meeting held for the company's Vantrela ER, a hydrocodone painkiller in tablet form. On Friday, Wells Fargo (NYSE:WFC) reissued its Buy rating as states "pricing concerns" are not an issue for Teva. Interestingly, the same analyst had a different take on competitor Mylan (NASDAQ:MYL).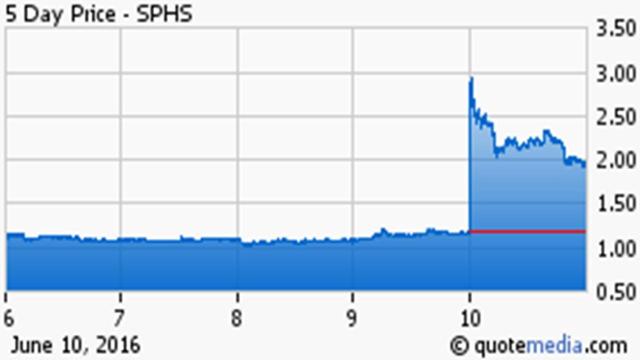 Microcap Sophiris Bio (NASDAQ:SPHS) got some analyst attention this week. This is hardly surprising given that trial results doubled the shares in intraday trading Friday after they were announced after the bell on Thursday. Results from a Phase 2a clinical trial assessing lead product candidate topsalysin (PRX302) for the treatment of localized prostate cancer were positive. Both Maxim Group and Echelon Wealth Partners took the opportunity Friday to reiterate their Buy ratings.
I would not chase this one. These types of microcaps tend to surge on this type of news and then fall back off their peaks. In addition, the Phase 2a trial only involved 18 subjects and the compound is a long way off from approval. Even after the surge Friday, the equity only has a ~$35 million market capitalization.
A small cap I would buy here is Agenus (NASDAQ:AGEN). Maxim Group just reissued its Buy rating on this Heat Shock Therapy and Checkpoint Inhibitor play. Maxim's price target remains $7.00 a share on this concern with a ~$350 million market capitalization.
More importantly, its CEO recently purchased more than $500,000 in new shares. This follows an over $800,000 purchase in March. In addition, the company received the first milestone payment ($2 million) from its collaboration deal with Merck (MRK) around developing compounds from its checkpoint inhibitor technology platform.
Under this agreement, Merck will be responsible for all future product development costs related to the candidate. Agenus is eligible to receive up to $100 million in future milestones in addition to royalties on global net sales.
Note: New analyst ratings are a great place to start due diligence, but nothing substitutes for deeper individual research in this very volatile sector of the market. Many of the small-cap names highlighted in the "Analyst Insight" will eventually appear in the "Spotlight" section, where we do deeper dives on this type of promising but speculative small-cap concern.

We begin this week of spotlights in the Biotech Forum Daily Digest with a suggestion from a Biotech Forum subscriber. Today, we look at Flamel Technologies (FLML). In a new twist for the Digest, it is the first company we have profiled based in Europe.
Company Overview:
Flamel Technologies is a French-based specialty pharmaceutical company that develops and commercializes pharmaceutical products based on its proprietary polymer-based technology primarily in the United States, France, and Ireland. Flamel has been public now for two decades and sports a market capitalization of $400 million and stock price just under $10 a share.
Product Portfolio:
The company has a few products on the market. These include Bloxiverz which has 45% of the neostigmine market. The company has guided to finishing the year with approximately 30% to 35% of the neostigmine market due to the entry of another competitor. Vazculep, Flamel's phenylephrine product is offered in three presentations, a 1, 5, and 10 ml vial size, averaged approximately 43% of the overall market by volume during the last quarter. Sales of Vazculep were $9.4 million in Q1 compared to $3.5 million in Q1 of last year and $7.4 million in Q4 of 2015.
Akovaz aimed at the Surgical Hypotension market that was recently approved will launch in the third quarter. Management estimates the current market size to be somewhere in the range of between $150 million and $175 million of which Flamel expects to gain approximately 20% to 30% share over time.
Early this year, the company acquired FSC for just under $33 million. FSC was a small commercial stage specialty pharma company that provided Flamel with a 45-person sales force and four FDA approved products. The company is particularly pleased with the sales performance so far from Karbinal ER, a liquid extended-release on antihistamine available only by prescription. Karbinal has tallied 3,500 scripts in its first two months of ownership. In total, the company expects the FSC acquisition to add $10 million to $15 million to total revenue in 2016.
Pipeline:
The company has three drug delivery platforms:
Micropump® is a microparticulate system that allows the development and marketing of modified and/or controlled release of solid, oral dosage formulations of drugs Micropump®-carvedilol and Micropump®-aspirin formulations have been approved in the U.S. and in the E.U., respectively. The company filed a Special Protocol Assessment or SPA for once-nightly Micropump sodium oxybate in March. The company plans to move forward with patient registration and enrollment by mid-year. The pivotal trial which is anticipated to be a placebo-controlled efficacy study of approximately 200 to 300 patients and to be conducted at 50 to 60 clinical sites in North America and Europe is expected to run through mid-2017. Sodium oxybate is currently approved for both excessive daytime sleepiness and cataplexy in narcoleptic patients and Flamel views this compound as its most valuable product candidate in its pipeline at the moment.
LiquiTime® allows development of modified/controlled release oral products in a liquid suspension formulation particularly suited to children or for patients having issues swallowing tablets or capsules. Perrigo (NASDAQ:PRGO) has exclusive rights to this LiquiTime technology for use on the OTC marketplace.
Trigger Lock™ allows development of abuse-resistant modified/controlled release formulations of narcotic/opioid analgesics and other drugs susceptible to abuse. The company is focused on finding a partner to license their Trigger Lock technology for applications across all opioids. The market for opioids is in excess of $6 billion per year and Flamel does not have the resources nor the inclination to compete with large and well-established sales forces that are required in this market.
Analyst Commentary:
Being a French-based concern, Flamel is relatively uncovered by US-based analysts. Six analysts cover the firm and their price targets have a wide range from $14 to $31 a share. The last analyst firm to comment on Flamel was Leerink Swann on May 10th. Its analyst reiterated his Buy rating and $16 price target. JMP Securities reissued the same Buy rating and price target on March 9th.
Outlook:
The company estimates revenues for FY2016 to be in the range of $110 million to $130 million. Flamel should book a slight loss this year after being profitable in 2015. A good part of this is due to what the company calls its "unreasonable" tax rate and foreign exchange impacts. Flamel's pre-tax profits are earned in the US and are taxed at a US corporate tax rate of 35%. However, a substantial portion of the company's SG&A and R&D expenses are incurred in France and Ireland. As a result of their history of losses in these countries, under the accounting rules, Flamel is not allowed to provide any tax benefit for these expenses.
Until the company establishes a track record of profitability in France and Ireland, it will be unable to unlock the value of those past net operating losses. The company is restructuring to try to aid in this effort. The company did end the first quarter with some $160 million in cash and marketable securities (~40% of its market capitalization). Operating cash flow came in at $22.5 million last quarter.
Revenues should rise some 25% in FY2017 according to the current consensus and the company should return to earnings profitability. One has to like the potential growth prospects of Flamel, its cash flow is impressive and it has a strong balance sheet. However, given its current tax structure, it is hard to give the stock a full-throated recommendation until it gets resolved. I will probably pick up a few shares in FLML this week and have it on my "watch list" for additional investment if it can work through this issue.

Thank You and Happy Hunting
Bret Jensen
Founder, Biotech Forum
Disclosure: I am/we are long AGEN, AGN, BIIB, EGRX, MYL, TEVA.
I wrote this article myself, and it expresses my own opinions. I am not receiving compensation for it (other than from Seeking Alpha). I have no business relationship with any company whose stock is mentioned in this article.
Editor's Note: This article covers one or more stocks trading at less than $1 per share and/or with less than a $100 million market cap. Please be aware of the risks associated with these stocks.