I love investments which carry a specific theme. Water is a theme I've covered many times on Seeking Alpha based on a variety of fundamental factors (such as water scarcity and improving water efficiency). I believe this industry carries interesting opportunities which could be attractive for investors. Airlines are no different, as I've covered a variety of airlines on Seeking Alpha before: Lufthansa, Air Berlin, EasyJet (OTCQX:ESYJY), American Airlines (NASDAQ:AAL)and others. It's not because I consider airlines profitable and successful businesses, it's because I believe they are misunderstood investments which carry price discrepancies for investors. A price discrepancy is a situation where a stock gets significantly harder than a competitor for no apparent reason.
I've recently covered an update about German Flag Carrier Lufthansa. I expected the stock to reach oversold status due to investors reacting very fearful on the latest quarterly results and the unexpected departure of CFO Simone Menne. Air France - KLM on the other hand seemed to have performed much better as its German counterpart. What is going on here? This article will focus on a fundamental analysis of Air France-KLM (OTCPK:AFLYY) and a financial comparison to Lufthansa (OTCQX:DLAKY).

Air France - KLM: From single to marriage, does that work?
Air France-KLM (OTCPK:AFRAF) is one of the largest and oldest airlines in the world. Originally born out of a merger 10 years ago, actual success of this merger (besides avoiding potential bankruptcy) has yet to be found. Both the Dutch and French parts are having similar marital issues, such as competitive issues with budget airlines EasyJet and Ryanair while losing the battle with many outside European airlines (Middle East carriers for example). And not to forget strikes, something Lufthansa is very familiar with. This article, points out clear marriage issues between Air France and KLM.

Source: Financial Times
Union issues are something that won't get resolved for ever, but temporary fixes should calm investors for at least small periods of times.
Both firms have struggled with retaining earnings. But Air France - KLM has had much more of a roller coaster ride the last years: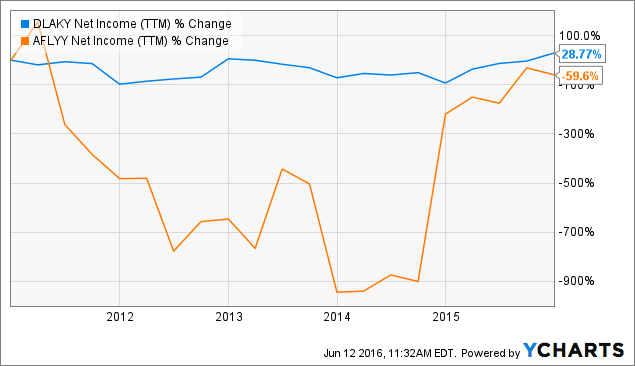 Looking at the earnings per year, Lufthansa has a much more solid rate: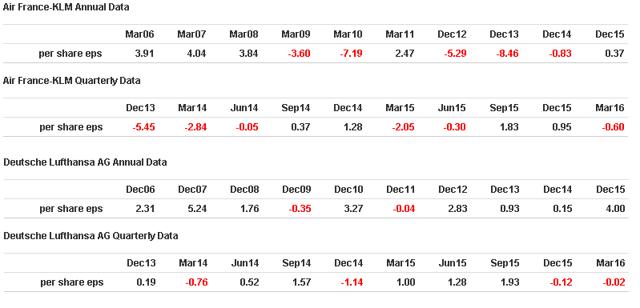 Source: Gurufocus.com
With 2 negative years out of 10 while Air France saw 5 negative EPS during the last 10 years.
So what about investors? So far Air France-KLM has not truly disappointed shareholders as Lufthansa has done to their shareholders: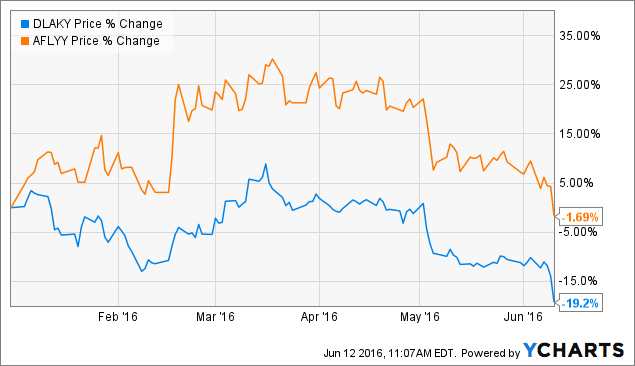 Air France-KLM: What about competitors?
Airlines have a horrid reputation for profitability. Investors often neglect stocks which struggle with profitability and the airline industry is one of the worst performing industries when it comes to profitability. Based on research of the IATA, the airline industry overall generated just a 0.1 percent profit margin from 1970 to 2010. This indicates that investors shouldn't look for profits as main drivers of airline stocks. This brings the story to revenue control and cost control.
One way of looking at that is through Enterprise Value / Revenue and a financial metric which captures of the durability of the books, such as the Altman - Z Ratio and cash to debt ratio. This gives a bit of an idea what kinds of airlines are comparable and which ones are not. It also provides information on how these firms are running their business:

Source: All numbers come from Gurufocus.com
It's clear that Lufthansa and Air France-KLM are very comparable from a metric perspective, with Lufthansa being significantly better valued in contrast to Air France-KLM. It also shows that P/E is a horrid comparable metric as large competitors such as American Airlines run a different business structure as budget airlines Ryanair and EasyJet. Earnings are very volatile, which makes the use of P/E an outdated metric.
Both airlines are far from issue free and with the upcoming summer (Zika threats, strikes and union conflicts) closing in; it's likely that both firms will continue to struggle with retaining revenue. Both firms will continue to cut costs to improve the overall business perspective, but that doesn't explain the difference from a fundamental perspective between Air France - KLM and Lufthansa. I'm not expecting that the CFO departing Lufthansa will not impact the firm negatively.
Conclusion
One would wonder why Air France-KLM has performed significantly better than Lufthansa. Both firms have many similarities from a business perspective, yet Lufthansa is nearly down 20% year to date while Air France-KLM is only down around 0% year to date. Both firms are far from the best in the airline industry, yet I see more reason for Air France-KLM to go down in contrast to Lufthansa. Between the two, I think Lufthansa is currently positioned better.
Disclaimer
This article provides opinions and information, but does not contain recommendations or personal investment advice to any specific person for any particular purpose. Do your own research or obtain suitable personal advice. You are responsible for your own investment decisions from beginning to end. This information is not a recommendation or solicitation to buy or sell securities, nor am I a registered investment advisor. I have no business relationship with any company whose stock is mentioned in this article.
Disclosure: I/we have no positions in any stocks mentioned, and no plans to initiate any positions within the next 72 hours.
I wrote this article myself, and it expresses my own opinions. I am not receiving compensation for it (other than from Seeking Alpha). I have no business relationship with any company whose stock is mentioned in this article.
Editor's Note: This article discusses one or more securities that do not trade on a major U.S. exchange. Please be aware of the risks associated with these stocks.