For many Arena (NASDAQ:ARNA) investors Belviq was supposed to be the drug that not only solved a global obesity problem, but also fueled a pipeline of possible drug candidates for other indications. Within months of the Belviq launch it was already clear to some that Belviq would not meet lofty expectations. By the end of the first year there were only a handful of investors holding out hope that Belviq would simply be a late bloomer. In the spring of last year the remaining "Belviq Believers" had turned in their membership cards and joined the investors that realized long ago that Arena is a pipeline play with a high degree of speculation.
This past week Belviq sales dipped down to about 7,700. Before you have a heart attack, there was a holiday involved in the week, so a lower than normal number is warranted. That being said, sales ofBelviq are continuing to underwhelm. The fact of the matter is that Belviq has the worst sales and market share trajectory in the entire sector.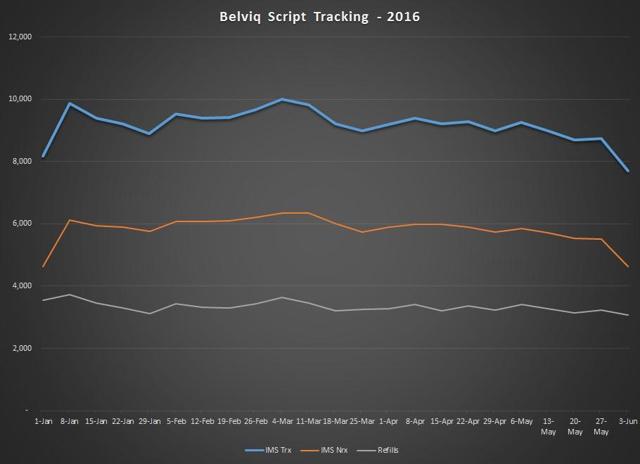 Chart Source - Spencer Osborne
On a quarter over quarter basis we see that the Belviq story is losing luster. Belviq sales in Q2 are pacing 5.95% lower than where they were at this stage in Q1. Identifying negative quarter over quarter trends allow investors to understand well in advance that the year over year numbers comparisons will not be good in the quarters ahead.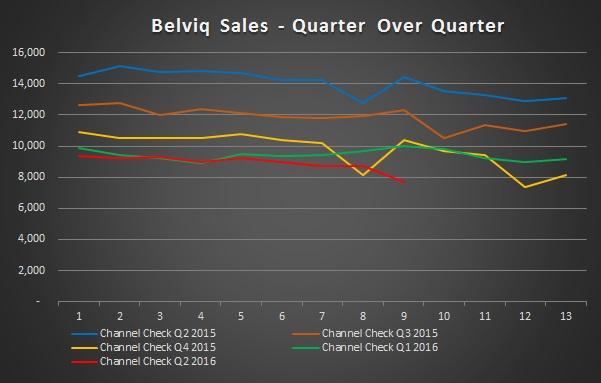 Chart Source - Spencer Osborne
On a year over year basis the Belviq story is now bordering on tragic. Sales at this point in 2016 are tracking 38.13% worse than what was being delivered a year ago. The biggest factor in that drop is Eisai cutting back on marketing efforts. The tragedy here is that Arena realizes no benefit from the cost cutting efforts of Eisai. Instead, Arena suffers from lower revenue and having to implement cost cutting efforts of its own. It is only June, and the 2016 sales trajectory is almost as bad as the one we had to suffer through in the second half of 2015 when Eisai pulled the proverbial plug.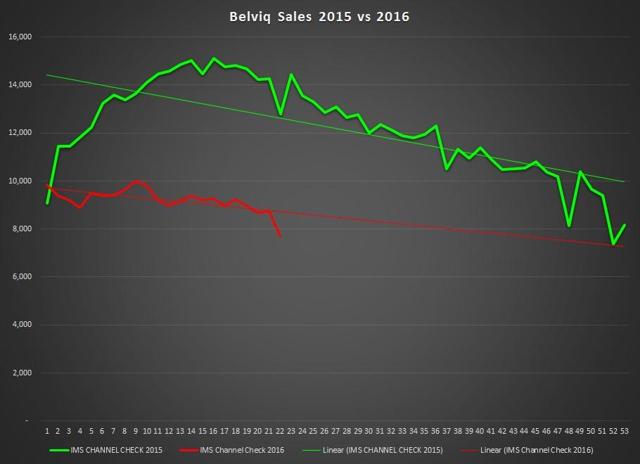 Chart Source - Spencer Osborne
From a market share perspective Belviq is in the worst position of the bunch. If is not in last place in market share, but does have the worst trajectory. In fact, it is possible that an injection that costs about 5 to 7 times more than Belviq will finish the year in striking distance of Belviq in terms of market share. Last week Belviq carried a market share of just 23.66%. This is the worst market share week that Belviq has ever had.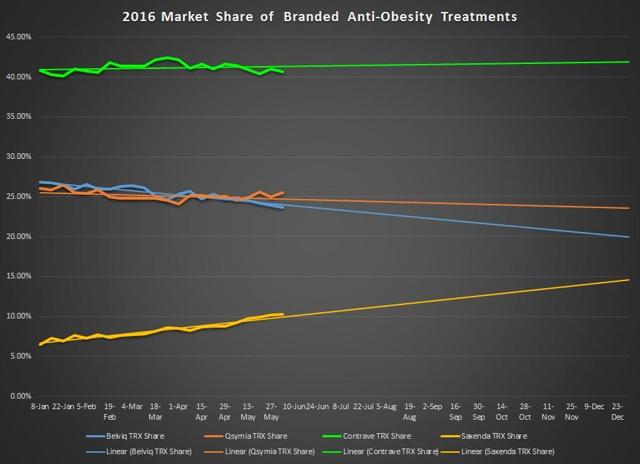 Chart Source - Spencer Osborne
The overall branded anti-obesity sector is not having a good year. Sales in 2016 are pacing just 1.91% better than last year with trajectories favoring a strong decline that could reach double digits. Belviq is now the strong leader in downward trajectory. There will be a point where Belviq sales hit a bottom and level off, but it is likely scary for investor to contemplate where that bottom may be.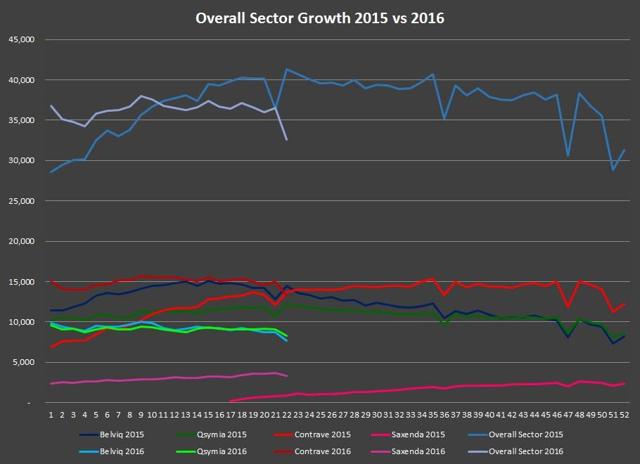 Chart Source - Spencer Osborne
Arena management seems to be doing its best to shift the company narrative away from Belviq and toward the pipeline. That move is exactly what the company should be doing. As much as investors would love to put Belviq in the rear view mirror, it is not yet prudent to do so. Until such time that management is able to raise capital sufficient to drive the pipeline, the cash situation at Arena will always mean circling back to revenue levels delivered from Belviq.
There is indeed positive and speculative potential in the Arena pipeline. Some phase 2 results could be delivered in the next 6 to 12 months that, if compelling, could land a lucrative partnership deal.
The bottom line is that Arena is in a race against time at this juncture. Can it land a deal before needing to raise capital via debt or dilution. It is highly likely that Arena will dip below $100 million in cash during the next two quarter. Seeing cash dip that low will raise some eyebrows. This is especially true when you consider that the company has multiple drug candidates in human clinical trials.
My investment in Arena is tied to the pipeline and has been for quite some time. It is a speculative play in my portfolio and accordingly is a modest position. Those sitting on the sidelines saw the best opportunities pass already. The Arena narrative in concentrating on the pipeline has allowed the equity to appreciate decently over the past several weeks. If you like the pipeline, look to be a buyer on the dips that cycle through this equity. In my opinion upward pressure will increase slowly as the time for phase 2 data readouts gets closer. Stay Tuned!
Disclosure: I am/we are long ARNA.
I wrote this article myself, and it expresses my own opinions. I am not receiving compensation for it (other than from Seeking Alpha). I have no business relationship with any company whose stock is mentioned in this article.