Shares of Lululemon Athletica (NASDAQ:LULU) hit 52-week highs last week on the back of the mixed first quarter results. Lululemon reported $0.30 earnings per share, short of analyst estimates by $0.01 per share. However, the company beat on the top line with $495 million in revenue during the quarter. Revenue grew by 17% year over year. Shares of Lululemon have rebounded in 2016, up 26% year to date.
Product and market diversification has helped the company grow despite increasing competition from Nike (NYSE:NKE) and Under Armour (NYSE:UA). Specifically, the company's e-commerce channel and men's category grew 18% and 21%, respectively.
Organic Search Traffic & E-commerce Up Big
Lululemon CEO Laurent Potdevin was especially positive when talking about e-commerce during the company's conference call:
And as our e-commerce business accelerates, we continue to see potential to expand our physical presence, through different formats in North America; and where we have opened new stores, we see a corresponding increase in e-commerce penetration, reflecting the importance of building guest centric and channel agnostic strategies.
Investment in e-commerce has helped the company sustain its comps and will be a long-term positive for the brand. Following the call, I pulled Lululemon's historical search interest data from SEMRush:

Source: SEMRUSH.com
The above graph represents the historical amount of organic monthly search traffic, and does not include traffic from paid advertising channels. The trend is very clear. SEMRush estimates that Lululemon is currently receiving roughly 1.7 million monthly organic sessions. Over the last year, increased search volume has led to an estimated 21% increase in organic traffic. Over the last two years, increased search volume has led to an estimated 75% increase in organic traffic. As it sounds, organic traffic is free and high margin for the company.
Laurent Potdevin went onto say "Our third growth strategy is building our digital ecosystem, to deliver enhanced experiences anytime, anywhere and however our guests want to engage with lululemon. If you haven't already, I encourage all of you to visit our new environment at lululemons.com which launched last month."
Lululemon's investment in building an online presence is clearly dividends.
As Lululemon expands into international markets such as Europe and Asia, I believe technology investment in building the digital ecosystem will help the company steal market share from competitors who have already established. The company has already opened new locations in Switzerland, London, Singapore, Japan, and South Korea.
Anti-Ball Crushing Technology
Earlier this year, Lululemon launched ABC, or anti-ball crushing, construction to appeal to a men's audience. Here is the company's current homepage: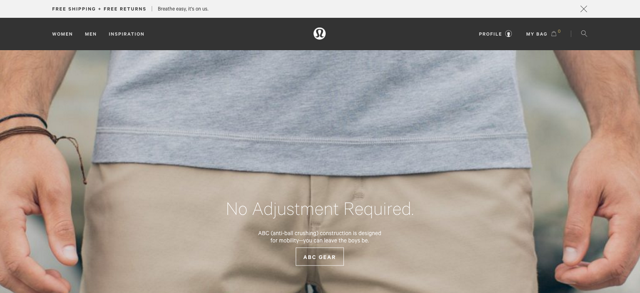 Source: Lululemon.com
Like most of the company's products, ABC pants aren't cheap. You can expect to pay $128 per pair of pants. Lululemon's should not adjust its thinking. The company's investment in men's apparel is key to the company's long-term growth. Yoga pants alone won't sustain growth over the long term. Much of the organic search traffic gains should be attributed to the company's push into men's products.
Conclusion
Overall, Lululemon reported a good quarter. In 2015, Lululemon was one of the most hated stocks on Wall Street. But in 2016, the company's investments are paying dividends and shareholders are outperforming. Specifically, investments in e-commerce, new product lines, and international expansion are working. Management guided net revenue of $2.305B to $2.345B for FY2016.
It is hard to chase a stock up 26% this year. That said, I believe shares will challenge the highs set in 2013. In June of 2013, shares of the company topped out around $82 per share.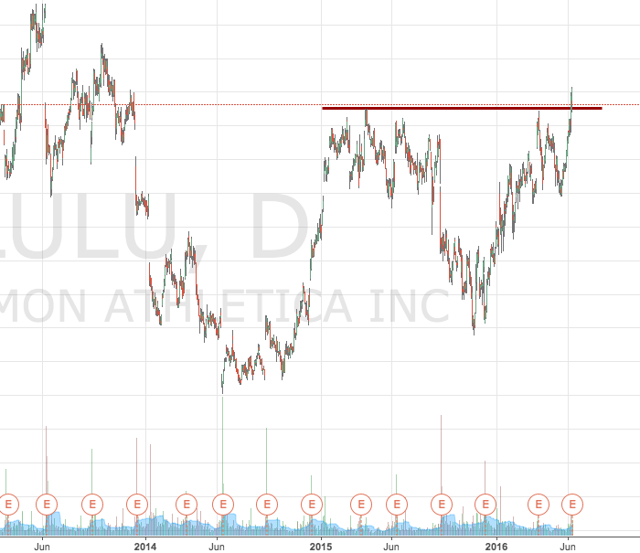 Source: TradingView.com
Lululemon shares have broken above previous resistance, which should now offer support.
Disclosure: I/we have no positions in any stocks mentioned, and no plans to initiate any positions within the next 72 hours.
I wrote this article myself, and it expresses my own opinions. I am not receiving compensation for it (other than from Seeking Alpha). I have no business relationship with any company whose stock is mentioned in this article.