MannKind (NASDAQ:MNKD) investors are not big fans of data these days, but data tell a story that can not be spun or manipulated. Data are data, and numbers are numbers. Savvy investors use data as a tool to assess what has happened and what seems likely to happen. MannKind is a stock that has developed a cult-like following, and while that has some positive attributes, it can often lead inexperienced investors into betting more on hope than on opinion based on solid data.
This past week Afrezza sales dipped again to a bit above 280. Last week did include a holiday, so one might expect the numbers to be impacted slightly. That being said, what the Street wants to see is a positive trend despite holidays. Simply stated, that is not happening with Afrezza.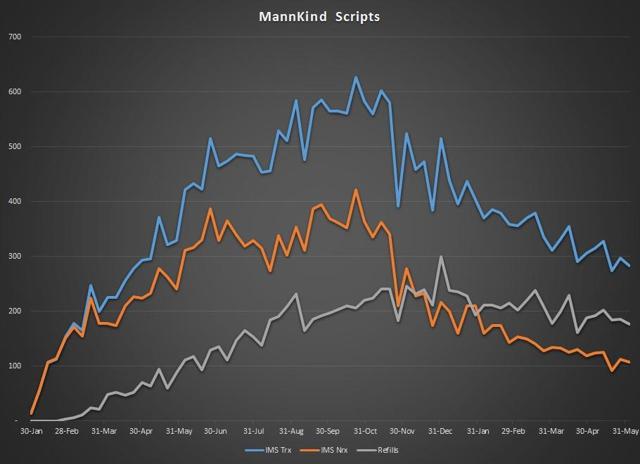 Chart Source - Spencer Osborne
On a quarter over quarter basis we are seeing continued demonstration of the lull that is apparent as former marketing Sanofi (NYSE:SNY) transitions out and MannKind prepares to re-launch Afrezza itself. Sales are down 21.04% at this stage in Q1 vs. the same week in Q1. Seeing downward quarter over quarter trends is cause for some concern, even with the excuse of a transitioning marketing plan. The bottom line is that at this stage we should be seeing growth. If the product was compelling enough it would not be in the situation it is in.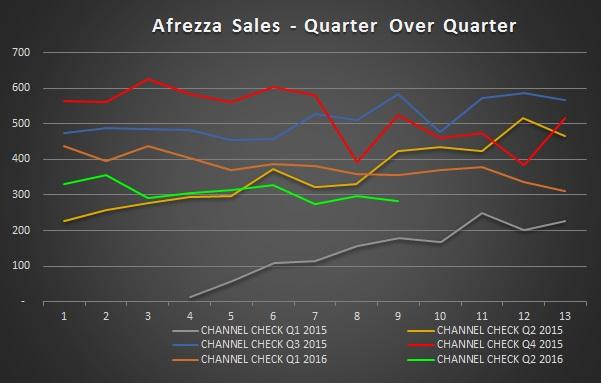 Chart Source - Spencer Osborne
On a year over year basis we are seeing that the trend in 2016 is not very promising. Afrezza continues to have a very negative sales trajectory and the sales line has actually dipped below the sales line of 2016. Sales at this stage in 2016 are 0.43% lower than the corresponding week a year ago. What investors need to understand is that some metrics will begin to show negative data in financial filings such as quarterly reports. Negative numbers do not typically attract the types of investors that current investors want to see. Negative numbers attract sharks.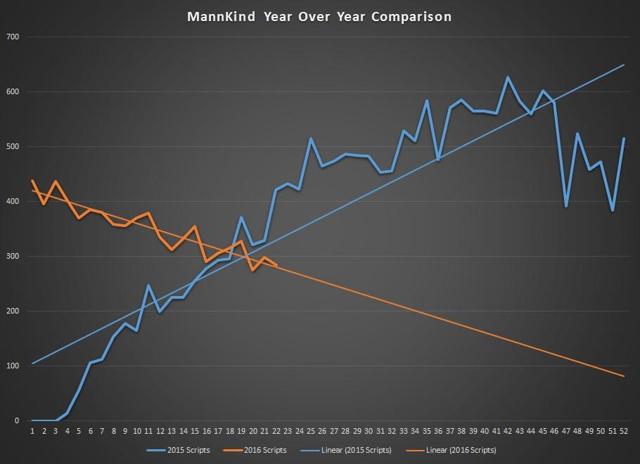 Chart Source - Spencer Osborne
The data presented above are pretty cut and dry. There is no real debate as to what the numbers are. The debate with this equity centers around whether or not management can market this drug successfully on its own. Some feel that management can. Others feel that management cannot. There is also a group that has lost so much with this stock that they simply will wait to see what happens and hope that numbers have a dramatic change.
One reader had an interesting comment that bears repeating. It is a strategy I have used in the past with other speculative investments. The comment was simple:
MNKD will either fail or succeed phenomenally! Not much chance of middle ground. Therefore, best play (NYSEMKT:IMO) is to buy the Jan 2018 $3 calls for $.08.

For $800 plus commissions you get the right to buy 10,000 MNKD shares at $3 Jan 19, 2018.

MNKD will either be a lot higher by then or there will be a MNKDQ where previous shares are worth zero. - Frogmaier
Over the past several MannKind articles I have written, the above comment is probably the best comment written by a reader yet. This is an investor that is savvy enough to recognize the substantial hurdles that exist while also recognizing that there is a chance that if successful, a reward exists.
Many readers get very sensitive and emotional when I speak about the challenges that exist. This is a situation where shooting the messenger will not make the financial situation at MannKind improve at all. MannKind has a compelling new delivery method for insulin, but at this stage it has simply not gained the traction it needs to gain in order to make MannKind a profitable company or at least have the equity get positive momentum.
Take emotion out of this equation. Consider the substantial challenges and how difficult the path ahead is. Look at the financials and how challenging those are. MannKind remains a highly speculative play with the odds stacked against it. Stay Tuned!
Disclosure: I/we have no positions in any stocks mentioned, and no plans to initiate any positions within the next 72 hours.
I wrote this article myself, and it expresses my own opinions. I am not receiving compensation for it (other than from Seeking Alpha). I have no business relationship with any company whose stock is mentioned in this article.