Background
As I mentioned in my recent article on Gilead (NASDAQ:GILD), on the global potential for its HCV drugs to, over time, beat the evolving bearish consensus, I've had the time and interest to update my understanding of its pipeline. This has been helped by various comments, press releases, etc. by the company in recent weeks.
This article begins to follow through in exploring GILD's pipeline. Because in the DoctoRx view of investing in common stocks, the point of it all is to share in profits that are either retained in the company or distributed to shareholders, rather than endless promising future profits without generating any, or any significant, current profits; the most important and impressive part of GILD is its HCV and HIV/AIDS product lines. It has developed and extended them in almost unprecedented fashion; doing so while maximizing profits and keeping the company's growth manageable have of necessity kept the rest of its pipeline small relative to its now-large size. This in turn has appropriately kept the P/E at a discount to that of the market; the question for me is whether the degree of that discount is too large. The S&P 500 (NYSEARCA:SPY) is trading above 24X TTM EPS; GILD is trading a little above 7X.
My experience with high-quality names such as this is that on some meaningful time frame, often a long one though, the holder of the 7X P/E name will do well. So, I'm biased before looking more deeply to think that GILD is a strong buy-and-hold investment in a pricey market for both stocks and fixed income.
The question, though, since GILD is quite a liquid stock, is how much to allocate to it. How dynamic are its growth opportunities? Can an outside investor estimate its prospects well enough to generate alpha within a short-to-intermediate time frame, or is this simply a value play?
As discussed in the prior article, in this, and the articles to come, my response is bullish for GILD relative to the overall market. This article focuses on its HIV pipeline, recent product entrants, the overall strategy the company is taking on HIV treatment, and the financial ramifications that my analysis of these parameters leads me to propose.
First, though, a word about HCV is appropriate; then the main event.
GILD's plans for its HCV treatments: clear and concise
The company's EVP and CSO, Norbert Bischofberger, presented last week at a Goldman Sachs (NYSE:GS) conference. One of his comments about GILD's HCV plans was quite revealing. He said:
That is the end of the development [of HCV drugs for GILD]. I mean, there will always be some more studies that you do for a commercial product to look at different patient populations or elderly or pediatrics we're still doing that, but we actually stopped hepatitis C drug discovery about two years ago. We moved everybody in research from hepatitis C on to hepatitis B. And because we simply don't see what the additional needs there are. If you have one pill that's very safe you can treat somebody for eight or 12 weeks and you get cure rates of close to 100%, but that's a difficult thing to improve upon.
That's pretty clear, and beyond that, it looks to me as an almost direct challenge to J&J's (NYSE:JNJ) plans to enter this field (As a relevant aside, I think that JNJ should see if it buys GILD at some low price).
He also confirmed GILD's goal is to use its SOF/VEL combo (Epclusa will be the trade name) internationally for countries or regions where genotyping is not readily done, for cost and/or technical regions.
The questioner asked him to clarify the plans for GILD's three-drug HCV combo (sofosbuvir, velpatasvir and voxilaprevir = SOF/VEL plus a protease inhibitor), in this exchange:
Terence Flynn

Okay, fair enough. Separately you are conducting a Phase 3 program with a triple combo, maybe just remind us of the target profile here and then again where this drug will be positioned given what we just discussed.

Norbert W. Bischofberger

Yes, so what we're pursuing our Phase 3 studies with a triple combo in HCV is two populations, one for frontline therapy with eight weeks treatment duration in everybody without viral load cut off and the second I think that's the more important application, it is a universal salvage regimen. So you could use this drug if you have failed other direct acting antivirals you have acquired resistance mutations like in the NS5A or in the protease you could use this drug. And if of course if the Phase 3 would support that and you would then be able to achieve cure rates, high cure rates.
It appears from ClinicalTrials.gov that the Phase 3 studies could be completed by Q1 next year, thus if successful, the three-drug combo could reach the market in H1 2018.
GILD is pulling a Larry Bird on its competitors in HCV. It is saying that everybody else is playing for second; it's won the HCV battle and is moving on. Or to mix a sports metaphor, it's about to cross the finish line, and all the others are far in the jockey's metaphorical rear-view mirror.
Secretariat wins the Belmont Stakes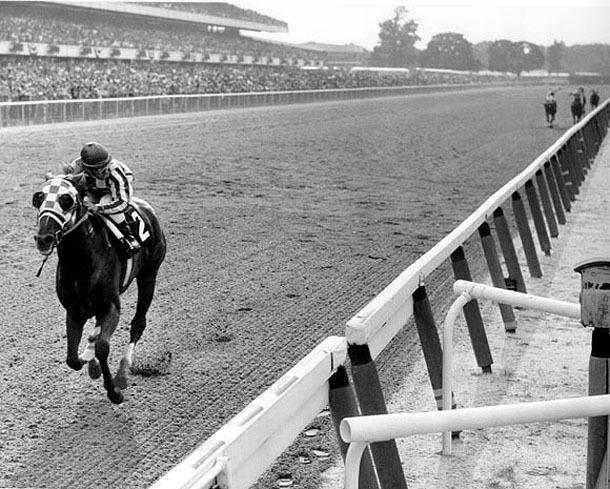 Secretariat, as many readers know, has been ranked as the greatest or second-greatest racehorse ever. From start-up status at a time when Merck (NYSE:MRK) and Bristol-Myers Squibb (NYSE:BMY) were the two largest pharma companies, it has now humiliated both of them in HCV. BMY has given up in HCV (wisely, to focus on oncology), and MRK may as well, it would appear.
Yet, MRK gets a P/E of 35X, almost five times that of GILD.
Isn't there something wrong with that ratio given the track records of each company? Especially given how degraded MRK's already-faded reputation looks given how the judge in the patent suit excoriated MRK for condoning lying by its attorney-employee.
Not to forget to mention again how far behind JNJ is in this race. Only AbbVie (NYSE:ABBV) is even close. Yet, GILD has a much lower P/E than any of the above.
OK. That's enough of an HCV update; now it's up to GILD's regulatory and marketing teams, and we shall have to wait years to know the ultimate profits the company gains from its innovations in this disease (which were both purchased and developed in-house).
Next, some key newer points about GILD's refreshed opportunity in treating HIV/AIDS. In this article, I'm only going to focus on treatment rather than cure of HIV/AIDS. While GILD has a product in Phase 1 for "cure" of HIV/AIDS, I'm not giving it any value for this indication and am not going to discuss it in this article.
To begin, a brief discussion of the basics:
Some statistics on HIV/AIDS and GILD's role in treating it
The CDC reports that as of a few years ago, an estimated 1.22 million people in the US were living with HIV disease, of which about one in eight were unaware they were infected. The CDC also estimated that about 50,000 new infections had been occurring yearly. Since this data is somewhat old, and the death rate of AIDS patients and rate of patients lost to follow up are much smaller than the new infection rate, it would appear entirely reasonable to think of 1.5 MM potential patients by 2020.
Based on the 1.22 MM number, in its Q1 earnings slides, GILD presented the following approximate data (slide 28/58):
1.06 MM diagnosed
783,000 on ART (anti-retroviral treatment)
627,000 on a GILD HIV treatment
Triumeq from ViiV Healthcare, controlled but not 100% by GSK (NYSE:GSK), has made inroads on GILD's market share. GILD believes that part of the reason for this is that as patients stayed on Atripla or Complera/Eviplera for years, they began to show signs of renal or perhaps other tenofovir-related toxicity. Thus, the rapid uptake of Genvoya, which brings the tenofovir dose down by 97%, is heartening to GILD.
With the aid of TAF as the new, improved, low dose of tenofovir, GILD is in my view probably in a position to regain some or perhaps much/most of its lost market share to Triumeq as well as to participate in growth of the market. For simplicity, I'll focus on the US market only, but the other worldwide markets may act similarly.
GILD's HIV/AIDS strategy; review of its product line and evolving strategy
GILD has an extensive line of HIV/AIDS drugs. These, plus the pipeline drugs and combinations, have GILD's listing of US and EU patent expirations provided on pp. 14-15 of the 10-K.
The first thing to note is that TAF has a 2021-2 patent expiry versus 2017 for Viread in the US and a first generic entrant in December 2017 in the US via a deal with Teva (NYSE:TEVA). Truvada goes generic in the EU next year along with Viread, so there's really not much time to prevent generics for that in this important region.
However, in general, GILD has little patent cliff until the early 2020s. There are some competitive anti-HIV drugs going or off-patent by now that used to worry analysts, but my sense from reading various comments by investment bankers is that they have realized that what the HIV world needs now is safety and smaller pill size, in that order. This is what is needed to bring more and more patients into the treatment fold. This is what GILD is emphasizing with the design of its studies and its repeated emphasis in its slide shows of the many untreated patients who should be treated.
Assuming there is no patent term extension coming for TAF, the most important new product in development from GILD is the three-drug combo that in essence is a smaller Stribild/Genvoya pill. This is interesting and important enough to discuss it in a separate section.
Stribild versus Genvoya versus the new three-drug combo
Stribild, which begins with "Str" to signify GILD's "single tablet regimen" program in HIV/AIDS, was introduced several years ago and has become very successful, especially in the US. It contains the old version of tenofovir and emtricitabine. These are the two "nucs" that comprise Truvada.
Genvoya improved on Stribild by taking the toxic but necessary tenofovir in the form of TAF from 300 mg to 10 mg with the same efficacy (perhaps even slightly better based on the Phase 3 studies). So that quickly begins to make Stribild obsolete.
Both Genvoya and Stribild use an integrase inhibitor, elvitegravir, in the same 150 mg dose. They both also use an inactive drug that allows the body to build up its blood levels of elvitegravir. This drug is cobicistat, by coincidence also a 150 mg dose. Both drugs also use emtricitabine in the 200 mg dose.
It is Triumeq that despite some unfavorable side effects and a twice-daily dosing requirement for its integrase inhibitor, which requires no boosting, that was cutting into the growth of Stribild and into GILD's market share over all.
GILD is in Phase 3 with its response to this and its alternative to Genvoya. The product is unnamed at this point, but it contains the same emtricitabine at 200 mg and a higher dose of tenofovir as TAF, 25 mg, rather than the 10 mg. However, the integrase inhibitor being used needs no booster, so cobicistat is not present. The integrase inhibitor (bictegravir) is also used at a 50 mg dose as opposed to the 150 mg dose of the integrase inhibitor used in Genvoya and Stribild.
The net effect in drug weight going from Genvoya to the investigational three-drug treatment is to gain 15 mg in tenofovir but drop 250 mg in going from the cobicistat-elvitegravir used in Genvoya to the low dose of bictegravir used in the test combo. There may also be some savings with less use of excipients (inactive fillers). The result will be the world's smallest single tablet regimen for HIV/AIDS. This will aid adherence and will also appeal to smaller people; the company has one of its Phase 3 studies of this combo aimed at women.
The main proposed benefit is safety compared to the Triumeq regimen and other regimens that might. This is what Dr. Bischofberger had to say about this topic at the Goldman conference:
It is one pill, once daily, small pill size. You don't have to worry about cardiovascular toxicity, hypersensitivity reaction, kidney toxicity, bone toxicity it is all gone. So it is really this would be the most attractive regimen, again if the Phase 3 data confirms that we still have to do that of course.
In the audio, one clearly hears him emphasize the bolded "the" that I have added to show how serious he was.
I believe that where GILD is going with conventional treatment, absent new anti-HIV drugs with new mechanisms of action (see below), is to offer and emphasize two combos both with its 2-nuc backbone of tenofovir (as TAF) and emtricitabine. One combo will also have a low dose unboosted integrase inhibitor. The other will have a boosted higher dose integrase inhibitor, i.e. Genvoya.
There will be a trade-off, however. Genvoya will have only 10 mg of tenofovir; the investigational product has 25 mg of tenofovir.
Doctors and their patients will have their choice of two highly effective combos. Based on efficacy, safety and patent considerations, I think this is what GILD is going to be promoting most heavily.
In addition to the overriding goal of market share gains and enlarging the market by providing better products that attract more HIV-infected patients to accept treatment (essentially all AIDS patients get treated), there's a financial advantage to transitioning to these drugs: GILD owns patent rights to all the ingredients. This is not true for two of its leading products, Atripla and Complera/Eviplera. Each of these has as one of its components a drug belonging to another company. Profitability will therefore be enhanced by using all-GILD drugs.
GILD is leading us to expect news on the investigational three-drug combo in perhaps Q3 2017, and would be shooting for a 2018 US launch.
In the meantime, GILD's existing drugs roll on. Atripla is falling out of favor with the authorities, and is the combo that is not getting a TAF refresh. Complera/Eviplera has been refreshed as Odefsey, Truvada as Descovy. Viread is being refreshed as a TAF drug for hepatitis B, but not for HIV/AIDS, and in the 25 mg dose only.
All this creates a powerful line-up of products with improved economics for GILD. Thus it offers the opportunity for greater organic sales growth with greater per-pill profitability (Note, I believe that Sustiva's patent (Atripla) expires in August 2018 in any case).
There's more.
TAF enables a single pill regimen with a protease inhibitor
Possibly for competitive and/or legal antitrust reasons, GILD and JNJ have extended their cooperation under JNJ's aegis rather than GILD's to create a three-active drug product which would be the first HIV drug to contain a protease inhibitor. This would be a large pill even with its very low dose of 10 mg TAF. TDF, the old form of tenofovir, was simply too big to allow a one-pill dosage form. As it is, this Phase 3 project contains 800 mg of JNJ's protease inhibitor darunavir (Prezista), plus the booster cobicistat at 150 mg, the usual emtricitabine at 200 mg; plus the 10 mg of TAF. At 1160 mg of drugs, plus excipients, it will be at the upper limits of acceptable, but there have been commercially successful "horse pills" of this size. I'm not certain exactly how and by whom this drug is going to be marketed internationally (does GILD have co-marketing rights), or how Gilead is going to be reimbursed given that 3/4 of the drugs in the product will belong to it. In any case, this should be a nice specialty product that meets a clinical need, with prolonged patent protection to late next decade in the US as well as in the EU.
What about ViiV?
I see little evidence that GSK, which is responsible for ViiV's activities, has the ability to compete with the impending onslaught from GILD. It is stuck with dolutegravir (Ticivay as a single drug entity) as its twice-daily integrase inhibitor. Its effort in this field is relegated to the injectable cabotegravir for PrEP, in Phase 3, and in combination with rilpivirine for HIV/AIDS, in Phase 2. There's also work on a novel stand-alone attachment inhibitor and some other single-entity drugs. These are worthy efforts, but I do not see them as other than niche products until and unless they are integrated into a single multi-drug pill.
As far as GSK's nucs go, abacavir and lamivudine, I do not think they are really competitive on safety grounds with TAF at even the higher 25 mg dose plus emtricitabine.
Not only do I see ViiV as a force that's going to peak and fade within the next couple of years, but it also appears that global commercial HIV work is simplifying toward GILD and ViiV. I say this because GSK and BMY announced a deal in December that is headlined this way by GSK:
GSK's global HIV business ViiV Healthcare to acquire Bristol-Myers Squibb's R&D HIV assets
After listing two late-stage drugs that BMY is transferring (or, by now has transferred) to GSK, GSK went on to say (emphasis added):
These potential therapies have novel modes of action and would offer significant new treatment options to patients with HIV. In addition to being developed as standalone treatment options, these new assets complement ViiV Healthcare's existing portfolio and therefore offer multiple opportunities for development as combination therapies.
OK, but...
It takes years to actually bring a one-pill, or even two-pill combo formulation to the market. Many years. It also takes several years just to study the BMY drug(s) with GSK drugs.
Finally, it appears from the Orange Book that ViiV's two-drug nuc combo of lamivudine (Epivir) and abacavir (Ziagen) both go generic in 2018.
My base case is therefore for GILD to regain its unchallenged dominance in the HIV/AIDS market beginning in 2019, with generic competition rather than ViiV or some other company the main issue.
As far as both ViiV and GILD go, there are pre-clinical research efforts on more novel approaches to treating HIV (as opposed to curing it). Dr. Bischofberger discussed GILD's scientific and commercial interest in a new combination product that would be more of a pan-genotypic product covering as many mutated, difficult-to-treat forms of the HIV as possible. This remains an active research project at GILD and may never have an IND filed that would allow human testing.
How seriously will generics affect GILD's growth?
Of course, as with all forward-looking projections, we'll simply have to see. With abacavir and other HIV/AIDS drugs having significant side effects which harm patients and limit usage of the drugs in asymptomatic patients, I see GILD's strategy as a winning one. The unanswered question is pricing.
I can't answer that, but for purposes of discussion next, I'm going to assume stable pricing of GILD's products going forward rather than the usual price increases.
Guessing at the future cash flows of GILD's HIV/AIDS products
Putting all matters together, my crystal ball begins with GILD's HIV/AIDS franchise annualizing right around $10 B as of now. Given the volume gains I anticipate along with the (unfortunate) growth of the US (and likely EU) HIV/AIDS population, I think that over the next 10 years, volume increases can enjoy a CAGR of 5% or more. Adding some margin/mix benefits can take the effective growth rate to say, 6%. If we assume the whole business goes to zero by 2028 due to a cure or other reasons, then GILD would be enjoying a $20 B HIV/AIDS business in 2028 assuming no pricing increases (and no decreases other than failure to keep up with inflation).
Under these assumptions, the gross cash flows would be in the $180 B range over this time period. Assuming a 50% effective after-tax profit margin, (guessing at tax rates is a further difficult) given limited R&D needs to support the product line, suggests the possibility of $90 B cumulative profits. Of course, this is quite the wild guess, with numerous assumptions including market share/volume gains and no cure for the disease in that time frame.
What discount factor would be applied to this number?
That's a puzzlement in an era of "lowflation" and low interest rates.
A simplified way I think of things is to say that maybe the growth I project for GILD's HIV/AIDS business will just keep up with the necessary discount rate. Therefore, perhaps, one could just think of its HIV/AIDS business as a flat $5 B per year profitable business line based on $10 B of sales, multiplied by 12 years to give a present value of $60 B.
Just a thought.
Concluding remarks - why GILD's value may come down to the pipeline
If we say that GILD's existing HIV/AIDS business plus its HCV business each may have a present value of $60 B, and throw in a little for its other ongoing business lines, then we end up with its current market cap of $112 B at Friday's closing price of $84.45, and its estimated enterprise value of $126 B, are roughly accounted for by its current franchises. Obviously, there are many risks in these guesstimates, and in a market with different competing valuations, I would not be spending so much effort analyzing this one stock.
However, we're in the market we're in, and plain vanilla no-growth/slow-growth companies have their stocks selling at 20-35X earnings. On a relative value basis, GILD continues to look attractive, though it's not dirt cheap on any classical valuation metric.
Based on this analysis primarily of HIV/AIDS, and the comments in this article and especially in the prior one on GILD's potential profits from the HCV business, I'm again brought back to the guess that its pipeline other than these two sectors holds the key to the stock.
Last December, I got a little gloomy when it was reported that Zydelig had failed as a frontline therapy for CLL. This was after some other pipeline failures, some of which were publicized and some of which were merely quietly removed from GILD's pipeline web page.
Now, I'm incrementally more positive (to engage in analyst-type jargon). I think that despite the turmoil at the top of the oncology division in GILD, about which the company is open, other efforts are promising and supported by data. This is refreshing to see, given how uninspiring some of GILD's pipeline products were from a scientific standpoint. I do not think the pipeline is perfect by any means, but if my HCV and HIV/AIDS analyses are roughly accurate (and they may be way off), then success in the pipeline can create real, not just speculative, value for shareholders.
I intend to address these in the days and weeks ahead, with the goal that doing so will allow readers to better assess the results of GILD's clinical trials, as well as those of its competitors.
GILD has segued from a high P/E growth stock in 2012-3 into a low P/E "value" stock - always a difficult transition. While the stock retains risk, I like it both for value reasons and for its real potential to become a legitimate growth stock again. Thus, I hold it patiently as an overweighted position in a structurally underweight equity portfolio.
Disclosure: I am/we are long GILD.
I wrote this article myself, and it expresses my own opinions. I am not receiving compensation for it (other than from Seeking Alpha). I have no business relationship with any company whose stock is mentioned in this article.
Additional disclosure: Not investment advice. I am not an investment adviser.