ReWalk Robotics (NASDAQ:RWLK), a producer of exoskeleton robots that are FDA approved to help people walk again after spinal cord injuries, provides a steady stream of uplifting stories about its clients, like a man in South Carolina walking to finish a 10 kilometer race earlier this spring.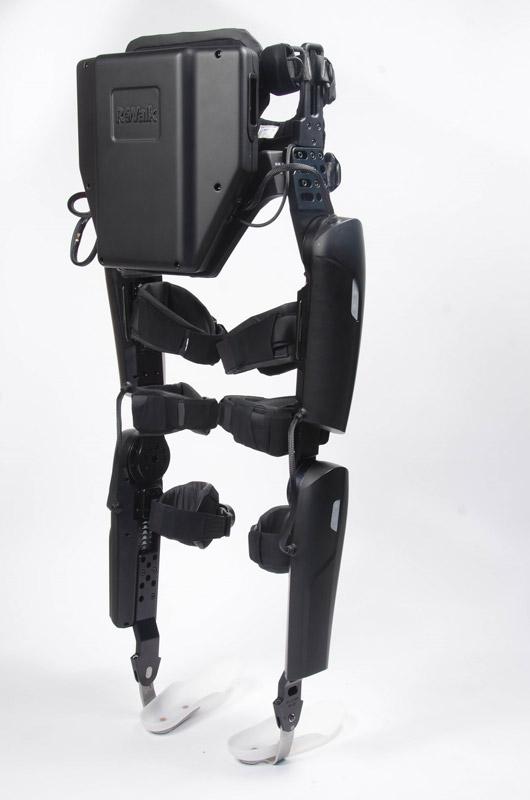 Unfortunately, there has been little to inspire its shareholders; ReWalk's share have been falling fairly steadily of late, down 50% or a little more since the beginning of the year, now at just under $7 per share. Of course, what's past is past, and after this degree of pull back, the best question going forward is whether not there is compelling investment case now. A user, David G., left a very bullish comment recently on my last ReWalk article, which has prompted me to take another look.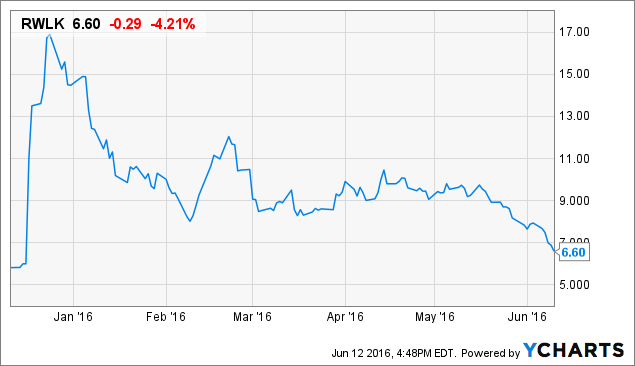 RWLK data by YCharts
On the surface, ReWalk's has only one major obstacle - convincing commercial insurers that paying up $80k for one its units is medically necessary, and perhaps cheaper in the long run for the insurer than dealing with the ongoing health problems of individuals who are otherwise confined to a wheelchair, perhaps for multiple decades. While studies have been promising in this regard, so far ReWalk has secured just one willing commercial insurer, as well as the US Department of Veterans Affairs. The company is pushing harder to achieve these agreements, and in May 2016 entered a contract with a third party to assist in the persuasion process. According to the May 28 8-k, ReWalk will pay the consultant a share in sales resulting from the new insurance coverage plus 10% of the increase in market capitalization. There are some limits on the 10% figure - it will be capped at $18M total for acquiring up to 5 additional commercial insurers ($6M for the first, $5M for the second, and $2M each for the third through fifth). I'll give ReWalk an "A for effort" here - I believe this is a positive step for the company, one that at least demonstrates the management is taking seriously its need to get more insurers on board. A likely "domino effect" should play out here in terms of insurers; that is, once a handful have adopted policies to cover it, then others will too of their own accord. If, or hopefully when, more insurers come online, the existing backlog of possible beneficiaries can be worked down and translated into sales rather quickly, and the conversion rate of new leads into sales going forward will multiply dramatically.
Beneath the surface, however, ReWalk is racing against time in terms of keeping itself afloat, as cash burn is steadily creeping up. It ended Q1 of 2016 with $22M in cash, but had already drawn more than half of a $20M line of credit received in January. If revenues do not pick up substantially within the next 12 months, the company will be nearly out of cash (assuming expenses remain comparable YoY). Management realizes this of course, and has taken steps to raise additional capital. At the beginning of May, in a separate 8-k filing, ReWalk revealed it is prepared to raise up to an additional $25M in a new share offering. While the company has not as of yet issued any new shares, it seems perfectly logical that the downward pressure on the share price has continued as a result of concerns over dilution in the near future.
In fact, it strikes me as almost a foregone conclusion that at least some new capital raise will be necessary, since ReWalk would require a few consecutive years of 200% sales growth from a baseline of 2015's figures, while maintaining its SG&A and CapEx costs at roughly those same levels before turning cash flow positive from operations. In the Q1 earnings call, CEO Larry Jasinski reported that ReWalk had garnered 225 new qualified leads in the quarter, which isn't going to lead to 6000 unit sales per year anytime soon. The total number of leads at the moment is somewhere in the range of 1000, based on the 801 reported in the 2015 Q4 call plus the Q1 figures. Of course, those numbers can rise quickly once insurers are on board, but those same insurers can have their own incentives to not let the approvals compound too rapidly, or place pressure on the unit price they are willing to pay; none of this factors in the possible entrants of new competition in the coming years (SA contributor Brian Markx has an extremely detailed article on the various companies and technologies in this space).
All in all, after taking another look at ReWalk, for it just stay on its feet is going to require steady growth on a fairly massive scale and regular access to new capital. I personally doubt the growth will materialize on the scale or time necessary, and suspect that the need for additional capital will either become prohibitively expensive, and/or eventually dilute current shareholders. For the time being, I find it a highly risky proposition, and do not think it merits investing.
Disclosure: I/we have no positions in any stocks mentioned, and no plans to initiate any positions within the next 72 hours.
I wrote this article myself, and it expresses my own opinions. I am not receiving compensation for it (other than from Seeking Alpha). I have no business relationship with any company whose stock is mentioned in this article.
Editor's Note: This article covers one or more stocks trading at less than $1 per share and/or with less than a $100 million market cap. Please be aware of the risks associated with these stocks.