There has been a great deal of discussion about the competitive threats Facebook (FB) faces from within the social media space. Some trends generally recognized are that Facebook has defeated Twitter (TWTR) in the battle for older users (Gen X and Baby Boomers) and that Instagram and Snapchat (CHAT) are gaining the younger social media users. Following up on that concept, it is concluded that Snapchat is Facebook's biggest competition. I'll challenge that understanding in this article. The reason for challenging it is because if you acknowledge Snapchat is Facebook's biggest competitor then you are most likely bullish on the stock as Facebook has the resources to compete with the upstart firm. If you worry about overall competition from other sources with the entire social media space, you may become more bearish.
One comparison to this scenario is how Google's (GOOG) (GOOGL) Eric Schmidt thinks that Amazon is Google's biggest competitive threat, not Bing or another search engine. The reason why he believes this is because consumers tend to go directly to Amazon to buy something instead of Googling it. Consumers who have the intention of purchasing something are more valuable than someone looking up information. This type of innovative competition instead of direct competition tends to be the way the internet progresses. Another example is how Facebook is YouTube's biggest competition, not Vimeo. Redbox wasn't Blockbuster's biggest competition, Netflix was. If you fail to see Facebook's biggest competitor, then I'd say you're valuing the company wrongly.
I think it is difficult to predict internet trends. At one point most people used AOL to access the internet. Currently Facebook is what most people use to connect with friends on the internet. Will this continue? I don't know. However, without metrics backing up my skepticism that Facebook's next 10 years will be smooth sailing, I have nothing. Luckily, I do have them below.
As you can see from the chart below from SimilarWeb, Facebook's mobile Android app usage has declined in every country except Germany. In America the usage went from 48.75 minutes to 45.48 minutes per day. With Facebook becoming saturated in terms of total users, the more important resource for growth can be the time spent per user. According to IAB & UKOM the average Brit spends 2 hours and 51 minutes per day online. There is of course a natural limit the amount of people can spend online and the amount they spend on social media. We may be near peak social media.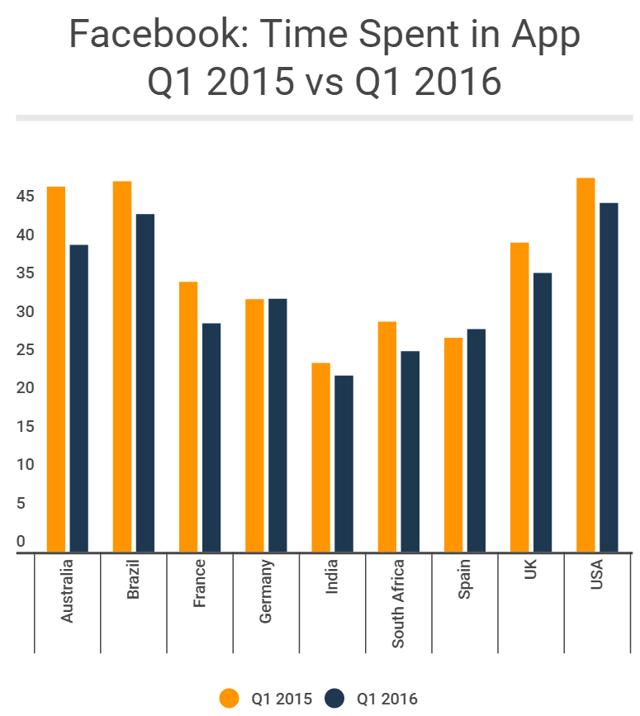 Adding to Facebook's woes, the total time spend on Instagram is also down in all countries among Android users. Time spent on Instagram in the U.S. is down from 29.38 minutes to 19.93 minutes. This means combined Facebook and Instagram have lost 12.72 minutes in total usage in America. Facebook can counteract these declines by raising the amount it charges per ad, but eventually that reaches a limit as there are plenty of other ways to advertise online besides social media.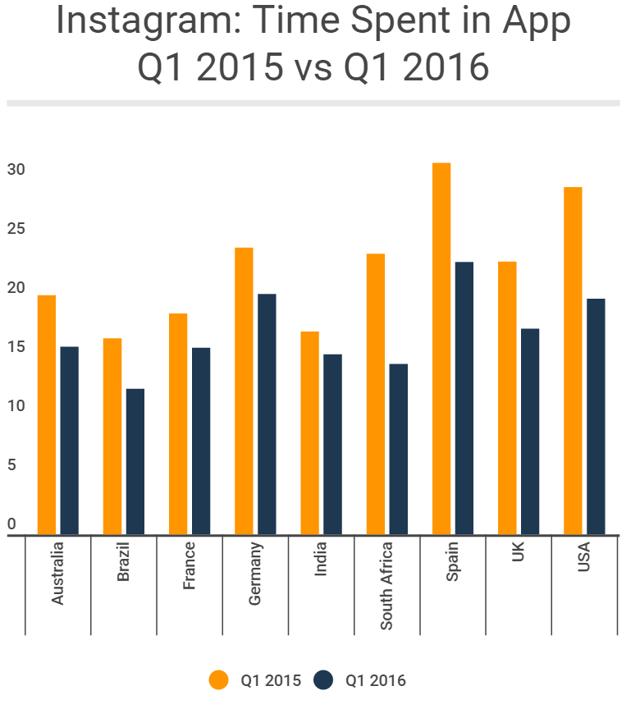 Snapchat usage is also down across the board. U.S. usage went from 23.17 minutes to 18.72 minutes. This stat is what brings up my criticism for those who claim Snapchat is Facebook's biggest competitor. Facebook and Instagram were able to decline without Snapchat picking up the slack. In the social media prism Snapchat surely is one of Facebook's biggest competitors. However, we must look to other prisms to find out what is causing this decline, which now adds up to 17.17 minutes of declines in the U.S.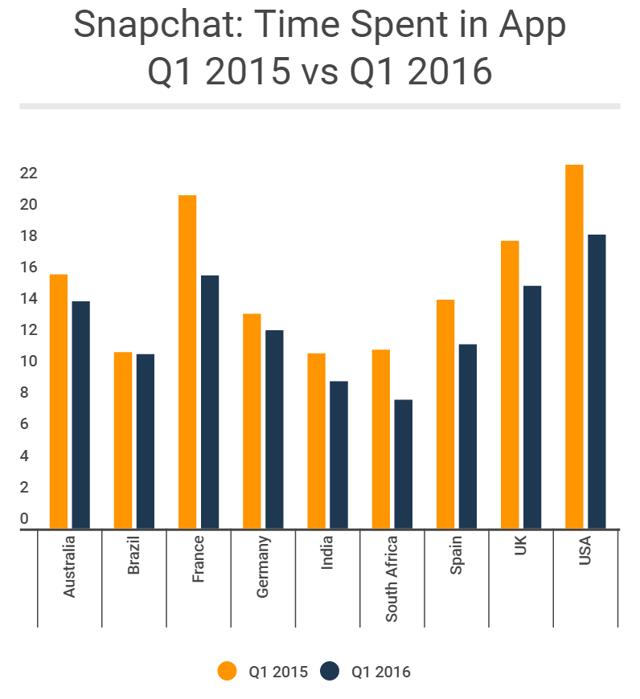 The final chart shows declines in usage from Twitter (TWTR), but I doubt many are surprised with this. U.S. usage went from 18.73 minutes to 13.5 minutes which leads the total declines in social media from these four apps to be 22.4 minutes. I focused on the U.S. because it is the largest market for ad spending.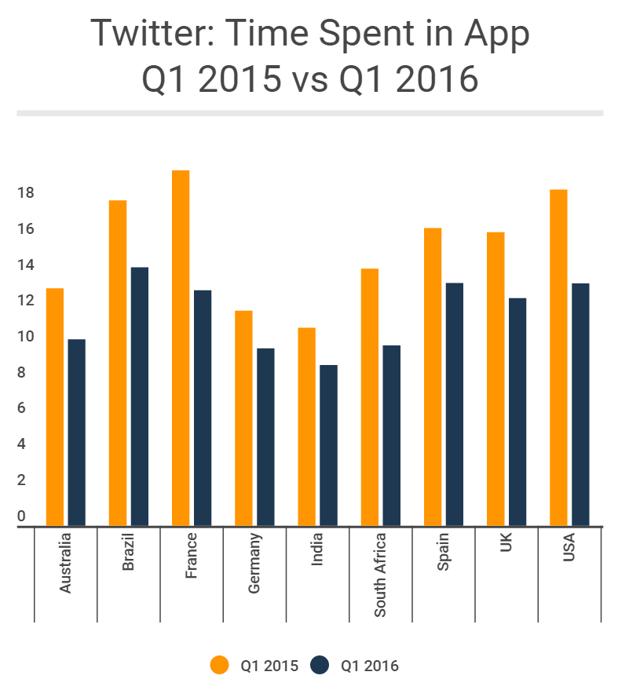 The following is a quote from SimilarWeb if you are questioning these statistics I used."We have the largest international panel in the world pared with an internet crawler that categorizes and scans over 2.5 Billion web pages a month. We are also partners with International Internet Service Providers (ISP) and therefore we are able to see the anonymous data in order to understand internet trends. In addition we also have a learning set of tens of thousands of websites worldwide that share their direct measurement with us. Put all of this together with our proprietary algorithm and that is how we accurately get data from every website and app in the world."
The question as to what is taking share from social media is difficult to answer. A top competitor to social media is entertainment, so it is possible websites such as YouTube and Netflix could be growing at social media's expense. As weird as it sounds now, there was a time when social media posting didn't exist. Consuming news and speaking to one another on an individual basis as always existed. These are tasks which can occur on social media, but don't have to be. The glue that keeps users on Facebook for news and messaging is the original posts. Facebook has seen a 21% decline in original sharing. As I said it is a weird concept to imagine now that we haven't always shared every part of our lives online. This trend could be reversing.
In summary my hypothesis is entertainment, messaging apps, and news consumption can take share from social media in the future and may be doing so right now. You can consume news on Facebook, but you don't have to. The reason why you are on Facebook to begin with is original sharing. This decline would be devastating to Facebook if it accelerated. Of course, Facebook does have Messenger and WhatsApp to slow the negative effects of this trend, but one has to wonder is Messenger will maintain its user base if Facebook usage declines.
The data I used was from one quarter. The 21% decline in original posting is also only one data point. There is not conclusive evidence to say Facebook is doomed, but any skepticism holds more weight when you have an expensive stock. As you can see from the Scout Finance App, Facebook stock is up 210% since the IPO.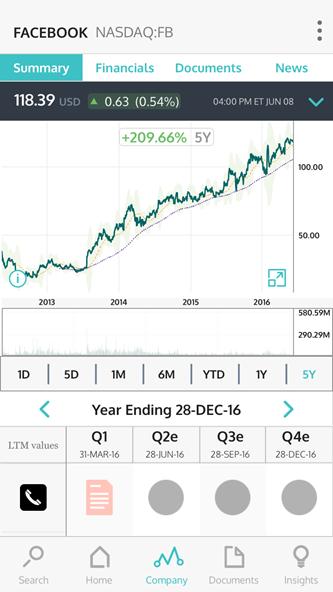 Facebook's valuation is expensive. The P/EPS is 70.2. The valuation decreases if you look into the future, but it is only cheap if you use estimates which show accelerating growth. These estimates for 2017 and beyond could take a hit if advertisers start pulling back on spending on social media, because of declines in usage.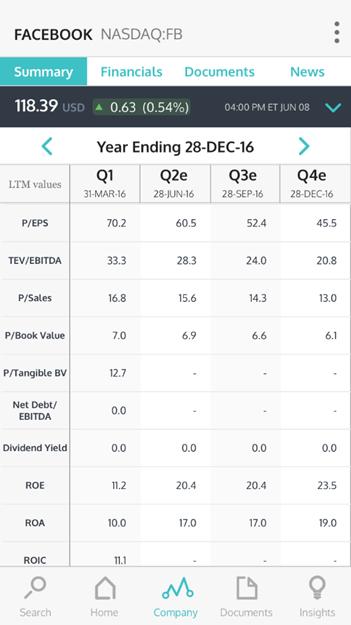 Conclusion
The simplified summation of this article is that social media time spent across the board is declining on Android, which makes up the vast majority of total smartphones in the world. This could mean Facebook has bigger worries than competitors such as Twitter and Snapchat. This decline combined with Facebook's expensive valuation makes it a stock readers should avoid.