Update: A lot of responses to today's poll: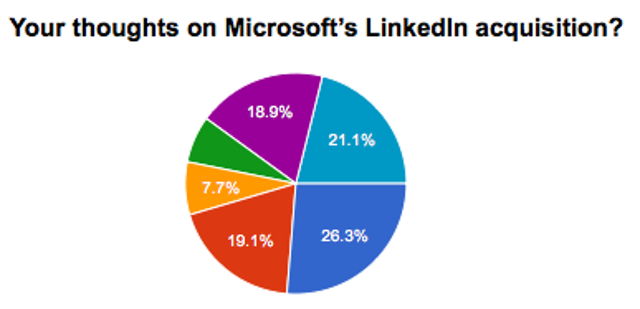 It's a good day to be a LinkedIn shareholder - 26.3%
This move will boost Microsoft's enterprise platform - 19.1%
That's a hefty price for LinkedIn, but worth it - 7.7%
The deal may change the social media landscape - 6.9%
Not sure I see the synergies in this deal - 18.9%
Microsoft overpaid - not a good move for the company - 21.1%
Thanks to everyone who participated in today's poll. We will be back tomorrow for more Market Challenge!
*****
It's a mega deal in the tech space.
This morning it was announced that Microsoft (NASDAQ:MSFT) would buy LinkedIn (LNKD) in a $26.2 billion deal that would merge Microsoft's enterprise cloud services with the professional social network. (News announcement here.)
LinkedIn shares jumped 50% on the news.
Your thoughts on the deal? Are there winners and losers? Offer your perspective below!