Last week I wrote an article stating that I believed Joseph Papa would be buying into Valeant Pharmaceuticals (NYSE:VRX) in a big way.
This morning a form 4 was filed showing that the CEO bought 202,000 shares of Valeant for $24.48 last week. Investors can view the document here.
William Ackman's Pershing Square Capital Management L.P. also was in the market adding option contracts with a strike price of $60. Interested parties can view that document here.
Here is a chart showing what I believe to be an excellent entry point after a 10 month nightmare that has seen Valeant lose 90% of its value.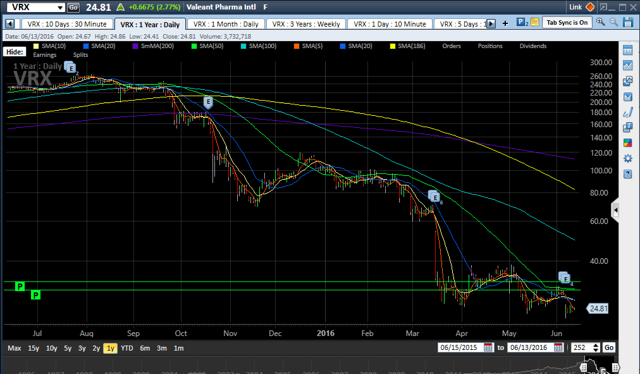 If you believe as I do that Valeant will recover, you must take a stand for an entry point.
As an investor, one knows that eventually every stock makes a capitulation bottom, the process is painful and takes a while. It sometimes tests the boundaries several times, just like a teenager. At some point in the game, investors give up and hate the stock. After reading some nasty replies from some of my readers and fellow investors I do believe that Valeant is at that point.
Does that chart show Pain? Massive pain? Yes.
Conclusion
The CEO just purchased 202,000 shares at a fantastic entry point. He has a good reputation and is on a crusade to rebuild investor confidence which will take some time.
The company has cured their default and filed their 10k.
William Ackman's Pershing Square Capital Management L.P. made a rather large option trade with a $60 strike price on leaps.
Valeant is now a hated stock by many investors, it has wiped out several hedge funds. The sell-off is overdone and in my view risk is to the upside.
As always know your exit point before making any trade.
Disclosure: I am/we are long VRX.
I wrote this article myself, and it expresses my own opinions. I am not receiving compensation for it (other than from Seeking Alpha). I have no business relationship with any company whose stock is mentioned in this article.