BP (NYSE:BP) is garnering a lot of attention in the $50 crude environment primarily for its high current yield of 7.45%. Getting a grip on the current crude oil environment is pivotal to timing an entry into this stock for the long-term. A short-term decline in the price of crude seems to be highly likely given that the dollar may see strength over the coming weeks with Brexit fears intact and rig counts increasing rapidly, making an entry into BP advisable.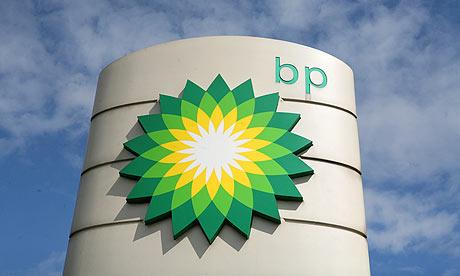 Source: Labor Union Report
Is BP's Yield Convincing?
There's been a lot of talk of talk on both Seeking Alpha and in the mainstream media that the search for yield is on in full force. I largely believe that because BP made it through Q1 2016 without cutting the dividend that it is safe in the current environment. Yet, if oil revisits its low, which may potentially happen depending on the trend of supply in 2H 2016, detailed later in this article, then a cut isn't out of the question. If oil stays at its current level, I'd assume the dividend to be largely safe. Here's the dividend statistics of BP versus its competitors Chevron (NYSE:CVX), Exxon-Mobil (NYSE:XOM), and Royal Dutch Shell (NYSE:RDS.B).
| | | | | |
| --- | --- | --- | --- | --- |
| | BP | CVX | XOM | RDS.B |
| Current Yield | 7.45% | 4.19% | 3.33% | 7.19% |
| Coverage Ratio | -1.57x | 0.16x | 1.06x | 0.21x |
| Payout Ratio | -63.5% | 616.3% | 93.9% | 467% |
What's interesting here is that BP is really leading the majors in terms of a current yield. Having that kind of "best in class" quality makes the stock highly attractive, especially if there is going to be a long wait until crude hits its next critical level. Yet, the coverage ratio and payout ratio are both concerning. BP has been posting a heavily negative bottom line since the slide in crude prices began, contradictory to what competitor Exxon-Mobil has done. In fact, XOM has maintained a positive bottom line throughout the entire downturn.
The only way investors are going to end up feeling better about the dividends security is if crude oil prices gain stability above $50. Successive quarters of positive FCF and a positive bottom line will throw out these fears of a cut, but that will take time and positive fundamentals. BP knows that its stock will plummet like other energy companies that have cut the dividend, such as ConocoPhillips (NYSE:COP), who cut their dividend by 66% earlier this year. Management, in that case, had told shareholders that the dividend of the highest priority, yet it was cut. It's best to stick to the crude pricing environment and its projected outlook in determining the safety of majors' dividends for the time being.
Another, perhaps unconventional way, of viewing the dividend's safety is through BP's immediate catalysts. Major news broke last week that Det Norske (OTCPK:DETNF) and BP will be forming Norway's largest independent E&P, Aker BP ASA, for which BP will have a 30% stake in. The best part about this is that an immediate boost to liquidity occurs as BP will receive $140 million in cash and will receive an undisclosed amount of positive changes to working capital.
Now, $140 million in cash isn't much to BP, considering they have $16 billion in cash on their balance sheet and represents really less than a 1% increase. Nonetheless, this furthers BP's exposure to Norway and is an excellent move in the current oil price environment to generate more positive cash flow over the long-term. The E&P is expected to produce over 250k bopd post-2020.
Additionally, BP is expecting $3-5 billion worth of divestments this year, which should provide additional coverage to the dividend. Even if BP had to pay dividends out of direct cash assets, they could cover the dividend for another 21 quarters before depleting the entire balance. On a different note, one of the major medium-term projects, Point Thomson, just began. Along with partners COP and XOM, BP holds a 32% stake in this project in Alaska that is in a large natural gas field. Production could reach up to 8 mboe/d. The shale diversification continues with BP recently signing a PSA for its first shale gas exploration project in China, gaining more global diversification and an additional revenue stream, as a result.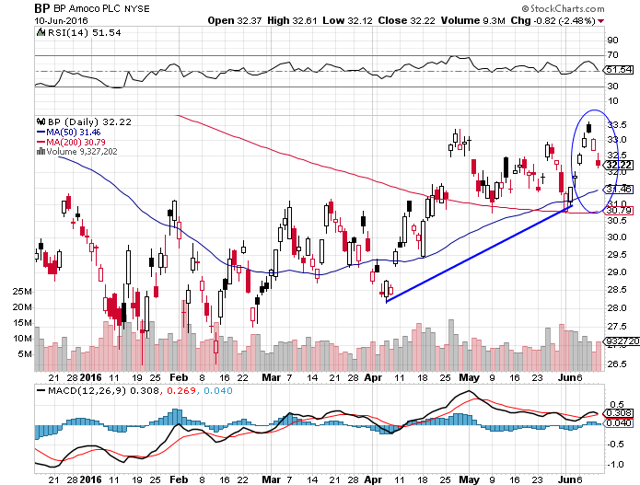 Source: StockCharts
Considering the stock has rallied hard since the mid-February lows below $27/share, a countertrend seems to be setting in right now that may last for a few sessions before we see a resumption of the uptrend. While crude prices would largely need to be favorable to warrant a climb past $35, accumulating BP on dips is a very decent strategy in the current pricing environment.
Macro Factors To Watch
BP had said in its medium-term outlook earlier that demand for crude would be strong this year, primarily fueled by low prices. The deficit they're predicting comes on the back of substantially lower American production and a minimal offset from Iran.
Rig Counts Increase
If last week is any reminder to investors just how important the Baker Hughes Rig Count is, then this week is going to be crucial in the establishment of a trend or an anomaly. Oil declined nearly 3% on news that the U.S. rig count had increased to 328, an increase ofsix rigs week over week. Perhaps that's not even the real story here as Canada increased its rig count by 24, bringing their count to 65. That's an effective increase of 58.5% week over week, seen below. Canada's rig count has been hanging sub-40 for the last few months now so this reversal is monumental.

Source: Baker Hughes
Based on last week's data, is this a sign that American production is going to reverse its progress and increase in 2H 2016? In an environment where $50 is above the breakeven for many producers, this is arguably the case. If prices stay at or near this level, the rig count may continue to increase and bring with it higher American production. This will be a multi-week development, if it occurs, and could lead to an offset of the progress made from the reduction of 9.6 mbopd to the current 8.745 mbopd. This would go against BP's thesis for the deficit to occur later this year.

Source: EIA
While BP may not be putting more rigs online, interestingly enough, the company was up in production YOY, despite the lower price environment, by 5.2% to 2,408 mboe/d. In their quarterly report, they said that production is expected to decrease in Q2 from Q1 based upon seasonal adjustments, but this trend is still noteworthy in the face of lower capital expenditure YOY.
The Dollar
The strength of the USD against a basket of major currencies stands to be one of the most critical factors for multinational corporations like BP. Particularly, a major driver of the USD's potential strength could be the Brexit. The fears over the Brexit actually occuring have already caused a significant dip in the GBP, now down to $1.42/USD overnight. This is the lowest level in the past two months and will continue to trend that way so long as the odds stay high.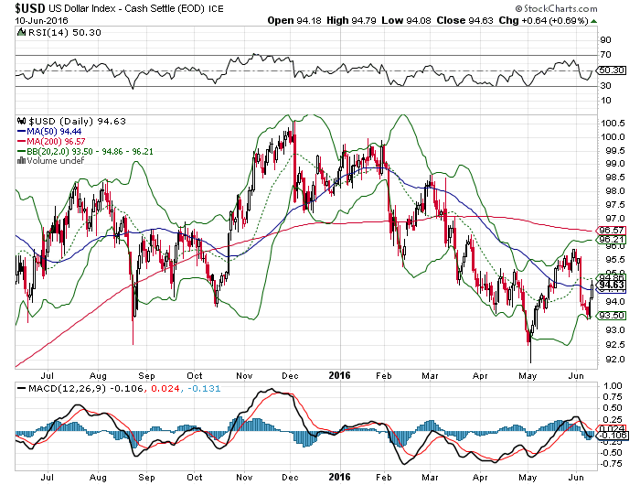 Source: StockCharts
As Brexit fears loom over the market and cause stark negativity, the flight to quality in the dollar has been apparent and will continue to be a trend so long as the odds of a Brexit increase. As a reminder, the Brexit vote is June 23. If the dollar increases, then crude prices will respond adversely, so this is a major factor to keep in mind when thinking about going long in BP.
Crude Stockpiles Act As A Resistance Level
According to BP's chief economist, the crude stockpile that has been built up during gluttonous production over the last few years is the large headwind that stands between prices in their current range and a much higher range. In recent weeks there has been a slight reduction in inventories, due to higher volumes being required by refineries for the summer gasoline demand season more so than last year considering the lower average price of gasoline, but it's still at a level well above the five-year average. Until meaningful liquidation on this stockpile occurs, crude is going to have trouble breaking higher resistance levels.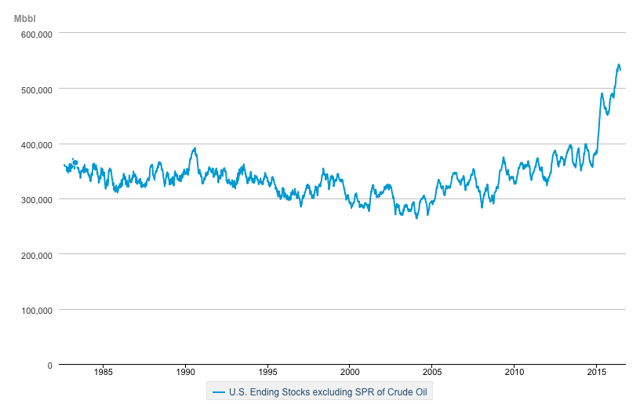 Source: EIA
Conclusion
BP's thesis that there will be a deficit in the crude oil trade later this year is not entirely soundproof at the present moment. Headwinds related to American production, the dollar, and current inventories are all starkly present. This is concerning especially if crude oil retreats below $40, thereby placing BP's dividend in jeopardy. This company has very solid growth prospects but needs the commodity environment to find stability before project efficacy can be reached in full. While getting paid over 7% to wait for that stability to set in is ideal, a sharp turn downward would make this long trade inadvisable.
Disclosure: I/we have no positions in any stocks mentioned, but may initiate a long position in BP over the next 72 hours.
I wrote this article myself, and it expresses my own opinions. I am not receiving compensation for it (other than from Seeking Alpha). I have no business relationship with any company whose stock is mentioned in this article.