In my last article on Apple (NASDAQ:AAPL), I recommended AAPL longs supplement their income by selling OTM monthly puts roughly $10 below the current price. This strategy would have paid off in May and - so far - in June, as well. But how long will this strategy pay off - in other words, how long should we be bullish on Apple?
Notably, AAPL has traded at consolidation after rebounding from its post-earnings dip. The latter is to be expected, as popular stocks experiencing negative earnings drawdown tend to revert to the mean. In other words, AAPL rebounding after the earnings surprise should be no surprise.
However, the fact that the company is trading at consolidation should trigger some Apple longs to consider the opportunity costs involved in holding AAPL. My options strategy in addition to Apple's yield should provide some income while you wait for AAPL to return to supra-100 prices. But the possibility that AAPL's glory days are over should not be ignored.
A Modest Proposal
Here's my simple stance on AAPL: Investors should ignore the hype and instead focus on two simple aspects. In short, these aspects are:
Earnings growth
Choice of industry entry
These two will determine the movement of AAPL more than anything (besides general market movements). The second, actually, drives the first. And the first drives the stock.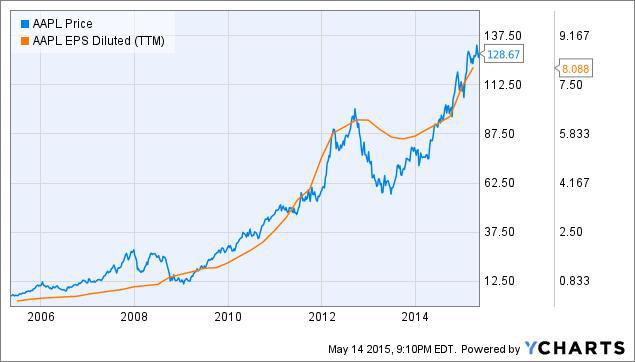 The driver of AAPL's price to its all-time highs was - like for most stocks - earnings growth. Hype surrounding Apple's new products only drove discussions - not investments. When it comes down to money, most investors want to ensure that the company is producing ROI.
EPS Growth Has Slowed
That said, AAPL is no longer producing the growth it once did. I still support my statement that AAPL should be treated as a value stock, not a growth stock. With steady, but not amazing, earnings growth, AAPL is more like a PayPal (NASDAQ:PYPL) than a Google (NASDAQ:GOOG) (NASDAQ:GOOGL).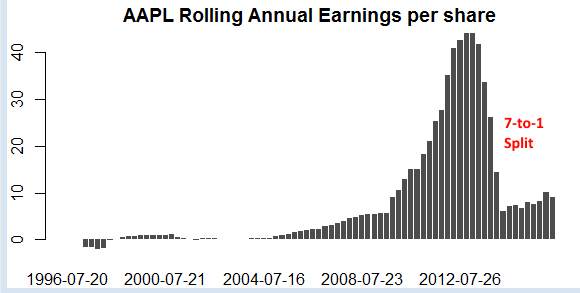 As I wrote before, Apple is slowly becoming a value stock. Its attempts at innovation have been less than appealing. Nevertheless, Apple is still Apple, meaning that it can still shake up an entire industry and essentially capture the majority of the flow of money from that industry's consumer.
With all of the speculation of Apple's upcoming developments, how will we know when a bullish AAPL position should be taken or added to? Well, the easiest answer is wait until new products are released, as AAPL rises with the revenue gained from new successful products. But the key word here - "successful" - must be considered.
Apple's Key To Success
What makes Apple's products successful? The monstrous growth of Apple can only be attributed to products that disrupted entire industries. Macbooks and Apple Watches are not the catalysts for EPS growth here.
Apple's main advantage in any market is its brand name. The Apple brand effectively shuts down all barriers to entry. No marketing efforts were needed to move from the iPod to the iPhone; from the iPhone to the iPad; from the iPad to the Apple Watch.
Apple can ditch all marketing costs associated with a new project, effectively allowing the company to enter any market it pleases, like a ghost passing through the traditional barriers to entry. The question is whether Apple is optimally using this power. The entry to the timepiece industry was not an optimal use of Apple's free barrier pass, for example.
Why? When Apple entered the music industry, it changed functionality but nothing else. In other words, the mechanism for buying music was changed, but the music itself was not.
The iPhone changed the mechanism of digital phones, which were already being used for Internet browsing and text communication. The iPod changed the mechanism of listening to music. The iPad changed the mechanism of portable computing.
In every one of these cases, Apple understood the underlying motivation for consumer actions and gave the consumer more power in obtaining their goals. The reason the Apple Watch is an important example of a waste of resources is that the company ignored the underlying motivation for time pieces: Status. Removing your Rolex for an Apple Watch gives you more functionality, but it drops your status.
Apple chose to enter an industry to compete for wrist real estate, which most people use for showing status, conspicuous consumption, or image. Only in the image category could Apple make any progress, and that is by targeting those who already want to be affiliated with Apple or tech in general. You cannot shake up an industry with functionality if the purpose of that industry is not functionality.
This is why Apple investors, moving forward, should keep careful watch over the company's announcements and investments. We should be asking ourselves whether Apple is targeting the right industries in its expansion plans. If so, investments are warranted; if not, Apple is likely diverting its cash flow to low-ROI projects and therefore underperforming.
This is also why becoming emotionally involved in your investment in AAPL will hurt you. Seeing all upcoming products with rose-colored glasses ignores the EPS-price connection. Although a certain segment of the population will buy anything and everything from Apple - to the point of ditching their Rolexes for Apple Watches or shooting their dogs, burying them in the backyard, and replacing them with Apple Dogs (the Google dog needs a competitor) - this group cannot make up for diminished EPS reports.
The Correct Thought Process: An Example
Consider Apple's investment in Didi Chuxing. Apple now owns 5% of Didi Chuxing, China's largest ride-sharing company that is the equivalent of the Mandarin version of Uber (Private:UBER). Surely, Apple could have created its own ride-hailing app and entered the market for under $1B.
Many have said that this investment was meaningless, but they are missing the point. The question investors should ask in a situation such as this is "What is the motivation for ride-sharing and can Apple change the mechanism?". We can safely bet that Apple will not do something as mundane as invest in a ride-hailing app just for exposure to that market. A much more likely reason for this investment is a long-term innovative project.
Just as Apple has shaken up the music industry, the phone industry, and the tablet industry, it is likely aiming to shake up the ride-hailing industry. Talk about "Apple Car" and "Project Titan" stem from Steve Jobs' interest in just this type of project. And the Guardian reports documents that show a driverless car is underway.
If Apple is planning on creating the first driverless taxi service, we do not buy AAPL on this information. Instead, we ask whether Apple's borderless entry to this market will allow for significant EPS growth after the fact? Can the company really profit from changing the mechanism of ride-hailing - in this case, removing the driver?
This article is not to speculate but to push you toward the right questions. Buying AAPL for any reason other than products that can expedite EPS growth is meaningless. That said, let me know your answer to whether Apple can disrupt the ride-hailing industry in the comments section below.
Learn More about Earnings
My Exploiting Earnings premium subscription is now live, here on Seeking Alpha. In this newsletter, we employ both fundamental and pattern analyses to predict price movements of specific companies after specific earnings. I offer specific strategies for playing those earnings reports. To date, we are 90% accurate on earnings report predictions.
Disclosure: I/we have no positions in any stocks mentioned, and no plans to initiate any positions within the next 72 hours.
I wrote this article myself, and it expresses my own opinions. I am not receiving compensation for it (other than from Seeking Alpha). I have no business relationship with any company whose stock is mentioned in this article.